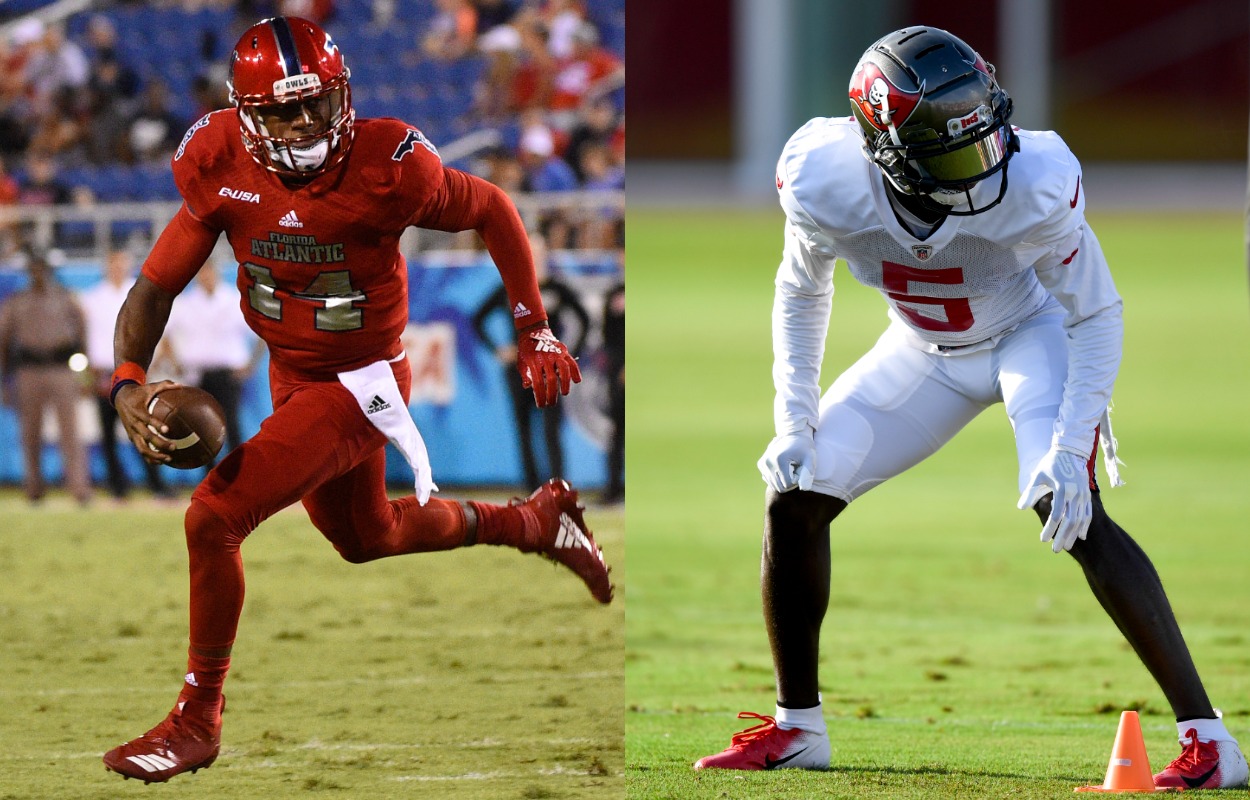 Former 'Last Chance U' Stars De'Andre Johnson, John Franklin III Land in USFL
Several years after their respective stints on Netflix's 'Last Chance U,' De'Andre Johnson and John Franklin III will each take their talents to the USFL.
Article Highlights:
Former Last Chance U stars De'Andre Johnson and John Franklin III will each play in the USFL
Johnson will play quarterback for the New Jersey Generals, and Franklin, who won a Super Bowl with the Tampa Bay Buccaneers, is expected to line up at receiver for the Tampa Bay Bandits
Even if Franklin dominates in the USFL, he's likely facing an extremely difficult road back to the NFL
In hindsight, perhaps the USFL made the correct decision not announcing which players had agreed to join the newest professional football league ahead of its inaugural draft, if only because social media exploded upon seeing two of the names in question.
A glance at USFL rosters likely won't show an extensive amount of familiar names. However, those who watched Netflix's Last Chance U will almost certainly recognize De'Andre Johnson and John Franklin III, the former East Mississippi Community College quarterbacks who now have another opportunity to further their professional careers.
Former 'Last Chance U' stars De'Andre Johnson and John Franklin III were each selected in the USFL Draft
The USFL draft had a strange format, at least compared to other professional sports leagues. Although the event had rounds, teams were forced to select from a specific position group rather than from an overall pool. For example, teams could choose only quarterbacks in the first round.
The New Jersey Generals selected Johnson, who starred at EMCC in 2016, in the 16th round. After beginning his career at Florida State, the dual-threat quarterback played at Florida Atlantic from 2017-18 and ended his college career at Texas Southern, an FCS program, in 2019. He went undrafted in the 2020 draft.
One round later, the Tampa Bay Bandits selected Franklin, who is expected to play wide receiver in the USFL. He switched between cornerback and receiver during his three NFL seasons after leaving the quarterback position behind in 2017, months before he left Auburn and joined Johnson at FAU.
Johnson is expected to compete with Ben Holmes, a Tarleton State product, for the starting quarterback job.
Franklin and Johnson will each enter the new league with professional football experience
Although Johnson hasn't yet played in the NFL, he did participate in the Spring League's 2021 campaign. The former blue-chip prospect threw for 574 yards, five touchdowns, and seven interceptions in six games with the Sea Lions.
As for Franklin, he went undrafted in 2018 and spent his first season with the Chicago Bears. However, he never got into a regular-season game with the Super Bowl 20 champions before being waived in August 2019. Later that year, the Tampa Bay Buccaneers picked the then-25-year-old up on waivers.
Buccaneers head coach Bruce Arians switched Franklin from cornerback to receiver ahead of the 2019 season-finale. He picked up 11 yards on his only rushing attempt and did not catch a pass.
Although Franklin missed the entire 2020 season with a leg injury, he won a Super Bowl ring because the team kept him on injured reserve. The Buccaneers waived him in August 2021, and another organization did not sign him at any point during the regular season.
Franklin could face a difficult road back to the NFL regardless of how well he plays in the USFL
Franklin's name might ring a bell even for those who haven't seen Last Chance U, and it's not because of his blazing speed. The NFL suspended the 27-year-old in December 2021 for "misrepresenting" his COVID-19 status. He, along with then-Buccaneers receiver Antonio Brown and defensive back Mike Edwards, all received three-game bans after reportedly presenting forged vaccination cards.
Brown and Edwards served their suspensions that month and returned before the season ended. However, as Franklin was a free agent at the time, he would still need to miss three games if or when another NFL team signs him.
Between his injury history and the vaccine card situation, Franklin — who reportedly is vaccinated — faces a long road back to the NFL regardless of how well he plays in the USFL. He must prove he can stay on the field and avoid any further off-field problems before even thinking about returning to a 53-man roster.
As for Johnson, he needs to focus on beating out Holmes for the starting quarterback job. After that, all it takes is one team to like him and bring him to training camp as another arm. From there, the rest is in his hands, shoulder, and legs.
Like Sportscasting on Facebook. Follow us on Twitter @sportscasting19.