Former 'Last Chance U' Star John Franklin III Has Bright Future With Buccaneers
John Franklin III has totaled plenty of frequent flyer miles in both college and the NFL. Once a promising quarterback prospect at Florida State, Franklin bounced around four colleges and two NFL teams.
Now with the Tampa Bay Buccaneers, Franklin looks to have settled in and has a bright future on Tom Brady's new team.
John Franklin III starred on Netflix's Last Chance U
John Franklin III rose to prominence in 2016 when the docu-series Last Chance U debuted on Netflix. Last Chance U focused on East Mississippi Community College, the school Franklin played at in 2015.
Franklin completed 58.2% of his passes for 733 yards, seven touchdowns, and two interceptions in nine games. The 6-foot-2 weapon totaled 451 yards and nine touchdowns on 43 carries.
Franklin's impressive 10.5 yards per rush helped the Florida State transfer make it back to the Power 5 level. Franklin signed with Auburn after a year at EMCC.
Franklin had an eventful college career before and after East Mississippi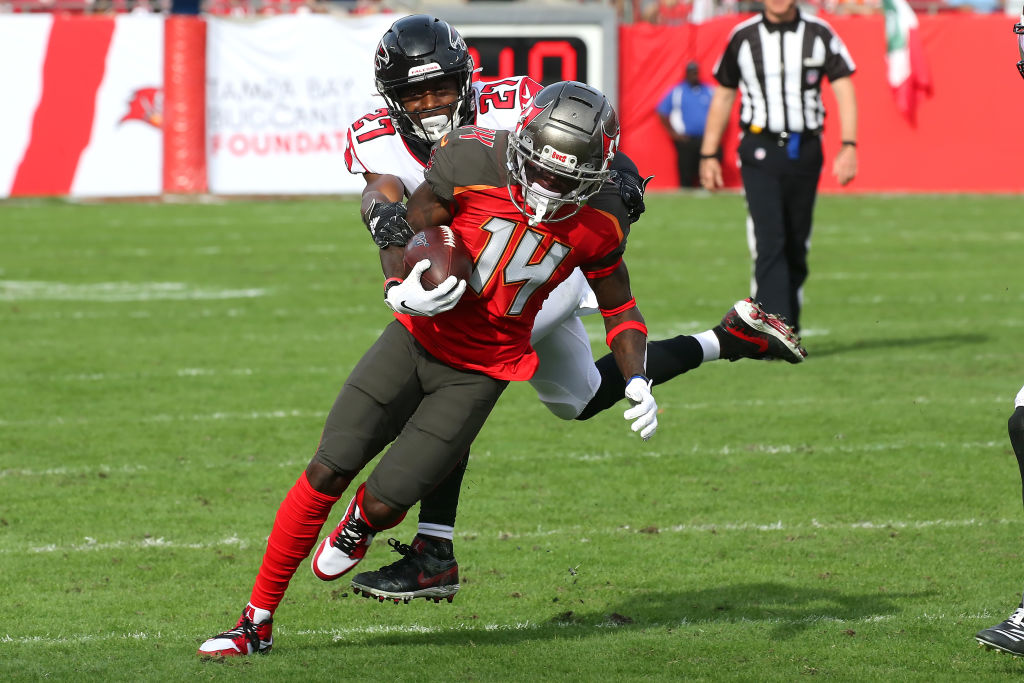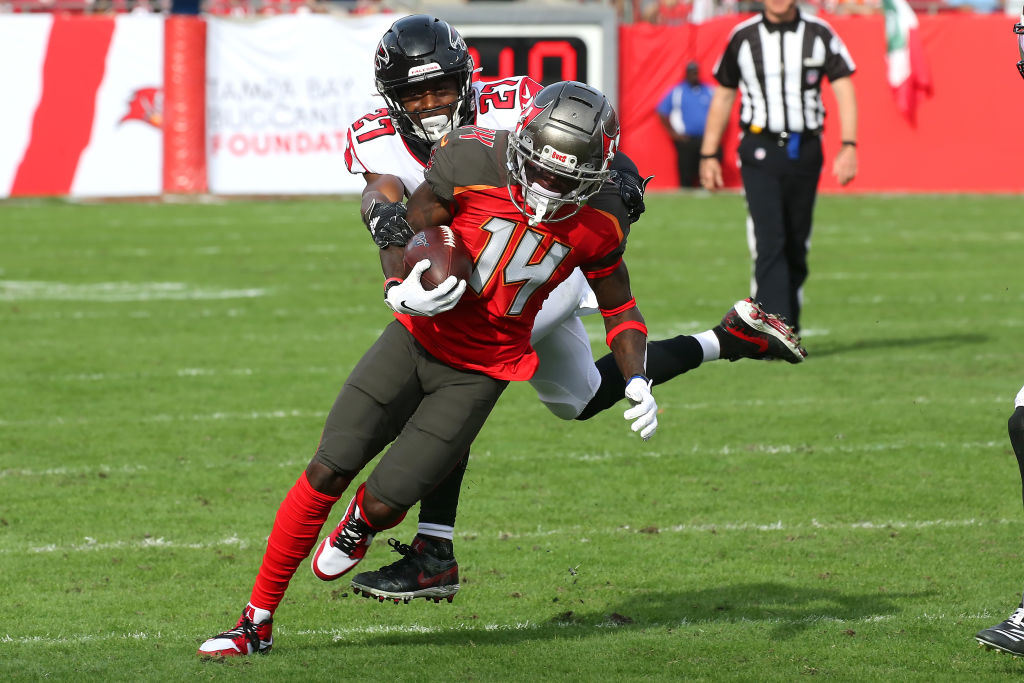 Before a Netflix stint was even a possibility, John Franklin began his college career at Florida State. Franklin played only two games in two seasons with the Seminoles before he transferred to East Mississippi.
Franklin impressed in flashes as a scrambling quarterback at Auburn in 2016. He completed 14 of 26 passes for 204 yards and a touchdown; Franklin also ran for 430 yards and two touchdowns on 46 carries.
John Franklin III transferred from Auburn to Florida Atlantic in August 2017. Although FAU listed Franklin as a wide receiver, he also served as a Wildcat quarterback and, later, the Owls' backup quarterback late in routs.
Franklin's lone completion at FAU was a 49-yard strike in that year's Conference USA Championship Game. The graduate transfer totaled 229 yards on 16 carries — a staggering 14.3 yards per rush — and scored two touchdowns.
Franklin caught seven passes for 95 yards and a touchdown, too.
John Franklin signed with the Chicago Bears as an undrafted free agent in 2018, though he again switched positions. This time, Franklin would play cornerback in the NFL.
John Franklin III debuted for the Tampa Bay Buccaneers last year
John Franklin III may have finally found a long-term home. The Tampa Bay Buccaneers signed Franklin last October to play cornerback, which he did in practice for two months.
Before the Buccaneers' Week 16 game against Deshaun Watson and the Texans, though, Tampa head coach Bruce Arians had Franklin play quarterback in practice.
Arians was so impressed with Franklin's offensive skills that he moved him to receiver in Week 17. Franklin had an 11-yard run in an overtime loss to the rival Falcons.
Arians told reporters they needed to find the right niche and role for Franklin. For his part, Franklin told The Athletic he had no qualms with moving back to offense long-term.
"I like having the ball in my hands. I believe in myself and my abilities when I have the ball that something good is going to happen. … The coaches, they see my true worth and value, and that's what makes me like it more. I think I finally found a place where they recognize what they have and are willing to use it."
Even after all of the Buccaneers' offseason moves, John Franklin III is still on the team's active roster. When football eventually returns, the ex-Netflix star's career is definitely worth following again.