Former Milwaukee Bucks Great Marques Johnson Gets The Win For His Hilarious Reaction To Not Making NBA 75 List
Marques Johnson wasn't on the NBA 75th-anniversary team. Sadly, it didn't come as a huge surprise for a player whose prime was cut short by a severe neck injury. Johnson is now an analyst for his former team, the Milwaukee Bucks, and he certainly had the most humorous reaction from players that might have entertained a notion of inclusion on the list.
Johnson's career suffered the same fate as the great Bucks teams he played in the early 1980s. As Milwaukee played in the immense shadows of the Boston Celtics and Philadelphia 76ers, so too did Johnson struggle for recognition behind Larry Bird and Julius Erving.
How good was Marques Johnson with the Milwaukee Bucks?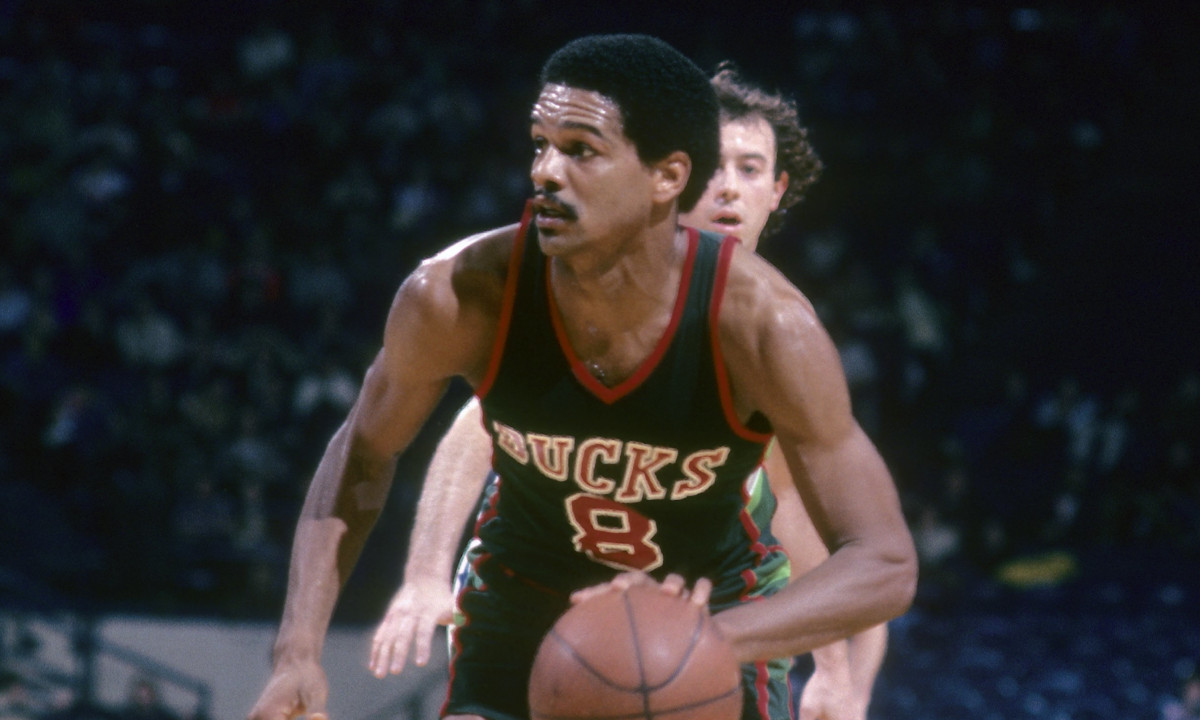 Taken with the third overall pick in the 1977 NBA Draft, Marques Johnson helped bring the Milwaukee Bucks back from some lean years after the departure of Kareem Abdul-Jabbar. He averaged a double-double from the small forward spot as a rookie and was a three-time All-NBA performer.
Remember that was at a time when there were only two All-NBA teams, rather than today's three, and that Bird and Erving were locks for two of those four forward spots.
In seven seasons with the Milwaukee Bucks, Johnson averaged 21.0 points, 7.5 rebounds, 3.7 assists, and 1.3 steals in 34.8 minutes per game. He also shot 53.0% from the floor. But in 1984, the Bucks traded Johnson as part of a six-player trade with the Los Angeles Clippers. In the 1980s, the Clippers were a place where careers went to die.
Johnson's did just that. He made a final All-Star Game appearance in 1986, but early the following season, he injured his neck in an on-court collision and had to retire. He attempted a comeback with the Golden State Warriors in 1989, but it ended after just 10 games.
He's gone on to do some acting (Johnson has 26 acting credits per the Internet Movie Database, not all of them as basketball players or coaches). He's also been an analyst for both college and NBA games since the 1990s.
Johnson's reaction to missing the NBA 75 team was priceless
The movie role Marques Johnson is best known for was as the playground hooper Raymond in the 1992 hit White Men Can't Jump, starring Wesley Snipes and Woody Harrelson.
Johnson was a scene-stealer in the film, showing terrific comedic timing and delivery. Johnson tweeted a response to not being on the NBA 75 team, including Raymond's signature turn.
However, his follow-up tweet was more thoughtful:
"But seriously, congratulations to all the players that did make the team. I'm blessed to be a part of this basketball brotherhood."

Marques Johnson
Johnson starred at Crenshaw High School in his native LA before attending UCLA as one of the last recruiting classes brought in by legendary coach John Wooden.
As an 18-year-old sophomore, he started for Wooden's last national championship team in 1975. He later won the inaugural Wooden Award as National Player of the Year as a senior in 1976–77.
The Milwaukee Bucks honored Marques Johnson in 2019
While Marques Johnson wore No. 54 during his career at UCLA, he donned No. 8 when he joined the Milwaukee Bucks. Part of the reason for that was because while he was the third pick in the 1977 NBA Draft, Milwaukee also had the No. 1 overall selection and took Indiana's Kent Benson, who also wore No. 54 in college.
The Bucks retired Johnson's jersey in 2019, making him the fifth member of Milwaukee's great 1980s run so honored. The others are Sidney Moncrief, Junior Bridgeman, Bob Lanier, and Brian Winters.
During Johnson's time with the Bucks, they could never get past the Celtics and the 76ers in the playoffs. In 1983, Milwaukee knocked off Boston before losing to Philadelphia in the Eastern Conference Finals. In 1984, the Bucks lost to the Celtics in the conference finals.
Johnson is seventh on the franchise's all-time scoring list with 10,980 points. He's also fourth in rebounds and seventh in steals. He remains the franchise's all-time leader in offensive rebounds with 1,468.
More than 30 years after his career ended, Johnson remains part of the NBA community as a courtside analyst. While the Hall of Fame call eventually came for former teammate Moncrief, Johnson may never get that recognition. In part because of injury and in part because of timing, Marques Johnson's career gets overlooked despite an excellent, if early, peak. But he keeps his sense of humor about it.
Statistics courtesy of Basketball Reference.
RELATED: Junior Bridgeman Used Fast Food to Become One of the 5 Richest Former Athletes in the World