Former NBA All-Star Andrei Kirilenko Tattooed His Video Game Avatar on His Back
Andrei Kirilenko's nickname wasn't just "AK-47" because of his initials … or because of his number … or because he was Russian.
Well, Kirilenko may have had that nickname for those reasons. But the 6-foot-9 forward was a precise sharpshooter who stretched the floor and helped the Jazz to multiple playoff appearances.
Kirilenko's time in the NBA allowed him to make a good chunk of money. Part of that money went toward a famous tattoo involving his video game avatar on his back.
Andrei Kirilenko had a long and productive NBA career
RELATED: Will This Year's NBA Champion Have an Asterisk?
A first-round pick of the Utah Jazz in 1999, Andrei Kirilenko didn't make his way stateside until 2001. From there, the versatile forward was here to stay and the Jazz were better for it.
Kirilenko averaged 12.4 points, 5.6 rebounds, 2.8 assists, 1.4 steals, and two blocks a night across 10 seasons in Utah. He made the 2004 All-Star Game and earned three selections to the NBA's all-defensive teams.
Kirilenko spent the 2011-12 season, shortened by a lockout, in Russia. He returned to the NBA with the Minnesota Timberwolves in 2012 and played his final NBA season in Brooklyn a year later.
Kirilenko took a leave from the Nets in November 2014 for personal reasons. The Nets later traded him to Philadelphia and, after he never reported to the rebuilding 76ers, returned to Russia for one final stint of basketball.
Kirilenko retired from professional basketball in June 2015.
Kirilenko was an eccentric figure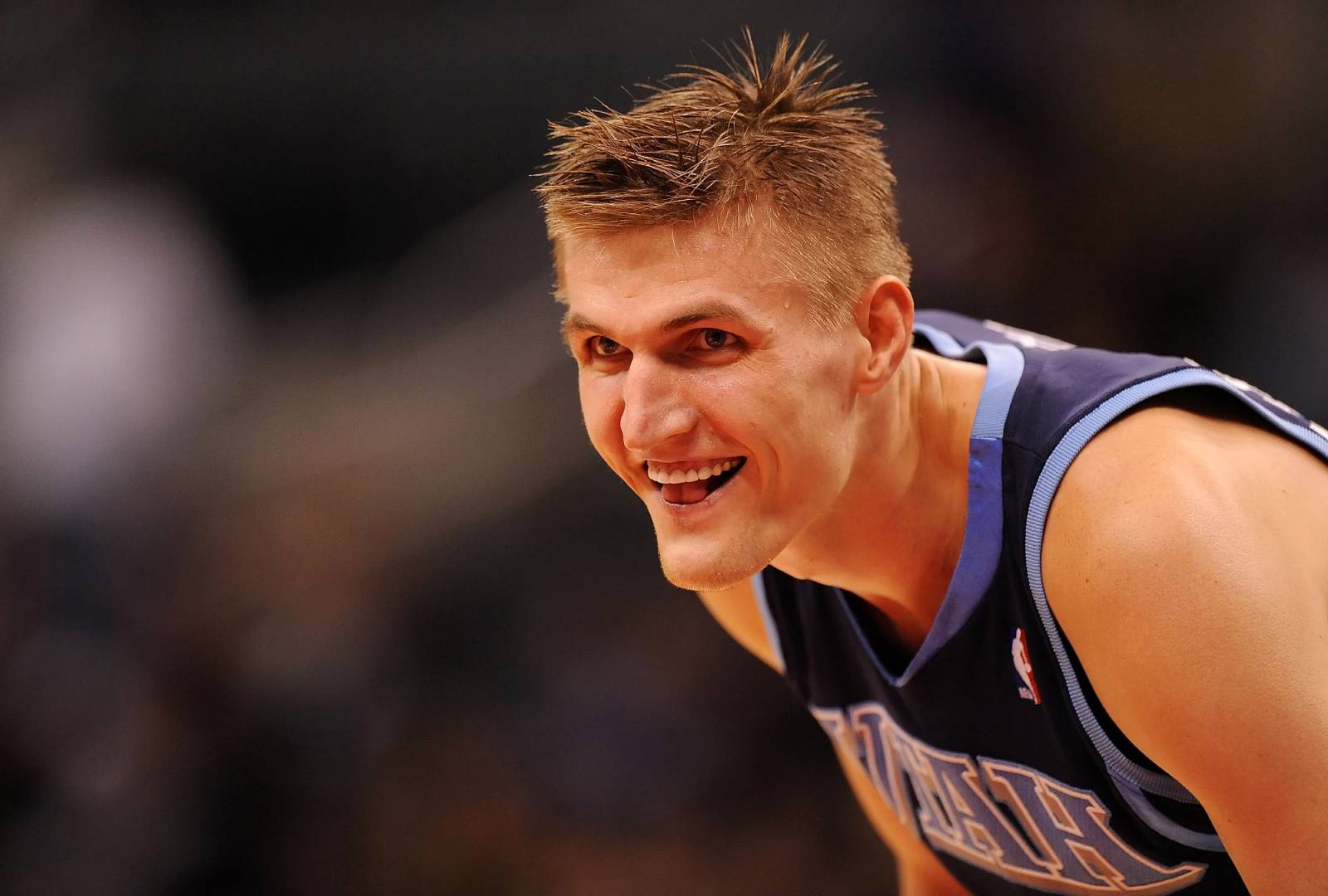 RELATED: Vince Carter Has 1 Glaring Hole on His $172 Million Hall of Fame Resume
Andrei Kirilenko was a giant Russian basketball player living out his NBA dreams. He had every reason to be eccentric.
But "eccentric" didn't mean Kirilenko would become the Russian version of Dennis Rodman or J.R. Smith. Kirilenko had a combination of a bowl cut and a bob for most of his career.
Kirilenko posed with a model AK-47 after he retired in 2015.
His wife, Russian pop star Masha Lopatova, even allowed her husband to cheat on her once a year, according to the New York Post.
Loptova once explained her rationale to ESPN.
"Male athletes in this country are extremely attractive. They get chased by women. It's hard to resist. It's the way men are by nature. When I'm aware and I let him do it, it's not cheating."
Andrei and Masha married in 2001 and are still together as of July 2020. The unique factors of their relationship apparently play a major role in why they're still together.
Kirilenko tattooed his 'World of Warcraft' avatar on his back
RELATED: Demetrious "Mighty Mouse" Johnson Wants to Be Known for eSports, Not MMA Career
For some, possibly the strangest thing Andrei Kirilenko did in his career had nothing to do with his yearly cheating pass.
Kirilenko tattooed a giant dragon on his back not because he liked dragons, but because it represented his avatar in World of Warcraft. The giant tattoo actually shows his character riding the dragon into battle.
Kirilenko made over $107 million in his career, which entitled to paint whatever he wanted on his body.
Kirilenko wanted to be reminded of the virtual Kirilenko who took on orcs and trolls instead of Kobe Bryant and Shaquille O'Neal.