Former NBA All-Star Says Ben Simmons' Jumper Is Just Fine: 'I Honestly Don't Think Nothing's Wrong With It'
For another NBA offseason, the jump shot of Philadelphia 76ers star Ben Simmons has gone under the microscope. The majority opinion is that the Australian's jumper doesn't work. His free-throw shooting was a disaster in the playoffs, as well. That created a scenario where a reluctant shooter was running the offense of a championship contender while also desperately avoiding free throws. But at least one former NBA star believes Simmons' shot is just fine, thanks.
While the 76ers were upset by the Atlanta Hawks in the second round of the postseason, Simmons pulled off a disappearing act worthy of David Copperfield. He didn't attempt a fourth-quarter shot in the final five games of the series. Combine that with 15-of-45 shooting from the line, and you might think he was Atlanta's best player in the series. But 2019 Big 3 MVP Joe Johnson doesn't think there's anything wrong with Simmons' shooting form.
Another offseason of Ben Simmons shooting jumpers on social media
In terms of annual traditions, Ben Simmons has created a rite of summer. Another year, another video surfacing of Simmons firing in jump shots from 3-point range and everywhere else.
In the past, it's all been a mirage. Once the season starts, Simmons takes most of his shots inside of 10 feet of the bucket. Last season, shots inside 10 feet accounted for 91% of his attempts. A whopping 1.1% of his attempts have come from beyond the arc (34 triple tries in 3,188 career shots). He's made an underwhelming 14.7% from deep (5-of-34).
Simmons can knock down 1,000 shots from 3-point range in an empty gym, but it doesn't matter if the skill doesn't translate to game situations. And 76ers fans, fooled before, aren't buying the act this summer. Now that the Defensive Player of the Year runner-up is demanding a trade and never to play for Philadelphia again, Simmons is reaching Larry Bird levels of popularity among the Philly faithful.
However, Joe Johnson — who scored more than 20,000 points in 17 NBA seasons — thinks the problem isn't Simmons' shot. Instead, it's more nuanced than that.
Joe Johnson calls Ben Simmons' shooting woes a confidence problem
In an August workout with Los Angeles Lakers guard Rajon Rondo, Ben Simmons banged home 3-pointer after 3-pointer. He didn't make his first in an NBA game until his 172nd career game. Five makes in his career are comparable to a hot quarter for Stephen Curry.
In a recent interview with TMZ Sports, former All-NBA guard Joe Johnson said the evidence is clear. Simmons can shoot:
"I honestly don't think nothing's wrong with it. You see him playing pickup basketball, shooting jumpers, fadeaways, 3s … so we all know it's there.
"He just has to take that same confidence that he has in pickup and translate it into an NBA game. That's it. You're gonna miss and make shots; you can't care about the misses. He's just got to continue to take them."
On the scale of shocking NBA revelations, Johnson's assertion is up there with "you have to score more points than your opponent to win a game." Simmons has repeatedly shown he can knock down jump shots. But until he's willing to do it when the clock is ticking, and the authentic uniforms are on, none of that matters.
Joe Johnson never lacked confidence in his shot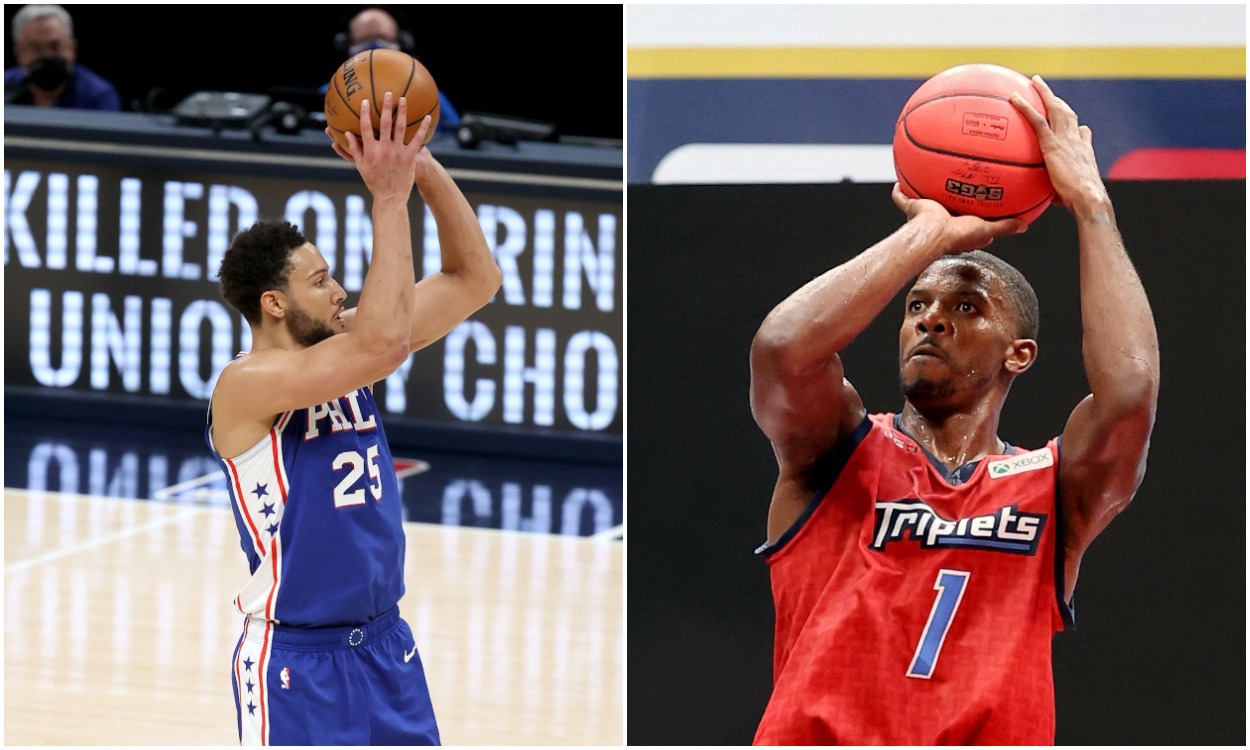 Known as Iso Joe for his preference to pound the label off the ball dribbling it while setting up defenders, Joe Johnson was not a hesitant shooter. That's a major difference between the former star and current standout Ben Simmons.
More than half of Johnson's career attempts came from midrange or 3-point land (52.2%). Johnson went to the rim on less than 16% of his career shots. The last time he topped 10% from point-blank range was in 2011–12, his final year with the Atlanta Hawks.
Johnson was also a career 37.1% shooter from 3-point range. Not all-time great, but better than league average over that span (35.7%). He was second in the NBA from deep in 2004–05 at 47.8% and ranks 14th all-time in both makes and attempts from long range (1,978-of-5,331).
His career-low for 3-point tries was 130 as a rookie in 2001–02. That's nearly four times as many bombs as Simmons has taken in four seasons.
That's not to say Joe Johnson's wrong. Ben Simmons has repeatedly shown he can shoot. But if he won't do it when it counts, why bother working on it. Maybe LeBron James has a point about guys working on stuff they never actually do.
Statistics courtesy of Basketball Reference.
RELATED: Ben Simmons Continues to Make Everything Worse, This Time Hilariously Telling the Philadelphia 76ers It's 'Not His Job to Fix His Trade Value'