A Former NBA MVP Is Inexplicably Becoming Lost in the Preseason Shuffle: 'I Just Think People Are Sleeping on How Special He Is'
LeBron James and the Los Angeles Lakers are busy incorporating a shiny new toy. Kyrie Irving is being shooed away from the Brooklyn Nets. Ben Simmons demanded a trade away from the Philadelphia 76ers and is now set to play for the Philadelphia 76ers.
The NBA is a 365-day league and drama always runs the show. Maybe that's the reason why a two-time MVP is being ignored.
Remember Giannis Antetokounmpo? Last year's Finals MVP? He hasn't made many preseason headlines, but he's poised and ready for a run at a third MVP Award and a second straight title.
Giannis Antetokounmpo rampaged his way to the 2021 NBA Championship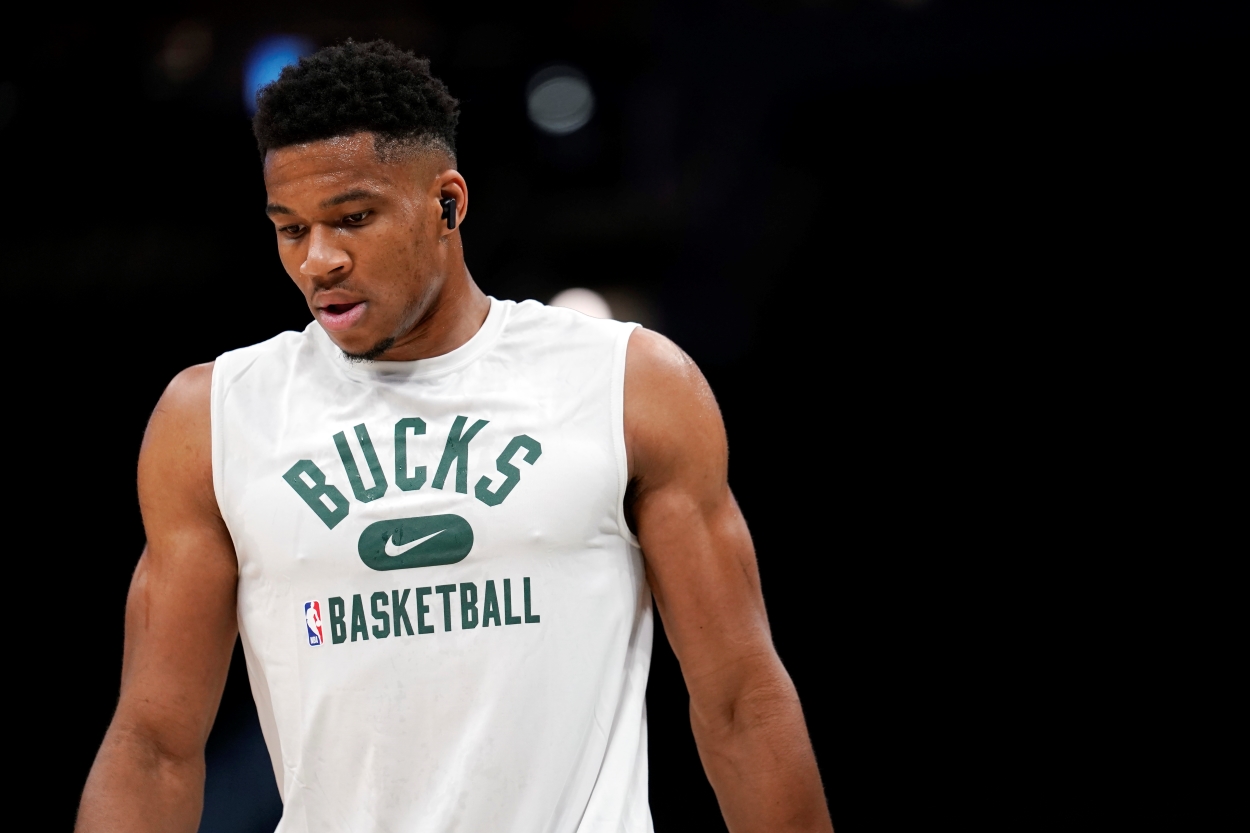 The Milwaukee Bucks won their first championship in 50 years with a 4-2 defeat of the Phoenix Suns in last year's NBA Finals. Khris Middleton and Jrue Holiday were key pieces of Milwaukee's championship run, but the Bucks won because of Antetokounmpo.
The former Defensive Player of the Year averaged 35.2 points, 13.2 rebounds, 5.0 assists, 1.2 steals, and 1.8 blocks in the series before clinching it with a 50-point, 14-rebound, five-block Game 6.
In 21 postseason games, The Greek Freak averaged 30.2 points, 12.8 rebounds, 5.1 assists, 1.2 blocks, and a steal. Antetokounmpo's postseason performance catapulted him to another level.
Somehow, Giannis is being buried in the headlines
Heading into the 2021-22 NBA season, most conversations still surround the triumvirate of James, Simmons, and Irving. Six days before opening night, the NBA.com homepage features stories about the Nets, Lakers, Denver Nuggets, Stephen Curry, Simmons and even Boston's Al Horford.
There's even a picture of former Bucks' forward PJ Tucker, who now plays for the Miami Heat.
But no sign of Antetokounmpo and no sign of Milwaukee.
The Ringer's Bill Simmons caught on to the pattern and brought up the 26-year-old during a recent appearance on the The Lowe Post Podcast:
"There's this athlete who's just superior to other athletes in a sport of athletes. He's at the peak of his powers, he's in his prime, and he's just completely fearless. … I think there's more in there, I think there's another level for him to go.

"I just (feel) like Giannis figured it out. … (He's saying) 'I am just a better athlete than everyone else in the league. I'm overpowering, I am Shaq in 2000, I can get to the rim anytime I want, in transition no one can stay in front of me.'"

Bill Simmons on Giannis Antetokounmpo
The Greek Freak is quietly ready to lead the Bucks in an attempt to win back-to-back titles
The five-time all-star saw his knee bend in the wrong direction during last season's Eastern Conference Finals. He didn't miss a game, but he wasn't 100% the rest of the postseason either (which makes his performance even more impressive).
The Alphabet admitted earlier in the offseason that he wasn't back to full health and likely should have missed time during the playoffs. He's been cleared to play now, though, has been playing 5-on-5 during practice.
He's seen time in preseason action as well — if Antetokounmpo wasn't healthy, Milwaukee wouldn't be putting its franchise superstar on the floor in exhibition games.
Whether he's being talked about or not, one of the most special players in league history is ready to roll and try to lead the Bucks to a second straight championship.
All statistics courtesy of Basketball Reference.
RELATED: Giannis Antetokounmpo Once Cut off a Reporter Mid-Question, Even While Receiving a Flattering Comparison: 'I'm Not Michael Jordan'