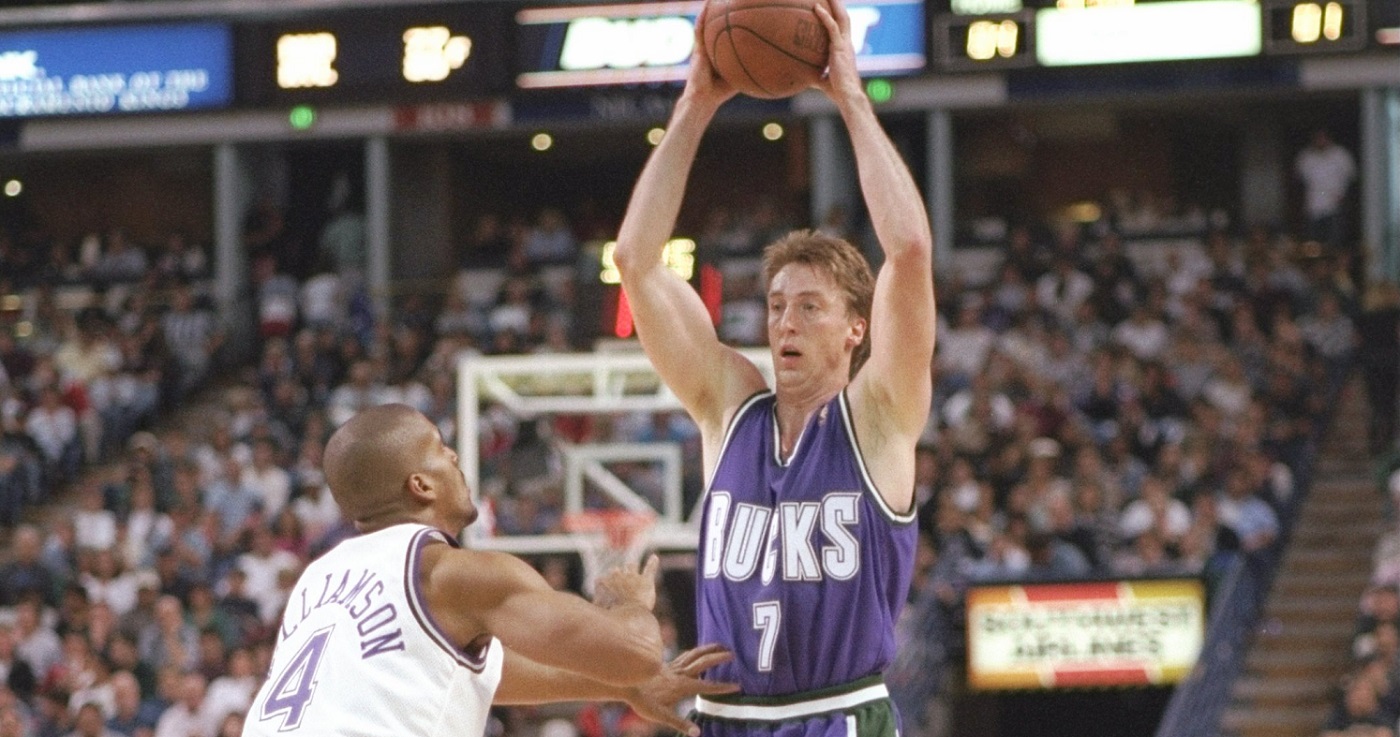 Former NBA Player David Wood Staged a One-Man Protest at Joe Biden's Inauguration and Still Believes Donald Trump Will Serve Four More Years
Former NBA player David Wood, who is a strong supporter of Donald Trump, staged a one-man protest at the inauguration of President Joe Biden.
David Wood certainly didn't have the most memorable NBA career. Undrafted out of the University of Nevada, Wood was just one of those NBA players that was just kinda there. He never stood out, played for eight teams in seven seasons, which weren't even consecutive seasons as he also spent time overseas, but still managed to suit up for 412 NBA games.
While he never made real headlines as a pro basketball player, he certainly got noticed recently as he was in attendance at the U.S. Capitol on January 6, obviously the day of one of the most infamous incidents in U.S. history, and is once again in the news on Wednesday as he staged a one-man protest ahead of the inauguration of Joe Biden.
A strong supporter of Donald Trump, David Wood truly believes that the election results will still be overturned and that Trump will be serving four more years.
The basketball career of David Wood
After spending two years at Skagit Valley College after graduating high school, David Wood played his final two years of college basketball at the University of Nevada, where he averaged 10.4 points and 7.7 rebounds in 58 games. He went unselected in the 1987 NBA draft and began his pro career with the Rockford Lightning in the CBA. Wood did play two games for the Chicago Bulls but didn't score a point in his one minute of NBA action. He returned to the Lightning and then played the 1989-1990 season overseas.
Wood got his true NBA shot in 1990-1991 and appeared in all 82 games for the Houston Rockets, starting 13 of them, and averaged 5.3 points in 17.3 minutes per game. He returned to Europe for the '91-'92 season but returned to the NBA the following year with the San Antonio Spurs. From 1992 to 1997, Wood played for the Spurs, Pistons, Warriors, Suns, Mavericks, and Bucks before returning to Europe to finish his pro career.
In 412 total NBA games (31 starts), David Wood played 13.5 minutes per game and averaged 3.9 points and 2.4 rebounds.
He was at the U.S. Capitol on January 6
January 6, 2021, will long live as one of the most infamous days in American history as a group of rioters stormed the U.S. Capitol in an effort to stop the electoral vote count that would confirm Joe Biden's victory over Donald Trump.
David Wood, a strong Trump supporter, was at the U.S. Capitol that day and was actually live-streaming the events as they unfolded, a post he later deleted, as reported by Marca, a Spanish daily sports newspaper (Wood once played for FC Barcelona).
Wood said he found the protest to be "extremely safe" but saw "10 people shouting angrily who could be problematic" and went on to explain that people were angry because their votes weren't being counted or that illegal votes he believes were cast weren't ruled out, which is exactly what Donald Trump tried and failed to prove in numerous court battles.
Wood posted an apology later that day but still said that he believed Trump would get four more years in office, a belief he was still hanging onto just ahead of Joe Biden's inauguration on Wednesday.
David Wood staged a one-man protest ahead of Joe Biden's inauguration
Many were expecting pro-Trump rallies to take place in Washington, D.C., ahead of the inaugurations of Joe Biden and Kamala Harris on Wednesday but, for the most part, things were silent around the nation's capital. However, David Wood was still out marching on his own in support of Donald Trump and he's still truly convinced that his guy will get four more years in office.
Yahoo News ran into him on the street (and had no idea who he was) ahead of Wednesday's activities at the Capitol and he stood firm in his belief that the election was only won by Biden through voter fraud. Waving a flag and blowing a horn, Wood said that "you can't steal God's country through voter fraud," before speaking on Antifa, Black Lives Matter, and the events that occurred at the Capitol two weeks ago, which he says was not Trump's fault whatsoever.
Wood was asked what he thought would happen when Biden was inaugurated at noon and here's how that conversation played out:
DW: I'll tell you what's going to happen, Donald Trump's going to serve four more years. Joe Biden could be inaugurated, he could be arrested– right after he's inaugurated, but–

Yahoo: Arrested for what?

DW: It's safe to say he's– he's going to resign soon. And–

Yahoo: What do you think they would arrest him for?

DW: Voter fraud. Yeah.

Yahoo: And do you– do you believe–

DW: He said it himself. He said, we're in charge of the biggest voter fraud situation in the history of the world.

Yahoo: Joe Biden said that?

DW: Joe Biden said that, yeah.

David Wood speaking to Yahoo News
Stats courtesy of Basketball Reference