Former NBA Player Eric Snow Will See His Michigan State Legacy on the Football Field Via His Son Darius
Father-son duos are nothing new to the sports world. Some sons end up playing the same sport as their dads. Others choose their own path. Former NBA player Mychal Thompson got it both ways. His son Trayce plays pro baseball; his son Klay entered the NBA, where he's earned a reputation as one of the most lethal shooters ever.
Former NBA player Eric Snow also has a pair of multi-talented sons. One plays football at Snow's alma mater, Michigan State University. The other landed in Texas as a basketball player. Let's look at Snow's college and pro careers and outline the athletic trajectories of his two sons.
Eric Snow's basketball career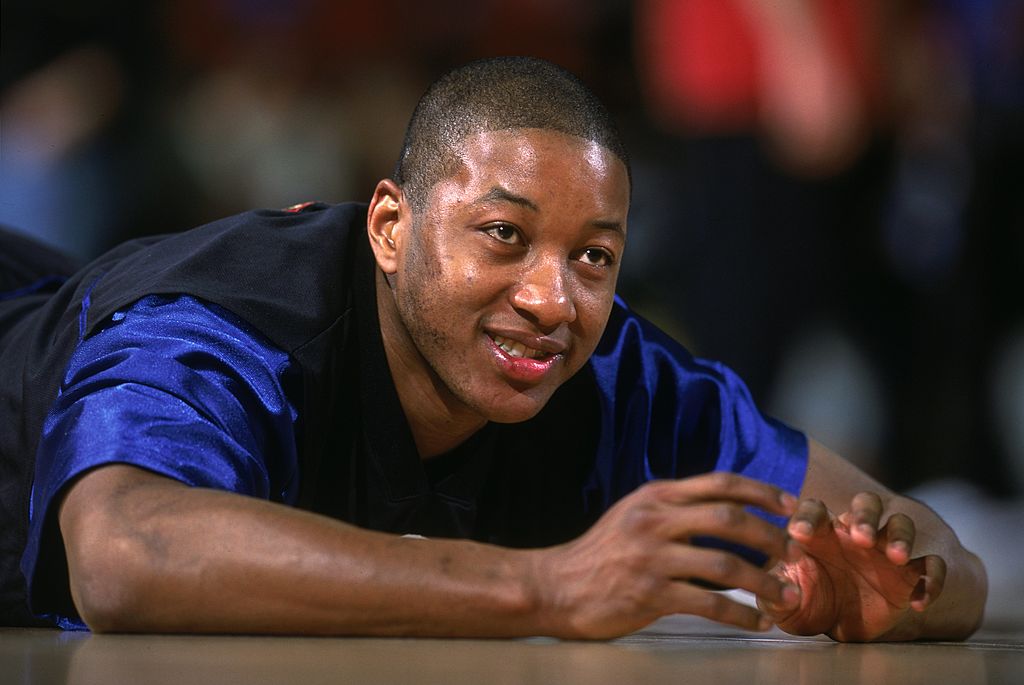 RELATED: Stephen Curry and 9 NBA Players Who Are Better Than Their NBA Dads
Snow spent four years at Michigan State University, from 1991 to 1995. The 6-foot-3 guard came off the bench for his first three seasons, before taking over a starting role as a senior. That year, Snow averaged 10.8 points, 7.8 assists, and 1.9 steals per game. He helped lead the Spartans to a three-seed in the NCAA Tournament, only to see his team upset by Weber State University in the first round.
The Milwaukee Bucks selected Snow in the second round of the 1995 NBA Draft, only to immediately trade him to the Seattle SuperSonics. Snow saw limited action off the bench in his first two seasons, before he went to the Philadelphia 76ers. In his first full season with the 76ers, Snow moved into a starting role.
Snow was never much of a scorer; his average peaked at 12.9 points per game during the 2002-03 season, according to Basketball-Reference. That makes sense when you consider he spent his Philadelphia years playing alongside Allen Iverson. Instead, Snow played more of a facilitator, while helping to offset Iverson's limitations on the defensive end.
After six and a half seasons, the 76ers traded Snow to the Cleveland Cavaliers, where he spent his final four years. Over the course of 13 years in the NBA, Snow put up averages of 6.8 points, five assists, 2.5 rebounds, and 1.2 steals per game. Three of his teams reached the NBA Finals, although none of them ended with a championship victory.
Darius Snow at Michigan State
RELATED: Klay Thompson's Parents Passed Down Athleticism and Pride in Their Ethnicity
Eric Snow has six sons. Darius is the second oldest. He spent most of his youth playing basketball. Darius gave up football in the fifth grade, then picked it up again late in his freshman year of high school. He soon established himself as an elite safety, attracting the attention of colleges everywhere.
Ultimately, Darius committed to Michigan State University, following the footsteps of both his father and uncle, former MSU star Percy Snow. Early scouting reports praised Darius' 6-foot-2, 190-pound physique, noting it gives him excellent versatility, according to MSU. Naturally, his athletic pedigree also played a large role in his optimistic ranking with scouts.
Javon Snow at the University of Texas at Dallas
Darius's older brother Javon is also a college athlete. Javon chose to follow his father's example and play basketball. However, he did not attend MSU. Instead, Javon attends the University of Texas at Dallas. This meant he remained near his father, who serves as an assistant coach with the Texas Legends in nearby Frisco, Texas.
The 5-foot-9 Javon has played two seasons with UT Dallas, coming off the bench in both 2017-18 and 2018-19. In 39 total games, Javon played an average of 5.2 minutes per game. This limited opportunity meant his numbers remained fairly humble.
Javon averaged just a shade over two points per game, to go along with less than one rebound and one assist per game, according to Real GM. Those numbers suggest Javon likely doesn't have a chance as a professional player.