Former NBA Star Derrick Coleman Puts His Big Mistakes in the Past
Derrick Coleman had an NBA career that was impressive by most standards. The All-Star made a lot of money thanks to his power in the post. Coleman's past also includes an unfortunate side story that continues to haunt him to this day. Instead of living in the past, however, Coleman is using the present to do good work.

Derrick Coleman's NBA career
As the first overall pick of the 1990 draft by the New Jersey Nets, Coleman entered the league with unfair standards. People expect the first pick of the draft to not just be a good player, but a great one. At the time, the Syracuse alum showed he could be just this.
Coleman broke into the league, averaging 18 points, 10 rebounds, and one block per game. NBA fans loved him as he continued to show his worth for several years. In fact, the 1992-93 season saw him put up nearly 21 points per game and 11 rebounds.
For a while, he was among the best centers in a league with David Robinson, Hakeem Olajuwon, and a young star named Shaquille O'Neal. Unfortunately, Coleman began to develop a reputation as a player with all the talent in the world, but no work ethic.
The young athlete got by on his physical gifts and skills. But Coleman's ability to grow these things was inhibited by poor work ethic. He struggled to break past the ceiling he set as a rookie.
Those first five years in the NBA told his entire story. While Coleman had a 15-year career and occasional returns to prominence, a combination of injuries and a lack of development meant he was more of a tale of what could've been rather than one of success.
Coleman's struggles get worse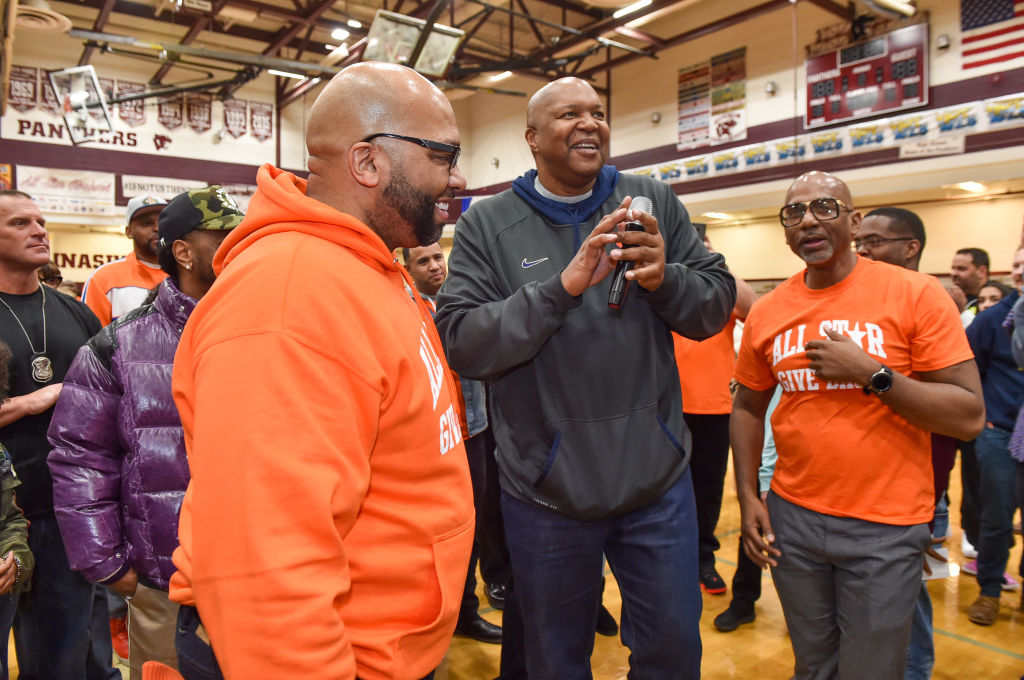 Coleman made over $100 million throughout his career despite his reputation as an athlete who only played for his next paycheck. According to Fadeaway World, Coleman tried to capitalize on his worth with investments like Hilton hotels and fast-food chains.
Unfortunately, his penchant for spending meant he found himself broke within five years of his retirement from the NBA. Financial issues plague many professional athletes, who often live as though their large incomes will be there long after they retire.
Coleman struggled with the same issues many athletes struggle with. This left him broke and humiliated in the process. Thankfully, he's used these hardships to help others in their time of need.
Derrick Coleman learns from the past
In 2016, Coleman, who is getting back on his feet, knows his career never reached its full potential — and he's okay with this. The 53-year-old doesn't dwell on what could've been and all the losses he's experienced. Instead, he tries to better himself every day.
Coleman may have this healthy perspective because of the people he sees throughout his daily life. Recently, he's driven 65 miles every day to deliver water to the people living in Flint, Michigan, where poor planning has left their tap water undrinkable. Speaking with NJ.com, Coleman expressed empathy for the people who must live without something as simple as drinking water.
"That's what I'm seeing. Distress. I'm seeing people who need help," Coleman told the media outlet. "I've seen the rust and everything that's in their water. Flint is like a ghost town, and it's sad. It's 2016. How can this happen here in America, here in the greatest country in the world?"
Coleman may have been a bust in some people's eyes. He may have hit rock bottom more than once. What's comforting, however, is the fact that he hasn't dwelled on his mistakes. Instead, he sees that others have it worse and tries to make a difference.
Follow more updates from Sportscasting on our Facebook page.