Former NBA Superstar Blasts Frank Vogel for Not Knowing What He's Doing With the Lakers: 'That's What a Coach Is Supposed to Do'
The Los Angeles Lakers have had an up-and-down season so far; they are 8-6 through 14 games and sit at No. 7 in the Western Conference. LeBron James has missed the last six contests due to injury and has only played in six games overall, so his absence has, obviously, played a role in their struggles. But LA should still have enough talent to win without him, and wins have been hard to come by this year.
Their mediocre start to the season has since led to former NBA superstar Gilbert Arenas sending out a strong message about Lakers coach Frank Vogel. And it appears Agent Zero isn't too pleased with the job Vogel has done so far.
The Lakers have had an up-and-down start to the season
Patience is key when discussing the Lakers. They have a new Big Three and an almost entirely different roster than they did last year.
But we are almost a month into the season, so it's now time to start showing progress.
And they haven't quite done that just yet.
While losses to the Golden State Warriors, Phoenix Suns, and Portland Trail Blazers are understandable, LA has had some inexcusable performances so far this year. The Oklahoma City Thunder beat them twice, rallying back from big deficits in both games. The Lakers also didn't even show up in a contest against the Minnesota Timberwolves, losing 107-83.
Of course, LeBron James' injury absence hasn't helped, neither has Trevor Ariza's or the previously-hurt Talen Horton-Tucker's. But a roster with Russell Westbrook and Anthony Davis should still be good enough to win more than 8 out of 14 games. 
So, what's their issue? Former NBA superstar Gilbert Arenas seems to think their coach is the problem.
Gilbert Arenas blasted Frank Vogel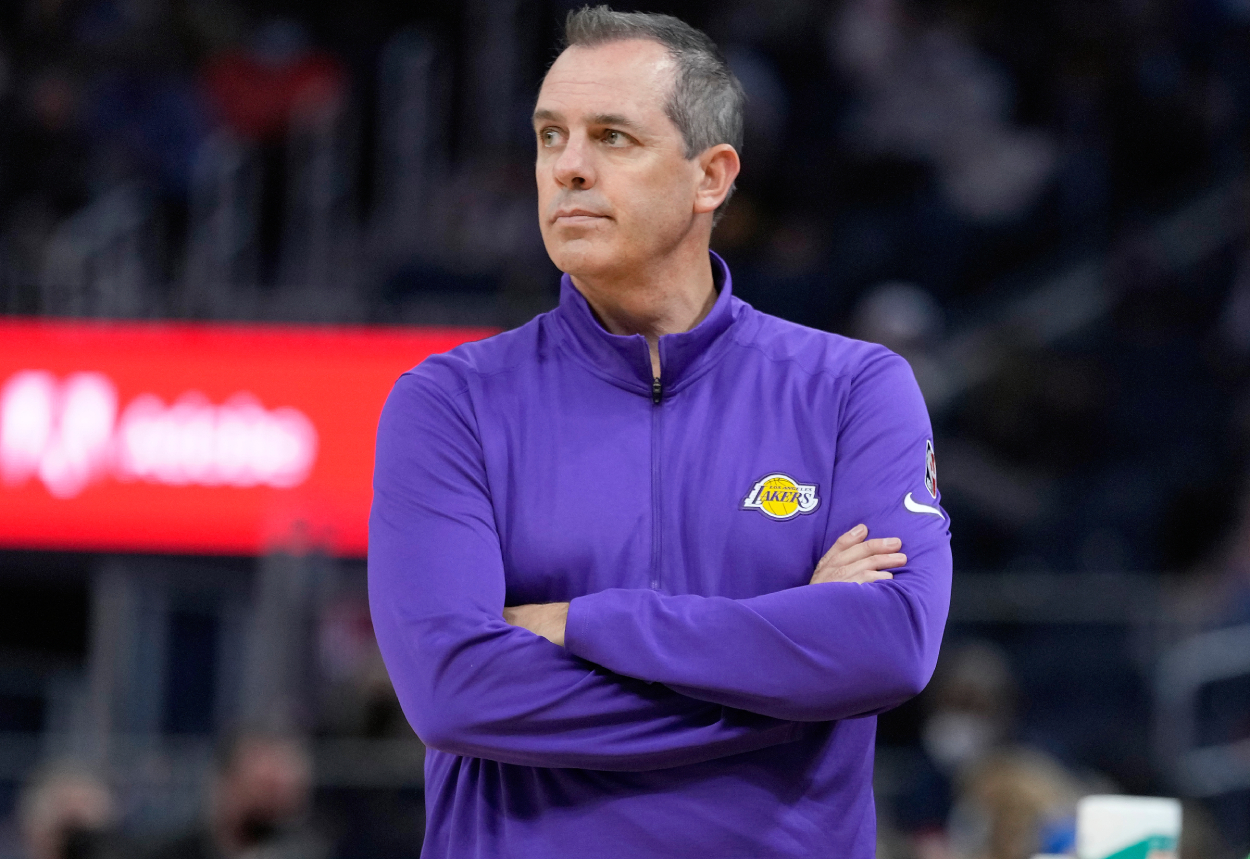 Gilbert Arenas was a three-time All-Star in his career and averaged as many as 29.3 points in a season. He knows what successful basketball looks like, so he has strong opinions about Lakers coach Frank Vogel.
In a recent episode of No Chill with Gilbert Arenas, the NBA's 2002-03 Most Improved Player blamed Vogel for LA's struggles.
"You're looking at this roster now, and you're like, 'What are you doing?'" Arenas said before bringing up Montrezl Harrell and how he has found success away from the Lakers this season. "… How do you not know how to play a player? Isn't that your job as a coach to be flexible? … And that's why some coaches are just not good because they don't actually understand what talent is, how that talent is played, how to utilize that talent."
Arenas then shut down the notion that injuries have played a role in the team's significant struggles thus far.
"The players that are playing are still good players compared to everybody else," he said. "…You still don't even know how to play Westbrook the correct way. You still ain't using him the way he needs to be used. What was training camp for then?"
Arenas then implored Vogel to adjust his game plan based on what his players bring to the table instead of going into games with the same mindset.
"That's what a coach is supposed to do," Arenas said.
All in all, the former Washington Wizards star is high on the Lakers and still thinks they are the favorites in the Western Conference. But he seems to believe their coach is a liability.
Can the Lakers turn things around?
Arenas appears to be confident in the Lakers' roster, and his feelings are justified. The players are the main reason they still have a great chance at turning things around.
A trio of LeBron James, Russell Westbrook, and Anthony Davis (when healthy) is arguably the best Big Three in the NBA. Their collective ability to pass, score, and rebound is hard for any team to stop, especially in a seven-game series. The Lakers also essentially have a fourth scorer in Carmelo Anthony, who is averaging 16.0 points, as well as a bunch of solid role players who bring extra support in Talen Horton-Tucker, Malik Monk, Dwight Howard, and others. That's arguably one of the deepest rosters in NBA history.
Right now, things may not be looking too hot for the Lakers, but their roster is talented enough to work past these early-season struggles. They just need to stay healthy and, according to Arenas, find a way to overcome an incapable coach.
Stats courtesy of Basketball Reference