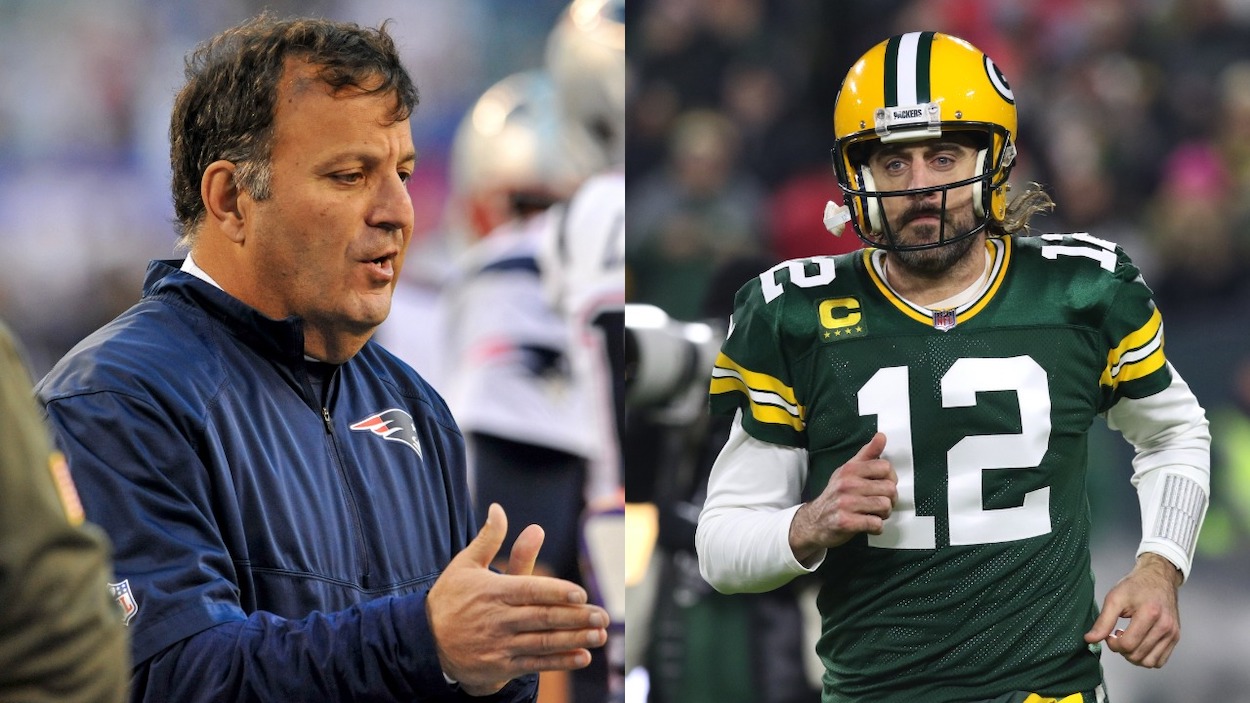 Former NFL Executive Michael Lombardi Boldly Claims Green Bay Packers QB Aaron Rodgers 'Will Be the First $50 Million Player in the NFL'
Reigning NFL MVP Aaron Rodgers likely won't win the coveted award this year, despite his success, but Michael Lombardi says he'll be rewarded another way.
Green Bay Packers superstar QB Aaron Rodgers is, once again, playing at an MVP level in 2021. While he likely won't win the award for reasons that have nothing to do with his play on the field, longtime NFL-executive-turned-analyst Mike Lombardi thinks he will reap an even bigger reward with his next contract. 
Aaron Rodgers will likely get a huge new contract next season
Aaron Rodgers signed a four-year deal in 2018. It includes an out after 2021, where his dead cap hit drops dramatically, from $53.9 million to $27 million. 
Whether Green Bay Packers general manager Brian Gutekunst secretly agreed to let Rodgers go this offseason if he came back for 2021, the QB goes all-in in on moving to another team in 2022, or the Packers and Rodgers kiss and make up with a shiny new extension, chances are the signal-caller will get another contract extension heading into next season. 
And he deserves it. 
As the reigning NFL MVP, Rodgers is again playing at an MVP level in 2021. Through 13 games, Rodgers has started 12 contests with a 10-2 record. He's completed 67.3% of his passes this season for 3,219 yards with 27 touchdowns and just four interceptions. 
He leads the league in passer rating (108.8) and is top 10 in yards per game (268.3), yards per attempt (7.9), and touchdown passes. 
After his disingenuous turn of phrase about being "immunized" and subsequent positive COVID-19 test, the 38-year-old QB will almost certainly not win a second-consecutive MVP. Right or wrong, the plurality of football writers who vote on the award won't reward him after that controversy.  
However, while he might not receive the recognition he deserves from the media, former NFL executive Michael Lombardi believes an NFL will reward him in historic fashion. 
Former NFC exec Michael Lombardi says the reigning NFL MVP will become the NFL's first $50 million per year player 
For 30-plus years, Michael Lombardi worked in the NFL, per VSiN. He started as a scout for Bill Walsh's San Francisco 49ers in the 1980s before working with the New England Patriots, Oakland Raiders, Philadelphia Eagles, and Cleveland Browns in various player personnel-related capacities. He was even the GM in Cleveland in 2013-14. 
Since leaving the New England Patriots — and his close confidant Bill Belichick — in 2015, Lombardi's become part of the NFL media. He's worked for multiple outlets, including The Ringer and The Athletic, and currently hosts The GM Shuffle podcast and The Lombardi Line radio show. 
Lombardi recently joined the Pat McAfee Show to discuss the hottest topics in the league. The conversation turned to McAfee's good buddy Aaron Rodgers and Lombardi shared a bold prediction about the former Cal Bear's next contract: 
Here's what I will predict. He may not win — he should be the MVP, I'll say that. But he will be the first $50 million player in the NFL. 

Mike Lombardi on Aaron Rodgers
It's an audacious assertion from Lombardi.
However, with the way Rodgers is playing combined with the number of NFL teams that desperately need a QB and the dearth of high-end college prospects in the 2022 draft, $50 million is not out of the question for the polarizing passer. 
And, with a few $50 million seasons, Rodgers could easily become the highest-earning player in NFL history. 
Rodgers career earnings are $263.3 million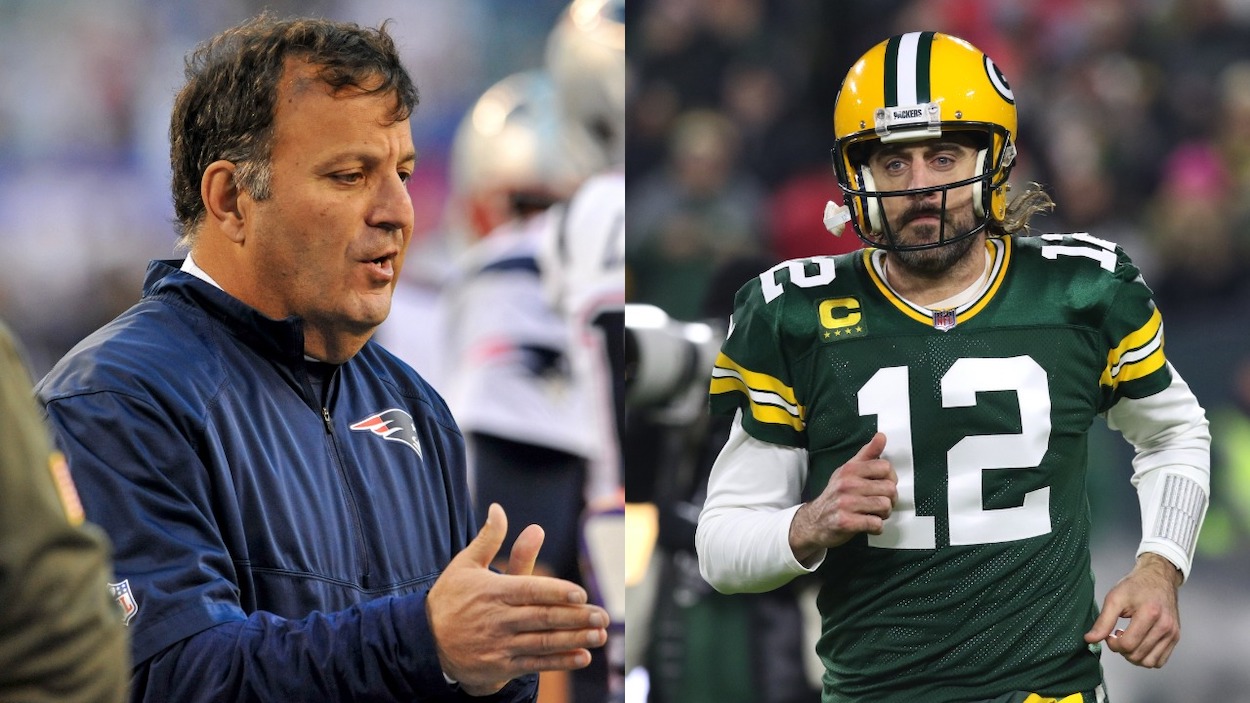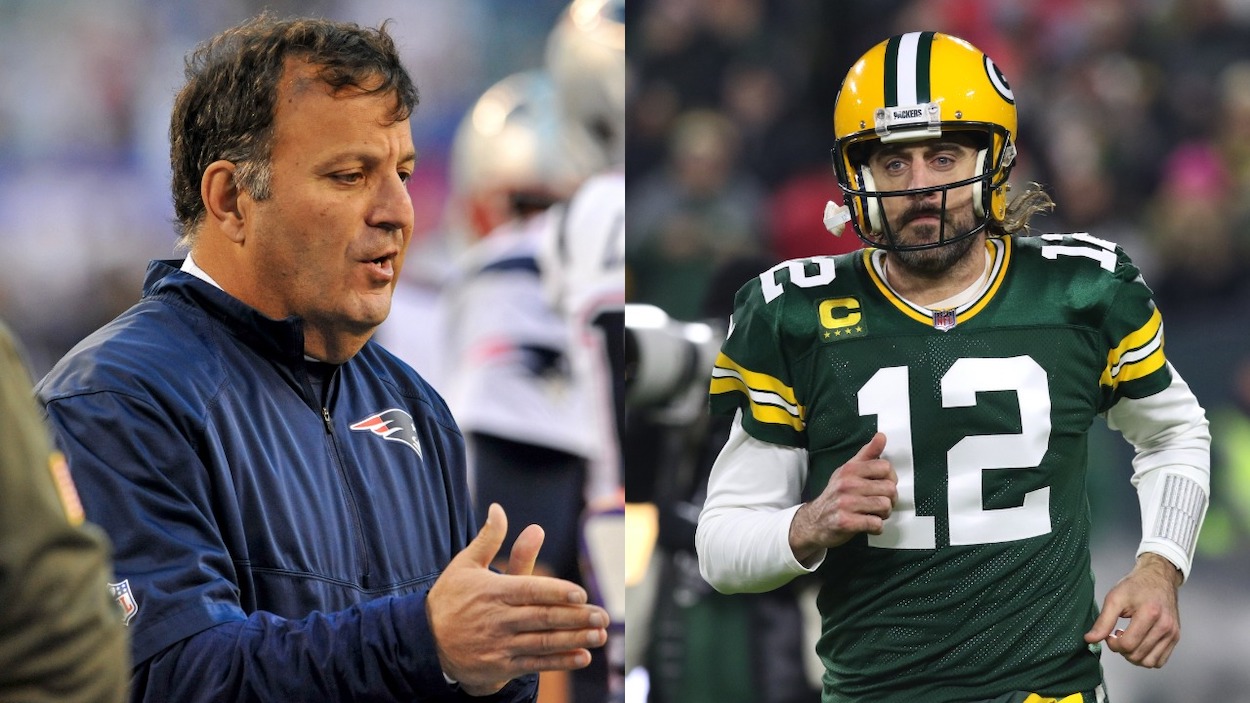 Aaron Rodgers had career earnings in the NFL totaling $263.3 million. 
As the No. 24 overall pick in 2005, Rodgers signed a five-year $7.7M first contract with the Green Bay Packers. In 2008, as he was taking over from Brett Favre as the Packers' long-term starter, he signed a six-year $63.52M extension. 
By 2013, Rodgers had three Pro Bowl appearances, an All-Pro nod, an NFL MVP Award, and a Super Bowl. These accolades earned him a five-year $110M extension. At the end of that contract, he signed his $134M pact in 2018. 
A contract with an average annual value (AAV) of $50M would make Rodgers No. 1 in that category, besting Patrick Mahomes ($45M AAV), Josh Allen ($43M), and Dak Prescott ($40M).  
He is currently third in NFL history in career earnings behind only Matt Ryan ($267M), Ben Roethlisberger ($267.3M), and Tom Brady ($291.1M). These QBs currently make significantly less per year than $50M, so if Rodgers does sign for that (or even near it), he should be the highest-earning player ever within the next year or two. 
That's pretty good for a guy who suffered one of the biggest and most publicized slides in first-round draft history. 
All stats courtesy of Pro Football Reference and contract figures courtesy of Spotrac