Former NFL Offensive Lineman Clint Oldenburg Is Now a Madden Developer
When the popular Madden NFL series relases its football game every year, a quick look at the credits shows a developer named Clint Oldenburg.
Fans of various NFL teams, including the New England Patriots and New York Jets, may vaguely remember Oldenburg from his playing days.
Clint Oldenburg only appeared in two NFL games, but he's nonetheless developed a lasting football reputation. Here's how Oldenburg went from reserve Jets lineman to Madden developer.
Clint Oldenburg was a journeyman offensive lineman
RELATED: Michael Thomas Could Join Randy Moss and These Receivers With Another 99 Overall Madden Rating
Originally a tight end, Clint Oldenburg played collegiately at Colorado State and moved to offensive line midway through his time there. New England thought highly enough of Oldenburg that they used a fifth-round pick on him in 2007.
Oldenburg wasn't long for New England, though. The Patriots cut him during his rookie year and he signed with the rival Jets.
Clint Oldenburg played two games in 2007, both with the Jets, before he joined the St. Louis Rams in 2008. When the Rams cut him, Oldenburg signed with the Denver Broncos.
Ultimately, Clint Oldenburg didn't see in-game action with either team. The same went for the Washington Redskins, where he spent the 2009 and 2010 seasons.
Washington released Oldenburg in September 2011. That was the last time he appeared on an NFL roster.
Oldenburg joined EA Sports when he retired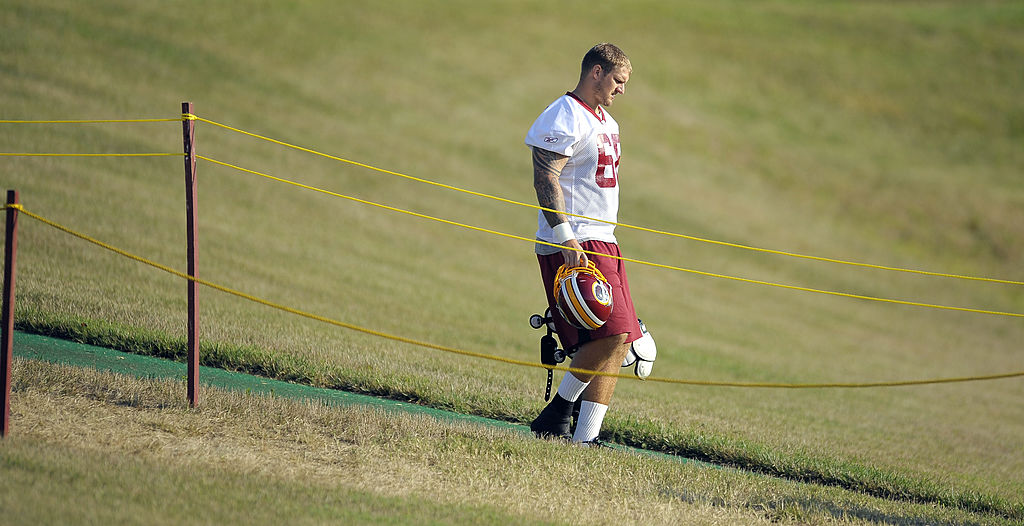 RELATED: Lamar Jackson Hopes to Follow in Madden Cover Star Patrick Mahomes' Footsteps
Although Clint Oldenburg's NFL career ended in 2012, he did his best to stay around the game. Rather than going into coaching or broadcasting, Oldenburg went down a far different route: video games.
Oldenburg joined EA Sports as a design intern in January 2012, according to his LinkedIn page. At the time, Oldenburg worked on the popular NCAA Football series and became an associate designer in May 2012.
Both NCAA Football 13 and 14 earned rave reviews for their gameplay. Unfortunately, the NCAA Football series ceased production in 2013 because of player likeness lawsuits.
Clint Oldenburg held that role until he earned a promotion this time to a Madden designer, in December 2013. As a designer, Oldenburg was tasked with working on Madden's "core football gameplay."
Oldenburg is now Madden's gameplay producer
RELATED: Does the Return of NFL 2K Signal the End of the Madden Franchise?
Clint Oldenburg currently wears multiple hats at EA Sports. He's worked as a Madden ratings adjustor since September 2018 and a senior designer, with a focus on gameplay design, since November 2018.
In October 2019, Oldenburg moved up to Madden's Associate Producer, again with a heavy emphasis on gameplay.
The past few years haven't gone well for EA Sports and the Madden series. Last year's game, Madden NFL 20, earned extremely negative reviews for its gameplay and repetitive features.
The PlayStation 4 version of Madden NFL 20 currently holds a user rating of 1.6, or "overwhelming dislike," on Metacritic. The Xbox One version has "generally unfavorable reviews" and a user score of 2.0. All scores are out of 10.
EA Sports also received harsh criticism following the Madden Classic, a tournament featuring some of the world's top players.
A gamer named "Joke" won the tournament without throwing a single pass and with Redskins punter Tress Way playing quarterback. The gamer took advantage of an exploit that provided better running animations when a left-handed quarterback — Way is a left-handed punter — handed off.
The pressure is on Clint Oldenburg and the Madden team come Madden NFL 21's eventual release. Baltimore Ravens star quarterback Lamar Jackson is on the cover.
EA Sports has not announced a release date for Madden NFL 21 yet. The game traditionally releases in August.