A Former NFL Player Boldly Claims That Lamar Jackson Can Be The Best Quarterback Ever If He Improves 1 Important Skill
Lamar Jackson has accomplished so much in his young NFL career. The Baltimore Ravens quarterback continues to overcome adversity and prove the doubters wrong. Jackson is unlike any player the league has ever seen, including Michael Vick.
Former Pro Bowl linebacker Shawne Merriman thinks highly of the former MVP signal-caller, and made a bold claim about his future.
Ravens QB Lamar Jackson is one of the NFL's brightest stars
Lamar Jackson has already far exceeded expectations in the NFL. The Baltimore Ravens selected him with the No. 32 overall pick in the 2018 NFL Draft.
Whether they'll admit it or not, NFL scouts and executives have to be kicking and screaming that they underestimated Jackson's talent.
The former Louisville standout has put together a laundry list of achievements, and he's only in year four. Jackson shattered Michael Vick's single-season quarterback rushing record, racking 1,206 yards on the ground in 2019. He also set numerous franchise marks.
The Ravens boast a 33-8 career record with Jackson as the starting quarterback. The 24-year-old has helped lead Baltimore to three consecutive AFC North titles.
After injuries decimated their roster, the Ravens have relied on Jackson more than ever before in 2021. Due to his dynamic dual-threat ability, he has the team in a position to contend for yet another division crown and a playoff run.
Shawne Merriman is a big believer in Lamar Jackson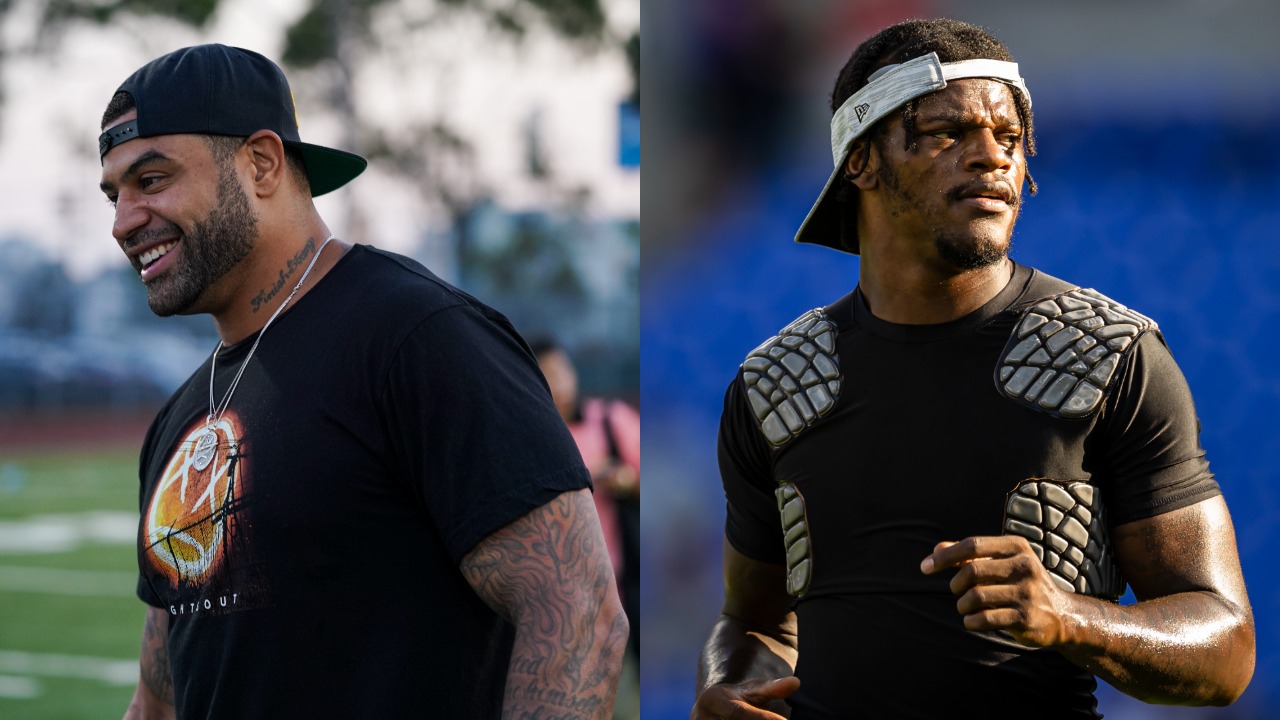 Lamar Jackson has amazed plenty of current and former NFL players with the level of dominance that he has established in such a short time as a pro. Shawne Merriman is the latest to chime in on the Ravens' superstar.
Merriman is a former first-round draft pick and spent eight seasons in the NFL between the San Diego Chargers and Buffalo Bills. The 3-time Pro Bowl selection weighed in on what Jackson's ceiling could be.
"I always say this, if Baltimore quarterback Lamar Jackson became a little bit more accurate, I think he'll go down as the best quarterback of all time," Merriman said per Sports Illustrated.
"Really, I do believe that. And I'm not talking about being a better passer than Peyton Manning or whatever, I'm just talking about an individual athlete who can hurt you in that many ways, and he finds a way to be accurate, what do you do?"
There's no debating Jackson's dangerous abilities as a runner. However, his accuracy has been a concern since he entered the league.
Through his first three seasons and the first four games of 2021, the former MVP has completed 63.6% of his passes. He's completed 60.5% so far in 2021, placing him at No. 28 among all starting quarterbacks.
Can Jackson become the GOAT?
Don't put too much stock into Lamar Jackson's low completion percentage to begin the 2021 season. Injuries and dropped passes have plagued the Ravens' offense. It's a long season, though, so he has time to turn things around.
Just because the fourth-year quarterback is far more lethal running the football doesn't mean he can't beat you with his arm. He's not a running back, contrary to popular belief. He's a quarterback who can make defenders look silly when he takes off.
Sure, Jackson absolutely needs to be a more consistent passer, especially in big games. Still, he's proven that he's capable of making the requisite throws in the NFL. He tossed a dime to Marquise Brown against the Denver Broncos.
Shawne Merriman's hot take sounds crazy, but it's not far-fetched. He clarified his statement. Jackson isn't Peyton Manning or Tom Brady. But, there's no cookie-cutter definition of what a quarterback is, despite the stereotypes.
Every quarterback thrives in a particular system. John Harbaugh and the Ravens catered their offense to Lamar Jackson's strengths.
If he improves his accuracy, he'll climb the list of the best quarterbacks in the game today. But let's pump the brakes on the GOAT conversation, at least for now.
All stats courtesy of Pro Football Reference.
RELATED: The Baltimore Ravens Are on Dangerous Ground as It Pertains to Lamar Jackson's Future