Former NFL Player Nnamdi Asomugha Has Millions but Drives a '97 Nissan Maxima
Former Oakland Raiders cornerback Nnamdi Asomugha isn't just any ex-player. He transitioned to an unrelated industry and now produces films. In 2017, Asomugha tried acting with a breakout performance that garnered critical praise. The talented multi-millionaire sees each new opportunity for increasing his net worth. So why is he regularly seen driving in an ancient Nissan Maxima?
Asomugha is clearly not one of those retired athletes who went bankrupt after retirement. To find the answer, let's explore Asomugha's NFL career, where he made millions each season.
How Nnamdi Asomugha earned his millions in the NFL
Asomugha earned his spot in the NFL, and according to Sportrac, took in up to $11 million per year at his best. From 2003 to 2010, he was the face of the Raiders' defense. He was considered one of the best shutdown corners in the league, and was voted All-Pro four times as recognition.
Fox Sports considered him an easy choice for their All-Decade Team. He showed little sign of decline even in his final season in Oakland, where according to Pro Football reference, he didn't allow a single touchdown. Of 27 passes that went his way, he allowed only 10 to land.
After a short stint with a struggling Philadelphia Eagles, and a single year with the San Francisco 49ers where his age finally caught up to him, Asomugha retired. He signed a single day contract with the Raiders, officially ending his NFL career with the team he helped define for the new millennium.
Asomugha's foray into acting
Asomugha started exploring his post-NFL career while he was still an active player. Starting in 2008, he made appearances on network TV shows like The Game and, fittingly, Friday Night Lights. By 2012, he was writing and directing his own short films.
The increasing connection to the film and TV industry led Asomugha to meet Scandal star Kerry Washington. The two were married in 2013, just as the former CB transitioned to acting, writing, and producing full time. The happy couple now have two children together.
For a time, it seemed Asomugha was going to mainly operate as a producer, after he threw his weight behind the major motion picture Beasts of No Nation. However, he returned to acting in the independent film Crown Heights. It was a breakout performance that solidified the former NFL player as an actor, including among people who had no familiarity with his former career.
The frugal lifestyle that has a multi-millionaire actor and athlete driving a '97 Nissan Maxima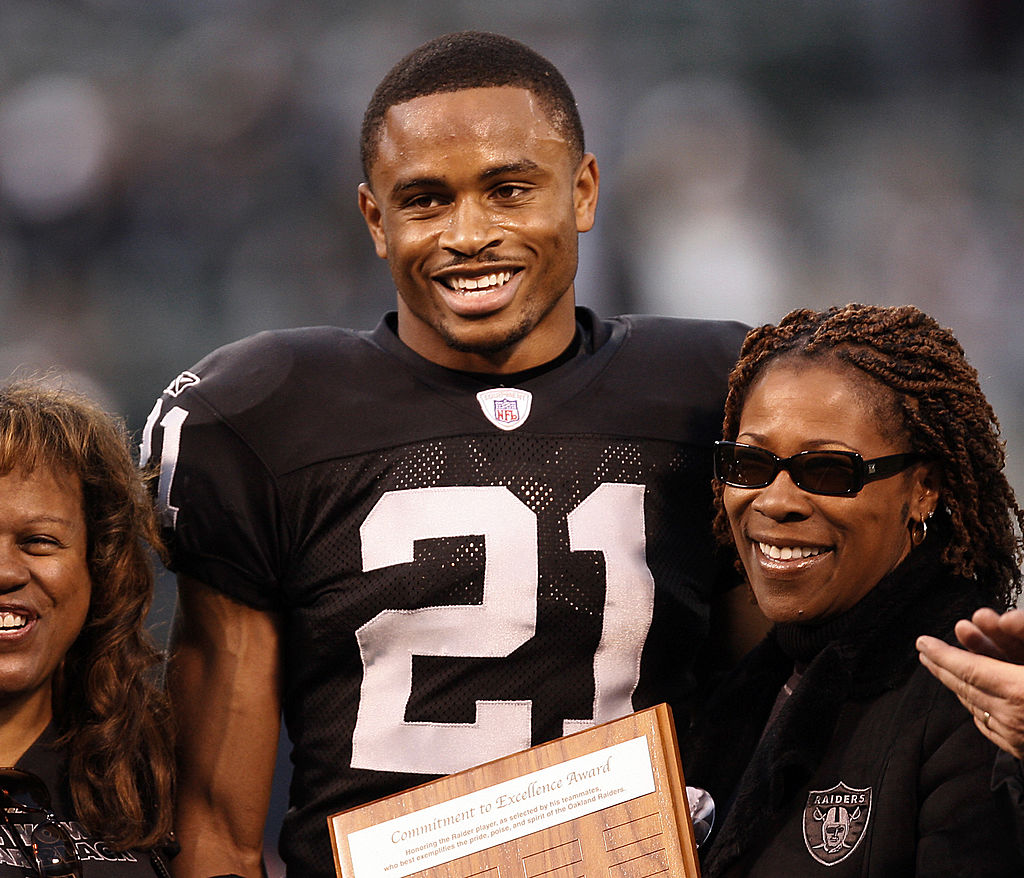 According to Celebrity Net Worth, Asomugha's current total wealth is $35 million. Despite how much he made playing in the NFL, that number could probably be somewhat higher. He is part of the cohort of former NFL players that gives away large portions of their wealth to charity.
Still, $35 million goes a long way. Asomugha doesn't take it for granted and lives an intentionally frugal life despite his immense wealth. He takes it further than most: he still drives the same '97 Nissan Maxima that he drove to prom as a high schooler.
"Even after I started earning good money, I was still in the mentality of 'I know this is all I need, so I'm doing fine," Asomugha told Wealthsimple, explaining why he still drives his old reliable car. "We didn't have much growing up, so I guess I got used it." It's a smart move.
Both playing in the NFL and working in Hollywood are career choices that can end with little notice. Asomugha and Washington should be more than fine for the foreseeable future, of course. But had things gone a different way, the former Raider clearly had a plan.