Former NFL Pro Bowler Questions Patrick Mahomes and the Chiefs' Playoff Chances on Live TV, Passionately Blasts Their Defense: 'Absolute Hot Garbage'
Ever since becoming the Kansas City Chiefs' starting quarterback in 2018, Patrick Mahomes has taken the NFL storm. However, this year, KC has gotten off to a slow start, and the team's Super Bowl chances are now in jeopardy.
In fact, former NFL Pro Bowler Ryan Clark isn't just questioning whether Mahomes and company can appear in the big game for the third straight year; he's wondering if they will even make it to the playoffs.
Patrick Mahomes and the Chiefs have gotten off to a slow start this season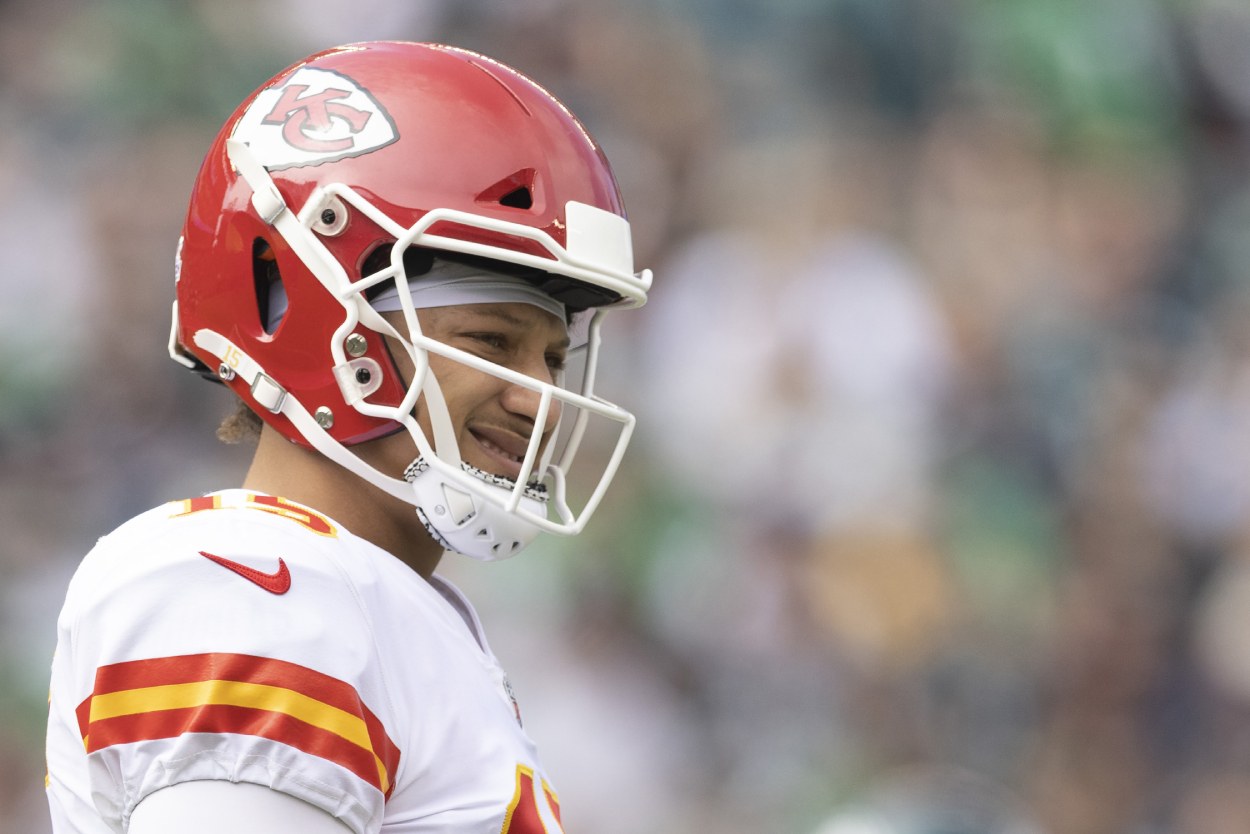 The Tampa Bay Buccaneers might have actually broken the Chiefs.
Kansas City was on its way toward building a dynasty, as Mahomes led the franchise to the AFC Championship Game during the 2018 season before winning the Super Bowl during 2019 campaign. He then led them to the big game again in 2020.
During last season's Super Bowl, though, Tom Brady and the Buccaneers embarrassed the Chiefs by winning 31-9, and KC has since gotten off to a slow start in 2021. The team is 2-3 through five games and also essentially had no chance against the Buffalo Bills in Week 5, losing 38-20.
Mahomes has still played well this year, completing a career-high 69.2% of his passes, and he's leading the NFL with 16 touchdown throws to go with 1,490 yards. But he has also thrown six interceptions, which matches his number for the entire 2020 season, and exceeds the five he threw in 2019.
Against the Bills, Mahomes threw two picks and fumbled once, which played a large role in the loss.
"It starts with me," Mahomes said, per ESPN. "It's something I've not usually done in my career, but I have to reevaluate where I'm at, what decisions I'm making."
Mahomes, however, doesn't deserve all the blame.
Ryan Clark questions if Patrick Mahomes and the Chiefs can even make the playoffs
Former Pro Bowl defensive back and ESPN analyst Ryan Clark knows a thing or two about being on successful NFL teams, as he won a Super Bowl with the Pittsburgh Steelers in 2008.
So, while recently discussing the Chiefs' loss to the Bills, Clark questioned whether KC can even make the playoffs this year.
"If they don't find ways to make Chris Jones active, if Tyrann Mathieu isn't making plays on the back end, they can't get a stop," he said on the Oct. 11 episode of First Take. "And so, this Kansas City Chief team right now is a team that we might not see in the AFC Championship, but we might not see them in the playoffs. They better be happy that there's seven spots right now in each [conference]."
Clark then pointed out how, after Tyreek Hill and Travis Kelce, Mahomes doesn't have a third option to throw to, but it appears that the commentator's biggest issue is with the team's defense. In fact, he seems to be appalled by its play so far.
"Defensively, they are trash, like not bad — absolute hot garbage. You can't win in the AFC like that," he said.
Clark continued later on in the segment: "Where are we going to find the one trait that makes us feel like this defense can actually do something well? … This team has been totally sold out by their defense, and Patrick Mahomes can no longer bail them out. So, unless Pat goes on one of these MVP streaks, we're in trouble. We're in trouble in Kansas City."
The former Steelers star certainly seems nervous about Mahomes and the Chiefs' chances the rest of the way. Is he right, though?
The Chiefs' defense needs to step up
Mahomes' turnovers have been surprising, but they're not the major issue for the Chiefs.
As Clark mentioned above, Kansas City's defense is "hot garbage." It's allowing the most points per game in the NFL so far, as teams have scored an average of 32.6 points against it this year. It has also allowed the most rushing touchdowns and the second-most total yards, while also only forcing four turnovers.
Sure, the Chiefs have a chance to win anytime Mahomes takes the field, and he should still be able to make enough plays to get them to the playoffs this season. But if the offense keeps falling behind because of the defense's struggles, he might have to force the issue more, which sometimes leads to turnovers.
All in all, it essentially comes down to the defense. If it doesn't improve, the Chiefs' road to the Super Bowl will be much more challenging, and their playoff hopes could even be in jeopardy. If it does step up, though, Mahomes and the other skill players on offense are talented enough to lead Kansas City to another championship.
The next few weeks could be a pivotal stretch for the Chiefs' dynasty chances. We will get to see what they're truly made of.
Stats courtesy of Pro Football Reference
RELATED: The Chiefs Have a Major Crisis On Their Hands That Even a Perfect Version of Patrick Mahomes Can't Overcome