Former NFL QB Brady Quinn Rips Apart LSU HC Brian Kelly For 'Classless' Notre Dame Exit
1,000 miles. That is how long Brian Kelly's move is as he transitions from Notre Dame to become the new head coach at LSU.
After an absurd week of college football news, the dust is starting to settle. Lincoln Riley moved from Oklahoma to Los Angeles to take the USC job, and Kelly moved from South Bend to Baton Rouge in a pair of stunning moves.
As it turns out, many people aren't too thrilled with either move and Kelly's abrupt departure with Notre Dame fighting for a College Football Playoff berth has become the hot topic.
Brian Kelly dashes to become the new head at LSU after a successful tenure at Notre Dame
LSU's decision to poach Kelly left the Irish faithful in complete and utter shock. Nobody saw this coming at all, especially with the Irish up to No. 6 in the latest CFP rankings.
He fared well in his 12 seasons at Notre Dame. Kelly compiled 113 wins with five bowl game victories and one trip to the BCS National Championship game.
In turn, LSU welcomed Kelly with a massive 10-year contract worth $95 million — and even more after incentives. He goes to Louisiana and takes over a program that won a championship back in 2019, with Joe Burrow leading the charge.
Ultimately, Kelly's departure from South Bend did not go over well at all, and former Irish quarterback Brady Quinn was one to put LSU's new head coach on blast for the way he left Notre Dame.
Brady Quinn rips Brian Kelly for his abrupt departure of Notre Dame
The way Kelly left is going to leave a bitter taste around Notre Dame for quite some time. Brady Quinn, the former Irish quarterback who spent time in the NFL, was unhappy with how Kelly left things (h/t Lorenzo Reyes of USA Today).
"At the end of the day, you don't leave the way he did, literally out on the road recruiting, leaving a recruit's house after this news breaks and having other coaches out there who are on the road recruiting. You don't leave in a classless way like that, after becoming the all-time winningest coach, unless there's more to it and you want to try to spurn, or you want to try and do this in a conniving way."

Brady Quinn on Brian Kelly's exit from Notre Dame
Quinn was not happy, and many others expressed their frustration with the way Kelly left things. It was sudden, it was unexpected, and it rattled the entire world of college football.
The former Irish quarterback didn't stop there, either, and continued to put Kelly on blast on Fox Sports 2 Pros and Cup of Joe podcast.
"This was about money. This was about ego …  I think the way he did it was more about his ego and how he feels he was treated at times at Notre Dame."

The former Irish QB on Kelly's departure to LSU
There are a lot of harsh words going around regarding the way Kelly left. It also doesn't help that Kelly abruptly left Cincinnati to take the Notre Dame job over a decade ago.
To make matters worse, the morning after LSU hired him, Kelly held a team meeting at Notre Dame. It didn't last long at all — not even two minutes — and it left the players in bewilderment.
Yeah, none of this bodes well for Kelly, and frankly, he might not care one bit. He heads to the SEC and gets rewarded with nearly a $100 million contract to do so.
The Irish proceeded to hire Marcus Freeman as the new head coach to fix the mess that Brian Kelly left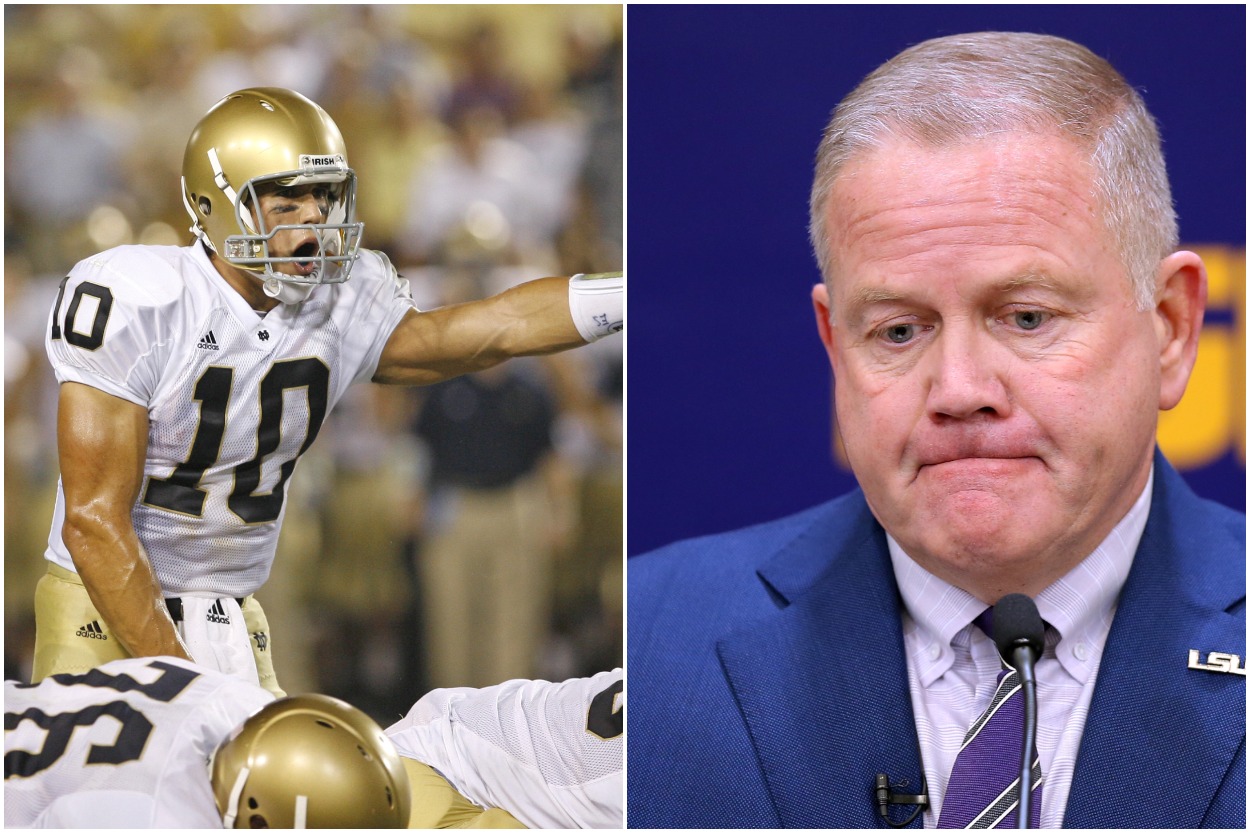 The fallout from Kelly's sudden departure didn't last too long. On Wednesday, defensive coordinator Marcus Freeman was named as the new head coach.
Tommy Rees also stayed on as offensive coordinator, and much of the staff remained even though some had offers to join Kelly at LSU.
So, while Kelly left behind a lot in South Bend, the Irish got right to work to try and fix the mess left over — especially with a potential College Football Playoff bid on the horizon. Sure, the Irish need things to go their way to get in, but being at No. 6 without having to play a conference championship game alleviates some pressure for the time being.
All in all, the last week in college football has shifted things drastically. The way everything turned out, Kelly's successful tenure in South Bend will always be overshadowed by his disastrous exit.
Stats Courtesy of Sports Reference