Former NFL Scout Praises Bill Belichick and Patriots' Ego-Less Game Planning: 'He's the Best Coach Ever'
Bill Belichick and the New England Patriots do whatever it takes to win. That's not surprising news. Belichick has six Super Bowl titles with the Pats to prove that theory.
It was perhaps never more evident than on Monday Night Football on a windy, cold, night against the Buffalo Bills, though.
No matter the scenario, Belichick is going to put his team in a position to win.
The New England Patriots executed a perfect game against the Buffalo Bills.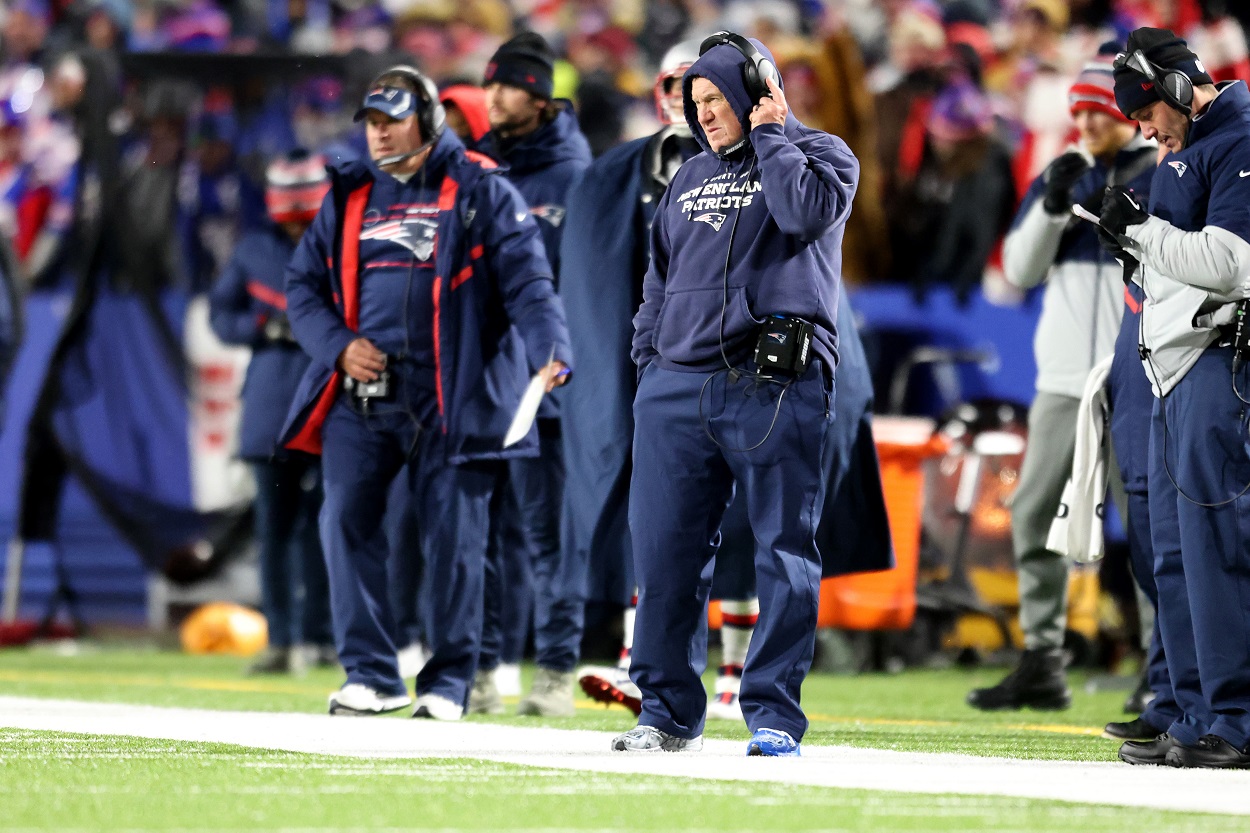 In a 14-10 win on the road at Buffalo, Belichick clearly instructed offensive coordinator Josh McDaniels to run the football and only pass on rare (and I mean, rare) occasions. It makes sense when you think about it. The wind was gusting 40 miles an hour, and rookie quarterback Mac Jones isn't necessarily known for his arm strength to begin with. Belichick decided the Patriots' best way to win the football game was to use the elements to their advantage and ground and pound the BIlls into submission.
Who's going to argue with him?
Nobody likes to tackle when it's cold. It hurts the tackler more than the ball carrier in many cases. The Patriots took that to heart, rushing 46 times as a team for 222 total yards. Jones threw the ball just three times. New England absolutely dominated Buffalo and stole the Bills' will.
Buffalo knew the run was coming and even loaded the box, but the Bills were unable to play with the same intensity New England did. The Patriots had a plan. They knew what they wanted to do coming into the game, and they didn't waver.
Belichick's team executed his plan to perfection, once again.
Former NFL scout John Middlekauff praises the lack of ego in Bill Belichick's game planning
The NFL is full of "hot shot" coaches in 2021. We've seen an infusion of young head coaches who are, frankly, brilliant at one thing or another, but that's especially true on the offensive side of the ball. Coaches like Sean McVay, Kyle Shanahan, and Matt LaFleur have all made names for themselves in the league for their intricate offenses, play designs, and in-game adjustments. That's all fine and dandy, but Belichick proved on Monday night that sometimes being simple is the best way to win a game.
According to former NFL scout John Middlekauff on his 3 And Out podcast, Belichick is who he is because he takes all the ego out of his game plan and just does what his team needs to do to get a win on a week-to-week basis.
"The greatest attribute to the greatest coach in the history of football, and I think you can argue arguably in the history of all of sports, Bill Belichick, is that he has no scheme. He truly does not care. There is no ego when it comes to his game plan," Middlekauff said. "All he cares about is that at the end of 60 minutes, he has more points.
Middlekauff, who was a scout for the Philadelphia Eagles, admitted that it sounds rudimentary and almost too simple for being the NFL. What Belichick does is truly unique, though. Rather than stubbornly relying on the same scheme from week to week like most coaches, he checks his ego at the door and customizes the very philosophy his team plays with on a weekly basis. That's not to say other coaches don't gameplan for their specific weekly opponents because they assuredly do. It's just that Belichick is willing to buy in and never waver from his plan. Perhaps most impressive is that he's able to get his coaching staff and players to buy in as well.
"Bill has no scheme. They have no tendencies. They will do whatever it takes," Middlekauff explained of the Patriots.
Belichick has the Patriots looking like a Super Bowl contender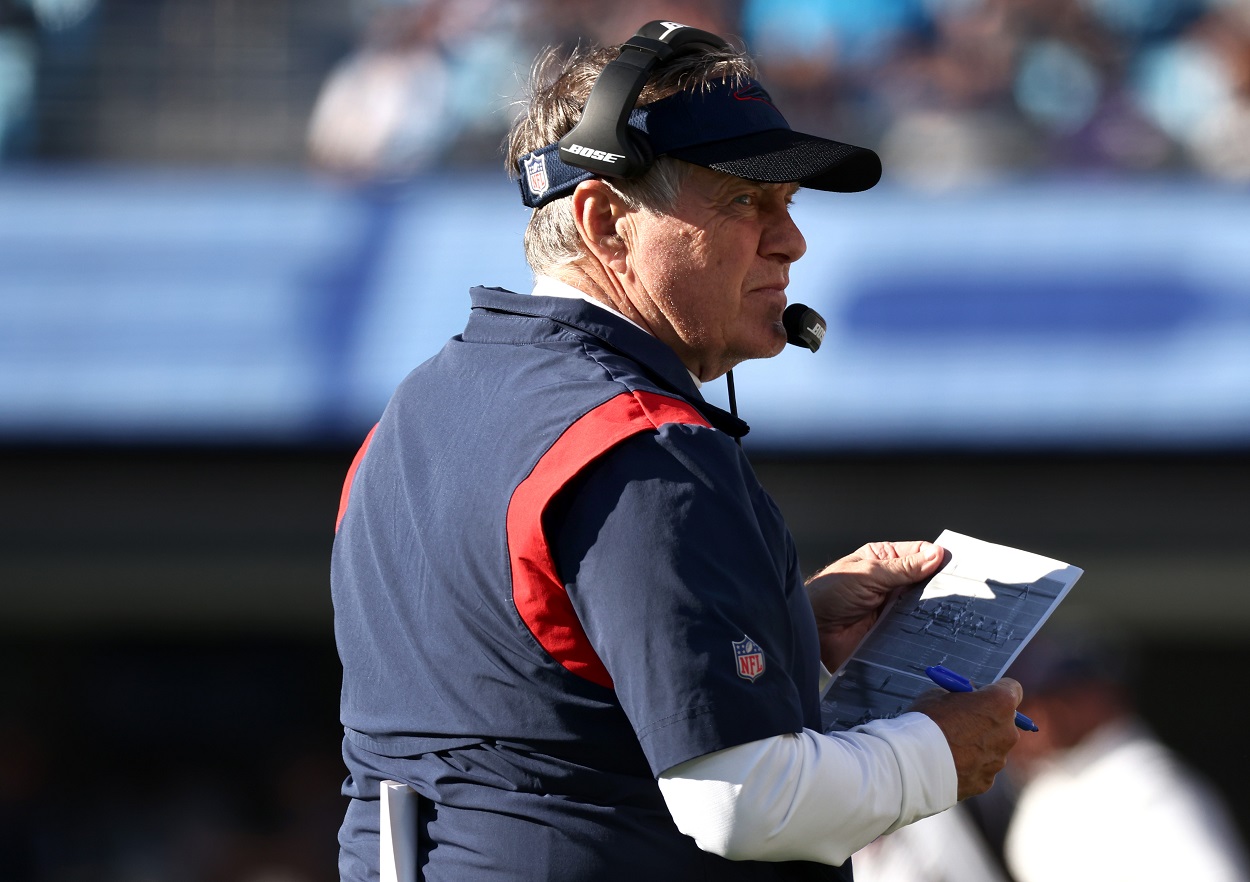 Speaking of bought in, is there any doubt that the Patriots are the hottest team in the NFL right now? Belichick and McDaniels have the offense operating at a high level, and we're looking at yet another elite Patriots' defense. After Monday night's game, the Patriots now have the top-ranked defense in the NFL, giving up only 15.4 points per contest.
The Pats have now won seven in a row, and they don't just lead the AFC East, but they're the top team in the AFC conference as a whole. The win against the Bills proved that the Patriots are currently the cream of the crop in the AFC and that no matter the opponent and no matter the scenario, Belichick will find a way to win.
That has to be terrifying for teams like the Titans, Ravens, Chiefs, Chargers, and yes, the Bills.
"It was a coaching clinic by Bill and Josh on just being simple," Middlekauff raved, going back to the focused nature of the Patriots' game plan against Buffalo. "I think a lot of times we give a lot of credit to coaches for being geniuses, and having crazy plays, and doing things we've never thought of, but that game looked like something you would see in high school football in 1992. That looked like NFL football in 1876, and he does not care. He will do whatever it takes to win."
Middlekauff went on to say that he felt the win over Buffalo was the most impressive win of the post-Tom Brady era for Belichick, and it's hard to argue.
It may not have been flashy, but it was fundamental, it was sound, and it was dominating. When the other team knows what you're going to do and they still can't stop you, that's impressive. That's a big deal in high school or college football.
In the NFL?
It's incredible.
How can you bet against the Patriots at this point? Even with a rookie quarterback, they look like the favorite to come out of the AFC. An even better question: How can you bet against Belichick?
"He's the best coach ever and he runs the best operation we've ever seen," Middlekauff said.
Stats courtesy of ESPN and Pro Football Reference.