Former Notre Dame Star Demetrius DuBose Was Tragically Shot and Killed by Police Following His Short NFL Career With the Buccaneers
Prior to entering the NFL, Demetrius DuBose was an absolute star for the Notre Dame Fighting Irish. His NFL career with the Tampa Bay Buccaneers, though, then didn't pan out the way he might have planned for it too, but DuBose was still young with a lot of life to live after his football career. However, DuBose — a Black man — ultimately died at a young age after police shot and killed him.
Demetrius DuBose was a star for the Notre Dame Fighting Irish
Before his NFL career, Demetrius DuBose starred on the Notre Dame Fighting Irish's defense.
According to the Chicago Tribune, DuBose — a linebacker — recorded 127 tackles in his junior season in 1991. The Irish had a successful season that year, too, as they went 10-3 and won the Sugar Bowl. His play also helped him become a co-captain the next season.
After his time at Notre Dame, DuBose then went to the Tampa Bay Buccaneers in the second round of the 1993 NFL draft.
According to Pro Football Reference, DuBose then had 34 tackles in 1993 for the Buccaneers before recording only 16 in 1994, seven in 1995, and then six in 1996. He finished his NFL career with only 63 total tackles and only started in five games.
The Buccaneers then didn't re-sign him after the 1996 season. He then signed with the New York Jets but they cut him four months later, according to the Los Angeles Times.
Police shot and killed him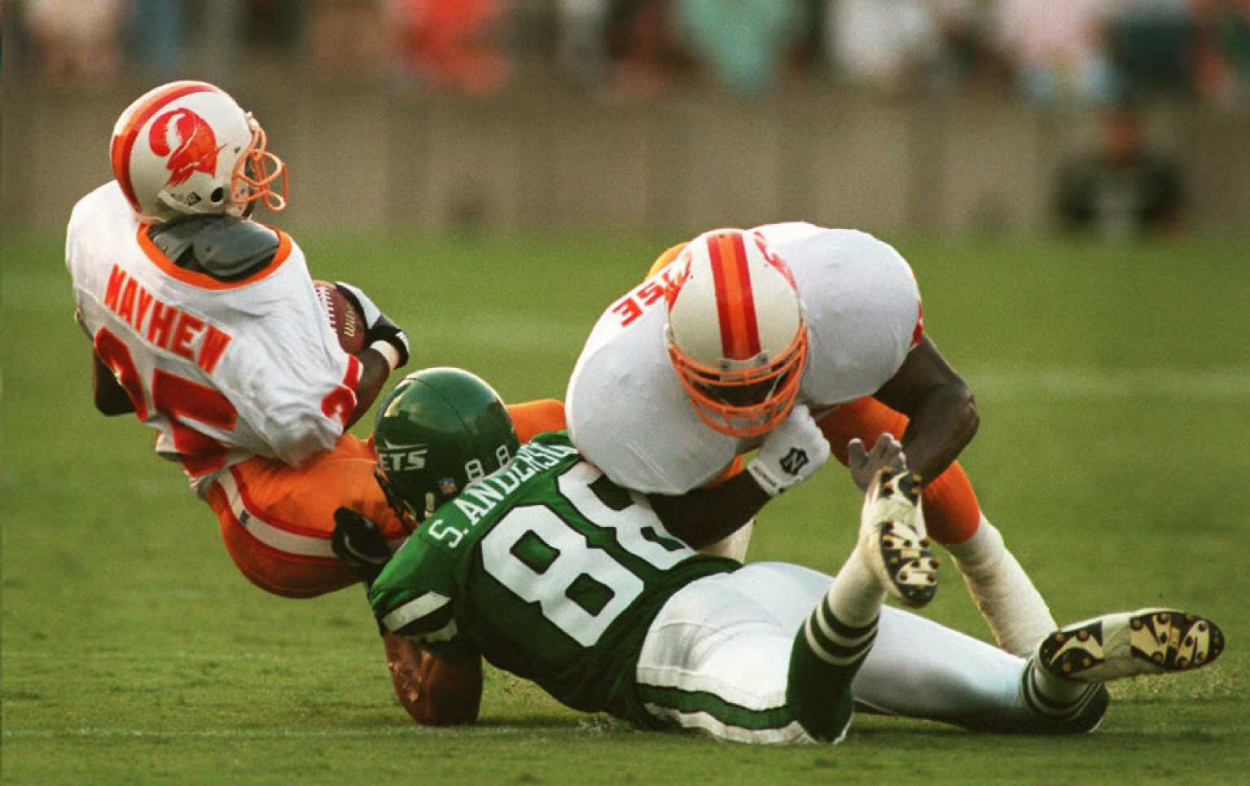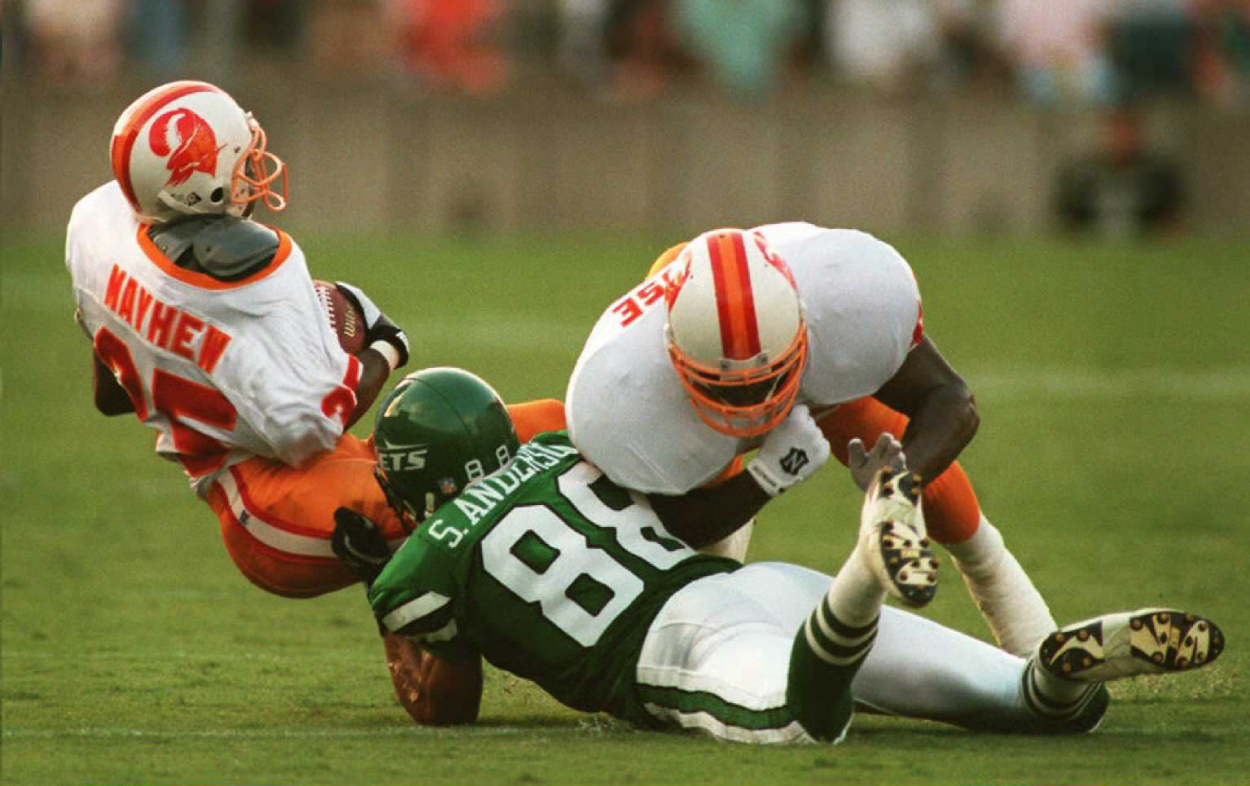 According to the Los Angeles Times, after football, DuBose invested in a professional beach volleyball tour. A man by the name of Randy West ran the tour, and DuBose then moved into West's apartment with him in San Diego.
However, on July 24, 1999, DuBose climbed over a railing so that he could see the sunset better from his neighbor's balcony. Then, DuBose — who reportedly had traces of alcohol, cocaine, and Ecstasy in his system — went into his neighbor's home and fell asleep. The person living there then woke DuBose up once he got home and told him to leave, and DuBose did. DuBose and West then discussed what happened with the man and his roommate.
However, according to the LA Times, the man had already called the police. The officers — who were both white — then showed up and said they were there for a burglary.
"[DuBose] was embarrassed; he wanted me to vouch for him, and tell the neighbors who he was," West said, according to the Los Angeles Times. "It was calm. The police showed up, but at that point they knew there's no robbery going on."
West reportedly said that the officers began discussing DuBose's arrest record with him and then chose to handcuff him.
"He resisted," the Los Angeles Times wrote. "They sprayed him with Mace and tried to tackle him, but DuBose flung them off his back one after the other and ran away, up the alley toward Mission Boulevard."
Police then reportedly tried to use nunchakus before they ultimately opened fire, "shooting DuBose 12 times, including five times in the back," according to the Los Angeles Times.
A documentary plans to tell Demetrius DuBose's story
In November 1999, district attorney Paul Pfingst said in a report that DuBose's killing was justified. He wrote that "virtually all witnesses who observed the shooting agree that Mr. DuBose took the officers' weapons, and turned and faced the officers." However, the LA Times reported that witnesses gave conflicting testimonies. The FBI and U.S. attorney's office then said in a report that there weren't any civil rights violations.
DuBose's death ultimately led to some outrage, and people still haven't forgotten about it. One of those people is John Kouris, DuBose's former teammate at Notre Dame. Kouris is now actually making a documentary about DuBose's story, too.
"I was talking to 20 family members, and there's a palpable emotional hole there still," Kouris said, according to the Los Angeles Times. "It can never go away."
Kouris also said that he learned DuBose was self-medicating at the time to cope with the fact that his football playing days were over.
"If I had done what Demetrius had done," Kouris said, according to the Los Angeles Times, "I'm pretty sure I'd be here still, relatively unscathed."
Demetrius DuBose was a star for Notre Dame. He sadly lost his life way too soon, though.
How to get help: In the U.S., contact the Substance Abuse and Mental Health Services Administration helpline at 1-800-662-4357.