Former Packer James Lofton Defends Davante Adams' Claim That He's the Best Wide Receiver in the NFL
The Packers' Davante Adams has become an electrifying wide receiver. He doesn't just have elite-level speed and a stockpile of moves, he also has an extraordinary sense of timing. Adams has never been shy about calling himself the best wide receiver in the NFL today. His outspoken tendencies get on the nerves of some. But he's got one huge supporter in Hall of Famer and former Packer great James Lofton.
Let's look at Adams' NFL career, his knack for self-promotion, and Lofton's recent defense of Adams' claim to be the best wide receiver in the league.
Davante Adams' NFL career so far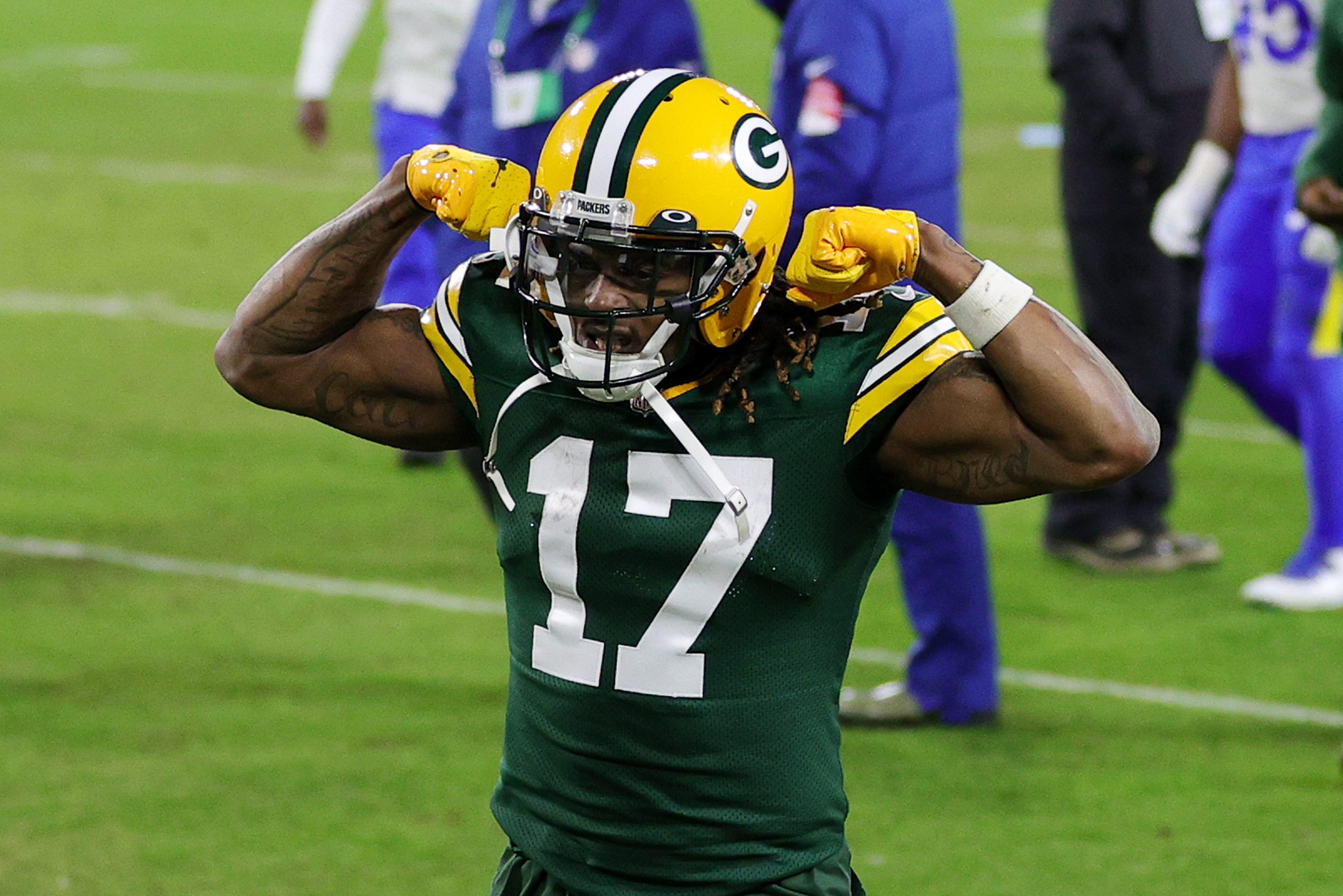 RELATED: Aaron Jones Owes His Football Success to His Father's Sacrifice
The Packers selected Adams with the 53rd pick of the 2014 NFL draft, according to SBNation, making him the ninth wide receiver drafted that year. Adams showed flashes of talent as the Packers' No. 3 receiver before seeing his numbers dip slightly in his second year. He bounced back in a big way in 2016, posting career-highs of 75 receptions, 997 yards, and 12 touchdowns, per Pro Football Reference.
2017 saw Adams earn his first Pro Bowl selection — a feat he would repeat in each of the three following seasons. Adams was targeted a career-high 169 times in 2018, catching 65.7% of those passes for 1,386 total yards and 13 touchdowns. He turned in a similarly impressive performance this year, catching 77.2% of his passes for 1,374 yards.
According to NFL.com, Adams' 18 touchdown catches led all NFL receivers in 2020. He also led the league in yards per game, according to Pro Football Reference, racking up 98.1. In light of those impressive accomplishments, Adams received a First-team All-Pro selection for the first time in his career.
Adams' high opinion of himself
RELATED: The 1974 John Hadl Trade Set the Green Bay Packers Back Two Decades
One of Adams' most impressive performances of the 2020 season came in the Packers' Week 9 win against the San Francisco 49ers. In that game, Adams caught 10 passes for 173 total yards and one touchdown, with a catch percentage of 81.3%. His performance was so dominant that a reporter asked him during his postgame presser if he thought he was the best wide receiver in the NFL.
It was one of those questions that reporters love to ask and players hate to answer. Say yes, and you risk coming off as arrogant. Say no, and people will lambast you for lacking a competitive spirit. Adams chose to take the former path, according to NBC Sports, saying, "At the end of the day, I'll tell you yes, absolutely, I think I'm the best wide receiver in the game, but there's a lot of things that go into me being able to make that statement."
Inevitably, NFL pundits soon began debating Adams' response. Many of them took offense at what they felt was a conceited answer.
James Lofton defends Davante Adams
Legendary Packers receiver James Lofton recently made an appearance on the Great Dane Nation podcast. At one point, the host Morten Andersen asked Lofton what he thought about Adams' comments. Lofton was quick to come to Adams' defense, saying that he had every right to give the answer he did, because "you've gotta have that ultimate confidence."
Lofton also praised Adams' commitment to conditioning. Lots of guys entering the NFL are fast. But according to Lofton, Adams "took his 4:55 speed in the 40 and turned it into an asset" by conditioning himself to "an ultimate level where there is no fatigue factor in him at all." Lofton also praised Adams' elite ability to "dart and move" while running his routes.
Lofton also jokingly took credit for the Packers drafting Adams. He was the one who announced Green Bay's selection in the draft. As Lofton kidded, "I could've read off somebody else's name." He also pointed out that he announced the Packers' picks during the 2019 NFL draft when the team selected Elgton Jenkins, another second-round pick experiencing a breakout season.