A Former Packers Executive Gives His Shocking Prediction About Aaron Rodgers' Uncertain Future in Green Bay Beyond 2021
The feud between Aaron Rodgers and the Green Bay Packers dominated headlines in the offseason before the 2021 NFL season. Their relationship will be the topic of conversation once again through the end of the 2021 season, too.
Rodgers returned to the fold, and the Packers are playing good football. However, that doesn't mean the saga is over. A former team executive has a bold prediction about the superstar quarterback's future in Green Bay.
Aaron Rodgers seems to be enjoying himself in Green Bay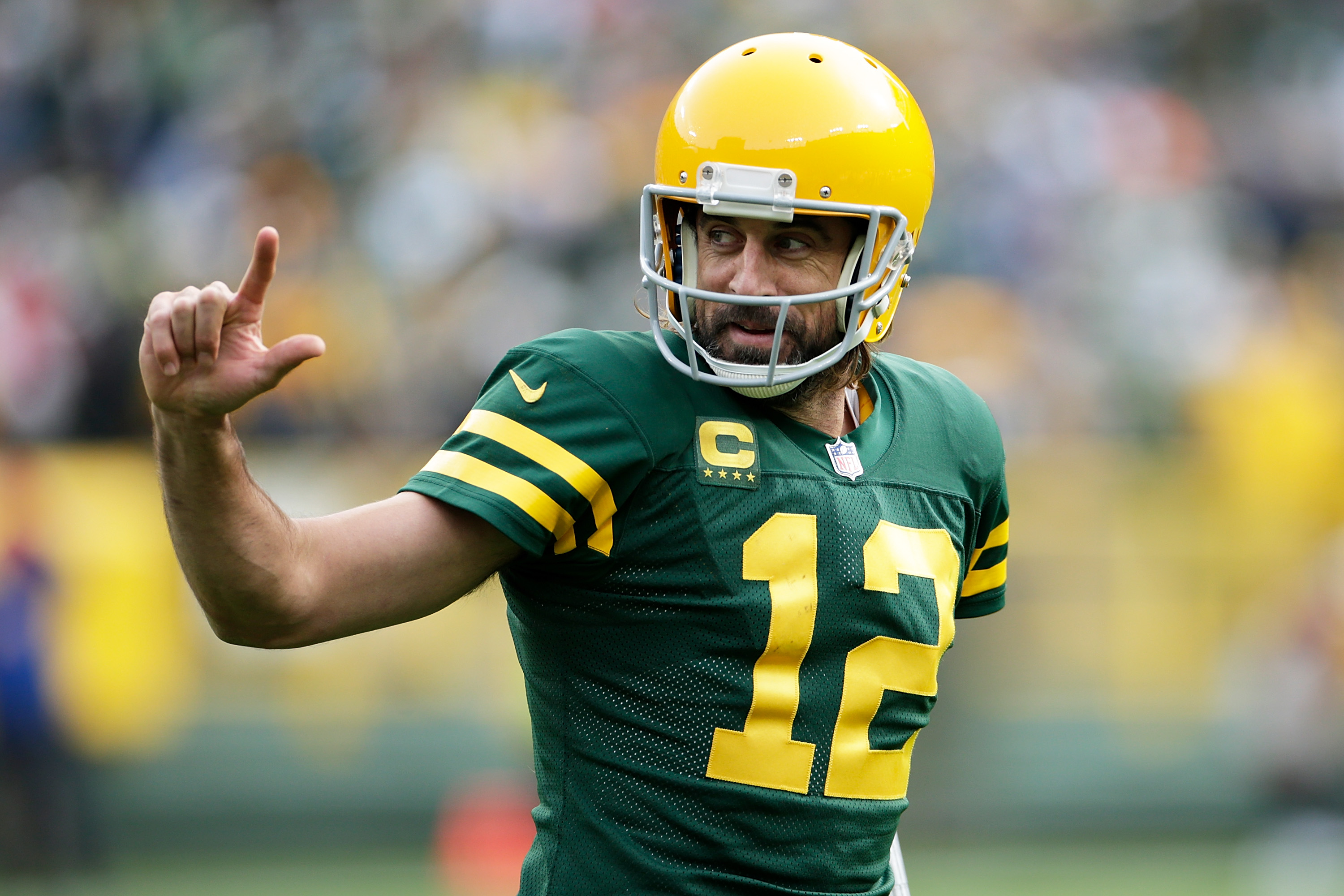 The Green Bay Packers currently boast an impressive 7-1 record, following a victory over the previously unbeaten Arizona Cardinals on Thursday Night Football.
Early-season concerns emerged after the New Orleans Saints embarrassed the Packers 38-3 in the season opener. However, Aaron Rodgers and company have turned things around, and they're one of the hottest teams in football right now.
The offense hasn't exactly been dominant, but Rodgers has played well. The Chico, California native has thrown for 1,894 yards, 17 touchdowns, and three interceptions while completing 67.1% of his passes.
In his weekly spot on The Pat McAfee Show, Rodgers revealed that he's loving playing for the Packers in 2021. "Obviously, winning cures a lot of that," the former MVP told Pat McAfee. "A great coaching staff that I love. I'm still in Green Bay and having the time of my life."
With Green Bay playing like one of the best teams in the NFC right now, it's difficult to imagine him playing elsewhere in 2022. However, other factors will play a role in the front office's decision on their star signal caller.
A former Packers executive believes the team will move on from its star quarterback
Andrew Brandt spent ten seasons as the Vice President of the Green Bay Packers organization from 1999-2008. He played an integral role in the team drafting Aaron Rodgers with the No. 24 overall pick in the 2005 NFL Draft.
For years, Brandt negotiated player contracts while managing the salary cap. He currently serves as a MMQB columnist for Sports Illustrated.
Brandt joined The Rich Eisen Show to discuss Rodgers' uncertain future in Green Bay. "I want to lead with my head, not my heart," he said. "I'm still a big fan, and I'm still biased."
The former Packers executive doesn't want to let his love for the organization cloud his judgment. He wants Rodgers to retire as a Green Bay Packer, but he doesn't think that will happen.
"I get the feeling they [the Packers' front office] want to move to Love in 2022," said Brandt. After watching the offseason events, he thought Rodgers' camp wanted the Packers to go ahead and move the quarterback. He called the nine-time Pro Bowler a "good soldier" for how he initially handled the team drafting Jordan Love in 2020.
"The Packers wanted the MVP performance again before moving onto Love," Brandt said. "I've always thought that 2022 was the separation date between Aaron and the Packers. I still think it."
The former vice president understands that Rodgers seems invested in the team's current success but argues the conversations between the quarterback and front office aren't over. "I think this would require a change in attitude from both sides," he said.
Brandt believes the Packers want to make good on their Jordan Love investment. "I don't think they want to wait three years for Jordan Love," said Brandt.
The Packers would be foolish to move forward with Jordan Love right now
The Green Bay Packers' front office has a serious dilemma on its hands. President Mark Murphy and general manager Brian Gutekunst invested high draft capital when they drafted Jordan Love in the first round of the 2020 NFL Draft.
The Packers' front office is now in a situation they probably shouldn't be in. Aaron Rodgers is 37 years old, which would be concerning for certain players not named Tom Brady. Rodgers comes from that same mold. He's one of the best quarterbacks in NFL history, and he has yet to see a decline in his game.
Andrew Brandt suggests that the Packers don't want to continue to wait for Love to play. While that makes perfect sense, it doesn't make sense to move on from a guy who can help you contend year after year.
Love can have all the talent in the world and still end up a bust. Rodgers is as much of a sure thing as there is in football. His on-field leadership and skill have helped elevate less talented Green Bay teams to success.
If the Packers' front office wants to experience another Brett Favre situation, by all means, trade Aaron Rodgers. However, that most likely won't end well.
The three-time NFL MVP is still an elite quarterback in season No. 17. He's showing no signs of slowing down. Trading Jordan Love could be an option, but it's difficult to imagine Murphy and Gutekunst swallowing their pride and admitting they were wrong.
Green Bay may never forgive the Packers' front office if it gets this wrong.
All statistics courtesy of Pro Football Reference.
RELATED: Packers TE Robert Tonyan's Season-Altering Setback Carries Costly Consequences for His Quarterback, His Team, and His Wallet