Former Packers WR Greg Jennings Puts Jordan Love on Blast for His Brutal Performance Against Patrick Mahomes and the Chiefs: 'Love Is Not the Answer'
Due to the mess that is Aaron Rodgers' vaccination status (not even going to get into that here), the Green Bay Packers were finally allowed to start their 2020 first-round pick, Jordan Love.
A draft decision the Packers have yet to justify due to Rodgers' continued greatness over the past one and a half seasons, Love's position in Green Bay is an awkward one. He's supposed to be the Packers' next franchise QB. However, his eventual opportunity is directly tied to Rodgers' desire to stay in or depart Green Bay.
Jordan Love had a rough starting debut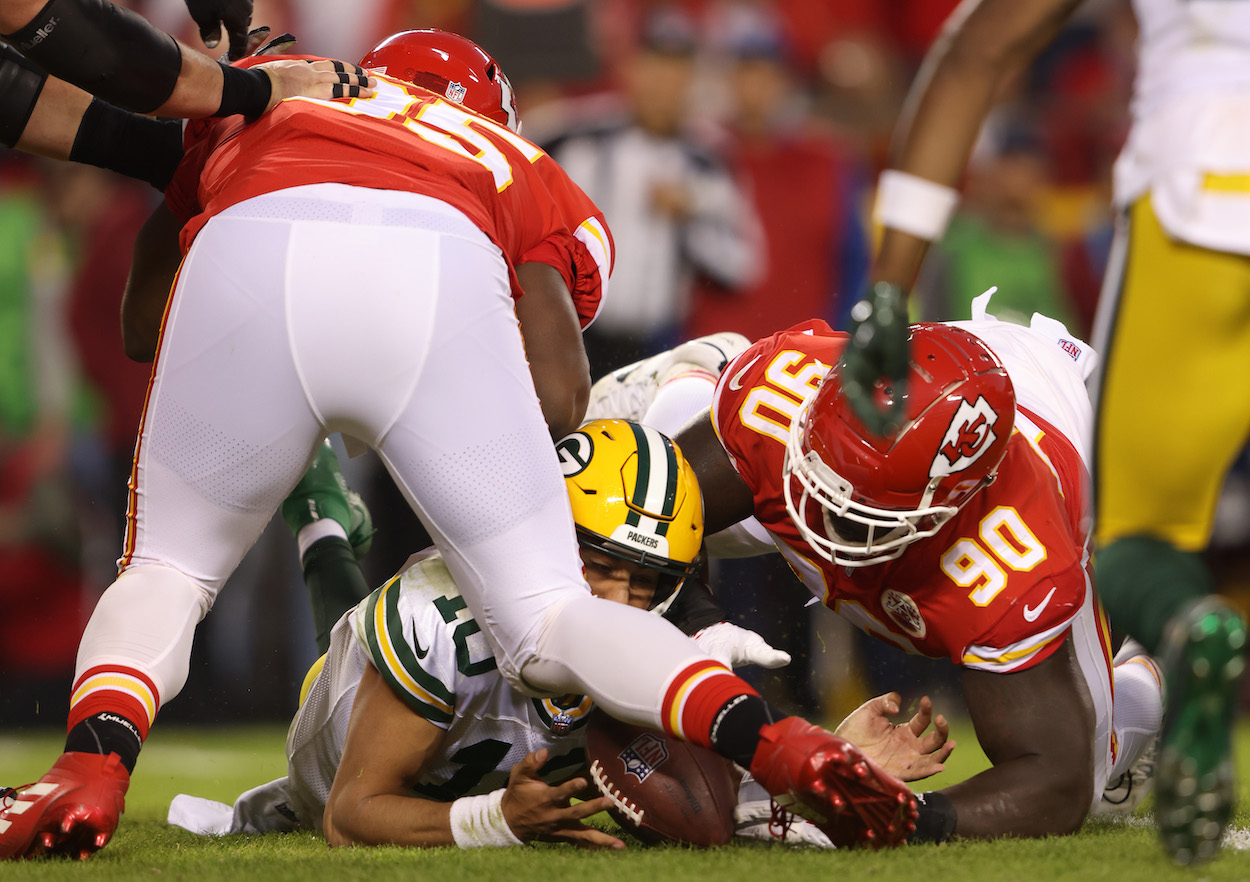 Once the Packers revealed that Rodgers would be missing Week 9 due to the NFL's COVID-19 policies, hype circulated Love rapidly. Love's only action fans have seen during the preseason and during the closing moments of a Week 1 blowout loss to the New Orleans Saints. Week 9 would be Love's proper, starting debut.
While going head-to-head with Patrick Mahomes in your first career start isn't exactly ideal, it's worth pointing out that the Kansas City Chiefs are one of the worst (if not the worst) defensive teams in football. Their defensive line is struggling to hit opposing quarterbacks, and their secondary plays like swiss cheese. Throw in Mahomes' recent struggles, and things were shaping up to be a good afternoon for Love.
Alas, such a scenario did not occur. Love finished the game 19-for-34 with one touchdown, an interception, and a fumble (that he recovered). The Packers lost to the Chiefs 13-7, and criticism quickly came pouring down for Green Bay's second-year QB.
Former Packers WR Greg Jennings put Jordan Love on blast
During a recent airing of First Things First, former Packers wide receiver Greg Jennings put Love on blast quite a bit for his lackluster performance. Jennings said he was expecting far more from the former first-round pick and is concerned about the team's state moving forward without Rodgers under center.
"I thought Jordan Love's performance deserved a C-," Jennings said.
"… If I'm a Packers fan, I'm a little terrified bc Davante Adams is a free agent. He didn't look excited or like he's willing to come back if Aaron Rodgers is not under center next year. Jordan Love is not the answer."
Where does Green Bay go moving forward?
Packers head coach Matt LaFleur has already confirmed Rodgers will resume starting quarterback duties once he's eligible to return from the COVID-19 list. However, Jennings makes solid points regarding the Packers' long-term future, as in 2022 and beyond.
Love undoubtedly struggled during his starting debut against a below-average defense, and it's worth pondering whether Davante Adams would return to Green Bay if Love is the team's starting quarterback in 2022. Love's life would be immensely challenging next season if he's operating an offense without Adams in it.
There's a good chance Love continues to improve as he gets older and more experienced. However, this first taste of Love under center full-time in Green Bay left a sour taste in everyone's mouth. Jennings is right to be "a little terrified" about the direction of the franchise moving forward.
All stats courtesy of Pro Football Reference.