Former Patriots Star Julian Edelman Claims Mac Jones May Have Hit 'Rookie Wall' at the Worst Possible Time
The New England Patriots have lost their last two games, squandering their first-place lead in the ever-tight AFC. Mac Jones has struggled during that stretch, which is concerning to some people. Former Patriots wide receiver and 3-time Super Bowl champion Julian Edelman doesn't sound confident that the rookie quarterback will bounce back right away.
Julian Edelman says 'rookie wall' may have hit for Mac Jones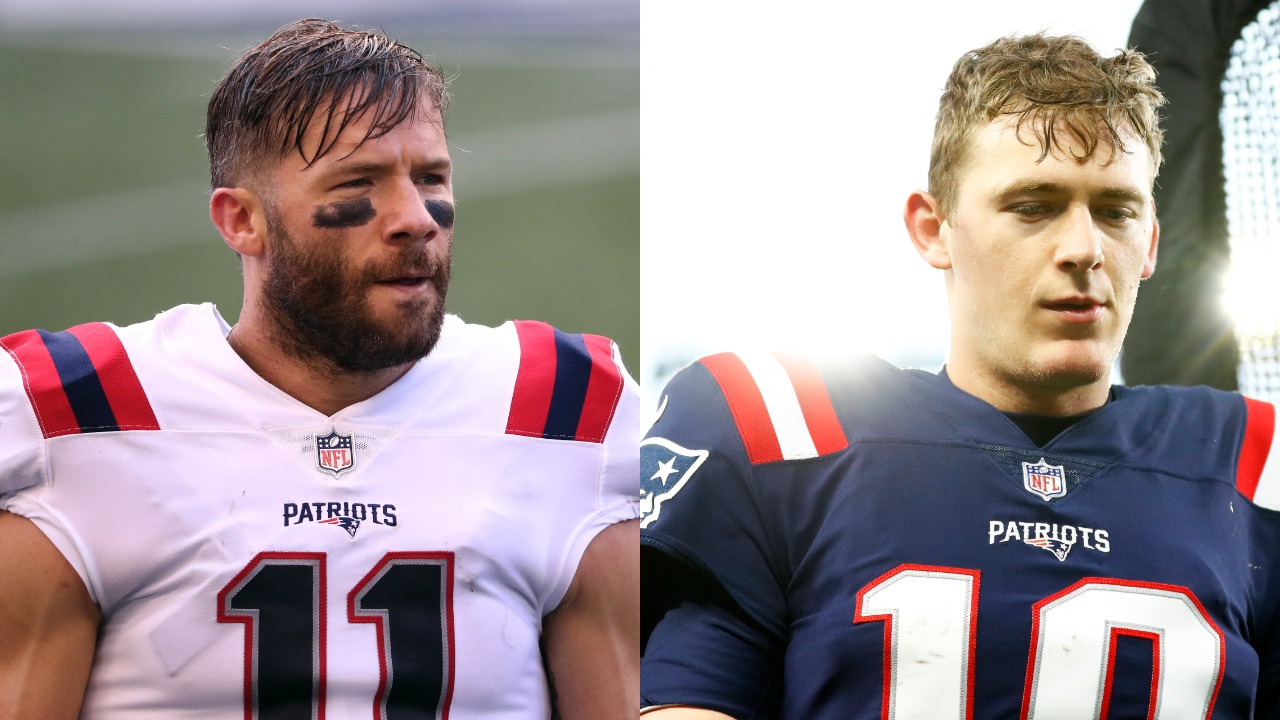 Outside of Cincinnati Bengals wide receiver Ja'Marr Chase, Mac Jones has probably been the best offensive rookie in 2021. He's struggled during New England's losing streak.
The Alabama product threw for 444 yards, two touchdowns, and four interceptions over the past two games. He's completed just 50.7% of passes during that span.
Former longtime Patriots wideout Julian Edelman recently weighed in on Jones' struggles on a recent episode of Inside the NFL.
"I got to him a B+," Edelman said of Jones' performance. "These last two weeks, he could've been an A- if he continued that same play. We've seen him be a very efficient quarterback. You can see him drive a team down the field. But you can tell these last two weeks that the rookie wall may have hit."
The former receiver suggested that most rookies hit a rough patch at some point, which could be the case for the Patriots signal-caller.
"The rookie wall is real," he added. "He's had two games with two picks back-to-back. It'll be interesting to see how he goes forward and to see really what he's made of."
It doesn't sound like Edelman is knocking Mac Jones as a player, but he notices the dip in production.
Mac Jones is still the best first-year QB right now
Despite pointing out Mac Jones' recent struggles, Julian Edelman acknowledged that the rookie quarterback has played well for most of the 2021 NFL season.
"He's had a good year overall," said the former New England Patriots receiver.
Edelman's right. Jones had enjoyed a solid rookie campaign. He's thrown for 3,313 yards, 18 touchdowns, and 12 interceptions while completing 67.2% of his passes.
Trevor Lawrence, Zach Wilson, Trey Lance, and Justin Fields went before Jones in the 2021 NFL Draft. However, none of those guys have even sniffed the level of success that the Patriots quarterback has in year one.
Fortunately for the Jacksonville, Florida native, Bill Belichick and Josh McDaniels offered him the best possible scenario to succeed. New England boasts a dominant defense, and they run the football effectively.
While Jones can make big plays himself, Belichick doesn't ask for the rookie to do too much.
Can the Patriots make a playoff run with Jones under center?
Offensive coordinator Josh McDaniels doesn't seem overly concerned about Mac Jones' recent struggles.
"He's doing fine, no concern on that," said McDaniels per Patriots.com. "Each rookie kind of handles that differently. There's always a stretch during the course of the middle of the season that's a little bit new to them. He's ready to go, and he wants to try to finish the season strong."
While the 23-year-old quarterback is part of an efficient system, the late-season woes have to be at least somewhat concerning.
Whenever a team has a dominant defense and a formidable rushing attack, it will have an excellent chance to win games in the playoffs. However, opposing defenses will test Jones and force the rookie to beat them.
At one point, the Patriots were the hottest team in the NFL, reeling off seven straight victories. New England notched wins over a few teams in playoff contention, including the Cleveland Browns, Los Angeles Chargers, and Tennessee Titans.
Bill Belichick's squad knows its identity, which will bode well down the stretch. The head coach's resume speaks for itself, too. Still, Mac Jones will need to elevate his play to get to the Super Bowl.
The rookie doesn't need to be Tom Brady, but he will need to make some throws and avoid turning the football over. Mental mistakes can cost even the best teams in the postseason.
Julian Edelman's concerns are valid, but these final two games will undoubtedly speak volumes.
All stats courtesy of Pro Football Reference