Former Patriots Tight End Aaron Hernandez Once Threatened to Murder Prominent NFL Reporter Ian Rapoport in Front of a Crowd
Ian Rapoport, understandably, found himself shocked when New England Patriots tight end Aaron Hernandez was arrested in June 2013 on a murder charge.
Rapoport, who now works for NFL Media, had covered Hernandez for a local paper during the tight end's three seasons in New England. Although the two got along, their relationship eventually became so bad that Hernandez made comments that, in hindsight, may not have been the joke some thought he'd made.
Aaron Hernandez threatened to murder Ian Rapoport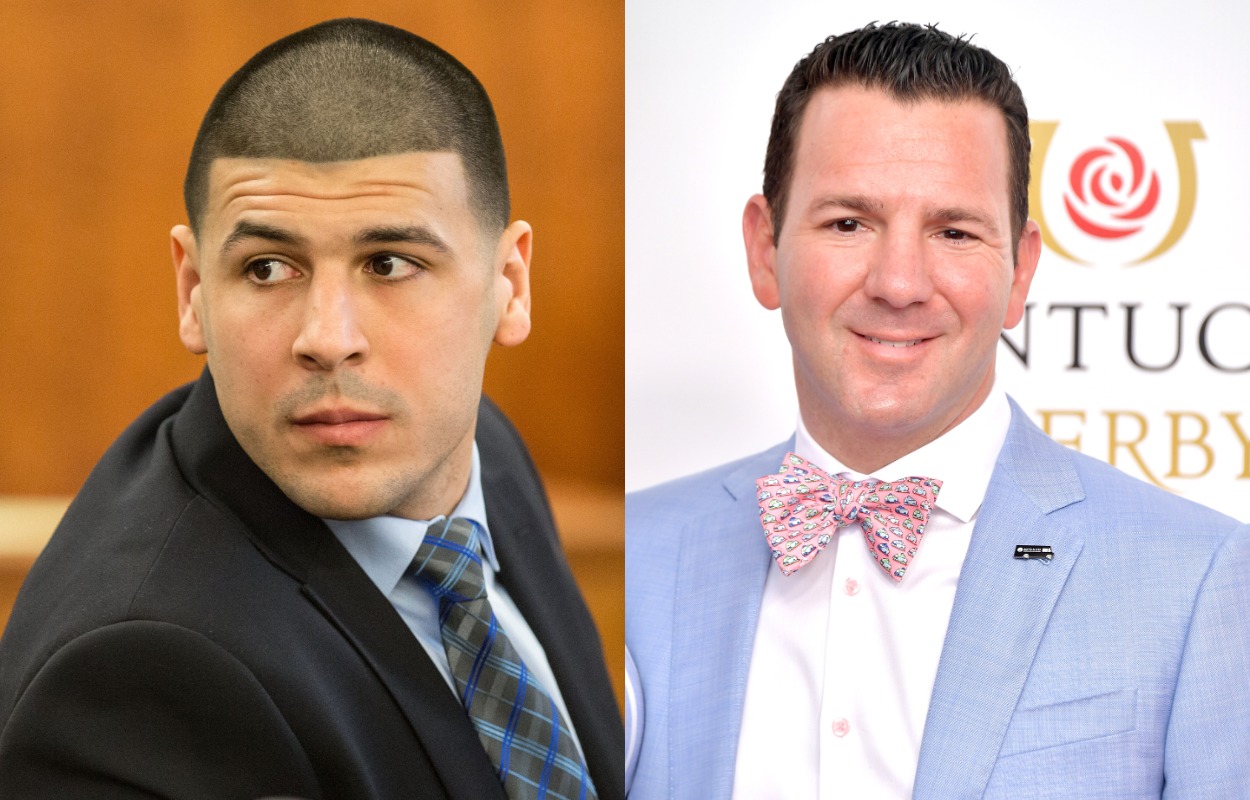 RELATED: Rob Gronkowski Finally Opens up About Former Patriots Teammate Aaron Hernandez: 'I Was Definitely Shook'
Ian Rapoport has come across plenty of unusual stories in his years covering football, both at the professional and collegiate level.
In an interview with Westchester Magazine in New York earlier this year, Rapoport reflected on his relationship with former New England Patriots tight end Aaron Hernandez. Rapoport, who previously covered the Patriots as a beat reporter for the Boston Herald, said he even befriended Hernandez at one point.
Their relationship didn't stop Hernandez, who spent three seasons in the NFL, from threatening Rapoport in front of at least one other media member.
"He once said that if I f—ed him wrong, he'd kill me. At the time, I laughed it off. It didn't really hit home until the charges came to light. When he said it, I was standing next to another reporter, who texted me [after Hernandez was indicted] and said, 'Remember when Aaron said that to you? I guess he was serious,' and I was like, 'I guess so.'"

Ian Rapoport
Rapoport did not specify when Hernandez made those comments. Hernandez played with the Patriots from 2010 through 2012, and Rapoport left the Patriots beat to take a job with NFL Media in March 2012.
Hernandez died in prison after a murder conviction
RELATED: The Tragic Death of Former Patriots Star and Convicted Murderer Aaron Hernandez
If Aaron Hernandez ever intended to harm Ian Rapoport, he never got the opportunity.
Massachusetts police arrested Hernandez on a murder charge in June 2013. Police alleged that he murdered Odin Lloyd, a semi-pro football player who dated the sister of his fiancee, earlier that month.
A jury convicted him of first-degree murder and five weapons charges in April 2015. He received a life sentence and died by suicide in prison two years later.
Ian Rapoport is still alive and thriving at the NFL Network
RELATED: Before She Became a Star at NFL Network, Stacey Dales Dominated on the Basketball Court
It is quickly approaching a decade since Ian Rapoport shared a locker room or press conference environment with Aaron Hernandez.
Rapoport, who turned 41 in January, is still going strong with NFL Media. As of publication, he had nearly 2.7 million Twitter followers and is a constant presence on all aspects of the network's coverage.
Rapoport does television work, tweets out breaking news, and mostly avoids controversy. However, he served a two-week suspension in the fall of 2020 after promoting the Manscaped Lawn Mower, a male grooming device, on his Instagram account.
In a statement posted on his Twitter account, Rapoport explained that he'd been suspended because he promoted the item without receiving permission from his employer. There have been no further incidents between Rapoport and NFL Media since that suspension.
Like Sportscasting on Facebook. Follow us on Twitter @sportscasting19.