Former Patriots WR Deion Branch Backs Up Brian Flores Amid NFL Lawsuit: 'It's Not Fair and It's Sad'
The NFL got hit hard after former Miami Dolphins head coach Brian Flores filed a class-action lawsuit against the NFL and its member teams regarding the hiring practices surrounding Black and minority head coaches. The allegations came to light after Flores found out the New York Giants were going to hire Brian Daboll before even interviewing Flores, at least according to a text message thread with Bill Belichick.
Since the lawsuit dropped, reactions have been flooding in across the NFL and the sports world, including former Giants star Eli Manning denying any such claims. Among them is one strong take from former New England Patriots wide receiver Deion Branch, who spent time with Flores in Foxborough. Branch provided solace to Flores amid the lawsuit and shined a massive light on the future of the NFL if things don't change.
Former Patriots WR Deion Branch provides solace to Brian Flores in emotional interview
Branch joined the Maggie and Perloff Show and discussed the allegations stemming from Flores' lawsuit to great lengths.
Flores spent time with the Patriots for over a decade, and Branch was with him for a few seasons and got to know him rather well. In the interview, Branch was saddened that the issues had come this far.
He started the interview by saying Flores is a "well-deserving coach" and spoke highly of his character. He was then asked if he would ever get a coaching position, and the former Patriots star and Super Bowl 39 MVP got honest.
"Honestly, when things like this happen to B-Flo, I doubt it. … It's not fair and it's sad."

Deion Branch
Flores is in the same boat, and as Branch mentions, it's not fair. After two pretty successful seasons with the Dolphins, they decided to fire him and move on.
Flores then got passed over for the Giants job, and, with everything going on regarding the lawsuit, it remains to be seen whether he will get a head coaching job this time around — or ever.
Branch says this situation doesn't only affect Flores but will affect the future of the NFL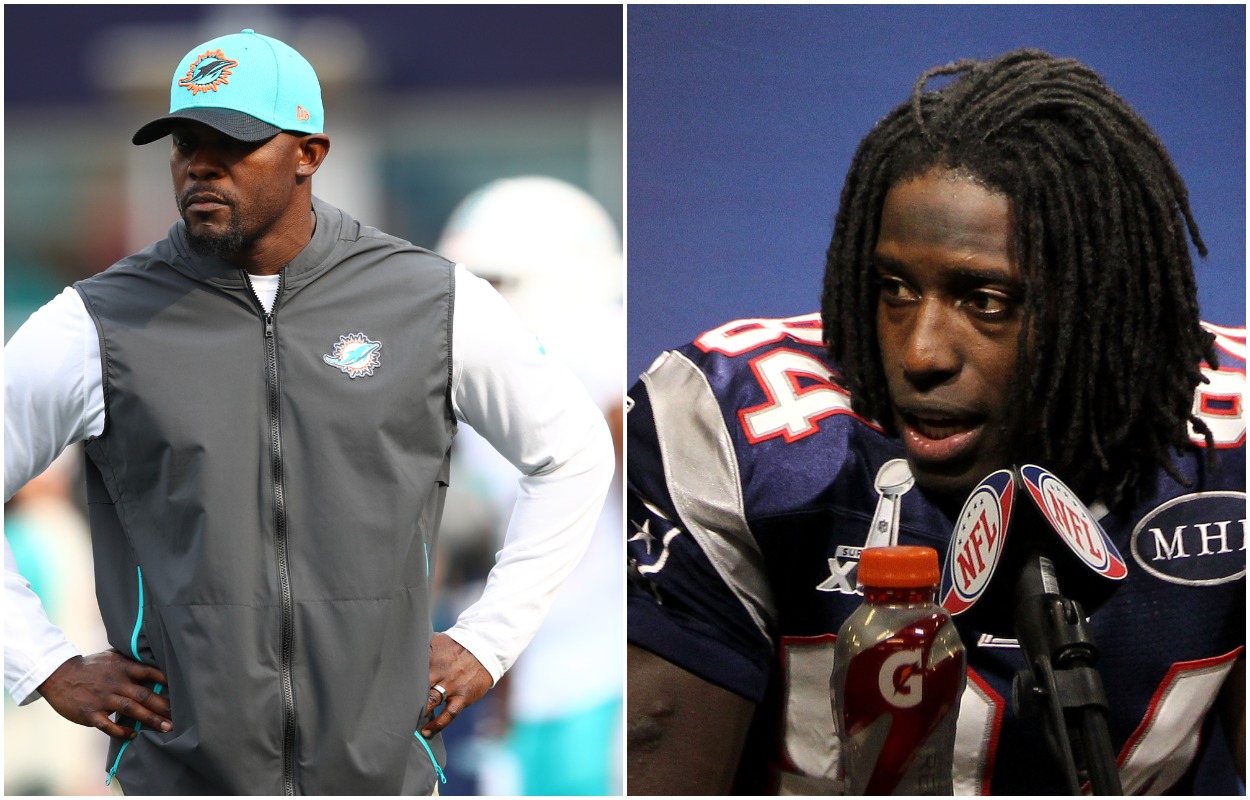 At the moment, Flores is the only central coaching figure involved in such litigation against the NFL. However, Cameron Wolfe of NFL Network says other coordinators in Flores' situation are trying to find a way to join him in the lawsuit.
If others join forces with Flores, this could spark a revolutionary change in the NFL — and according to Branch, one that is desperately needed for young minorities aiming to be just like Flores (h/t Tom Hanslin and Maggie and Perloff of CBS Sports Radio):
"What about the younger minorities who didn't play, or don't have the name, such as myself? How do they feel? There are other coaches who've been in the game way longer than myself who clearly deserve a shot, and probably won't get that same opportunity. … We all know that [Flores] deserves to be a head coach in the NFL. He has proven it. … I pray that he gets a fair shot and gets an opportunity. There's still too many jobs available, and he's the best thing that's out there. That's the crazy part."

Deion Branch
That is powerful stuff from Branch, and hopefully, Flores can be the force who leads to the changes the NFL needs to make. The situation continues to unfold rapidly, including a response from Dolphins owner Stephen Ross, who denied the allegations brought forth.
Still, Flores knows this is long overdue and seems willing to accept the risk of his lawsuit jeopardizing his future in the NFL.
But will Flores be able to land another head coaching job?
Will Brian Flores get another chance to coach in the NFL?
On Thursday morning, Josina Anderson reported that Flores is still a finalist for the Houston Texans job. He also interviewed for the New Orleans Saints' opening after Sean Payton decided to walk away, at least for this season.
Flores is far too talented not to be a head coach in the NFL, and Branch even backed him time and time again in his recent interview:
"I hope this situation doesn't hinder his chances of getting a job in the NFL, because he's a well-deserving coach. You're just so proud of a gentleman who actually put the work in, did it the right way, and climbed the ranks the right way. He did it by the books. … I mean, what more could you want? He did it the right way."

Deion Branch on Brian Flores
The Dolphins were one game away from the playoffs during his first season in Miami, and despite a 1-7 start, Flores turned it around and was again just one game away from the postseason during the 2021 campaign.
But Miami still parted ways with Flores, and the recent allegations directed at Ross could help explain why it decided to make the change.
This situation won't be resolved anytime soon, but Branch's ringing endorsement of Flores and his insistence that the NFL needs to make a change is exactly what the league needs to hear.
RELATED: Brian Flores Accuses Dolphins Owner Stephen Ross of Bribing Him to Throw Games and Pressuring Him to Violate NFL Rules in Explosive Lawsuit