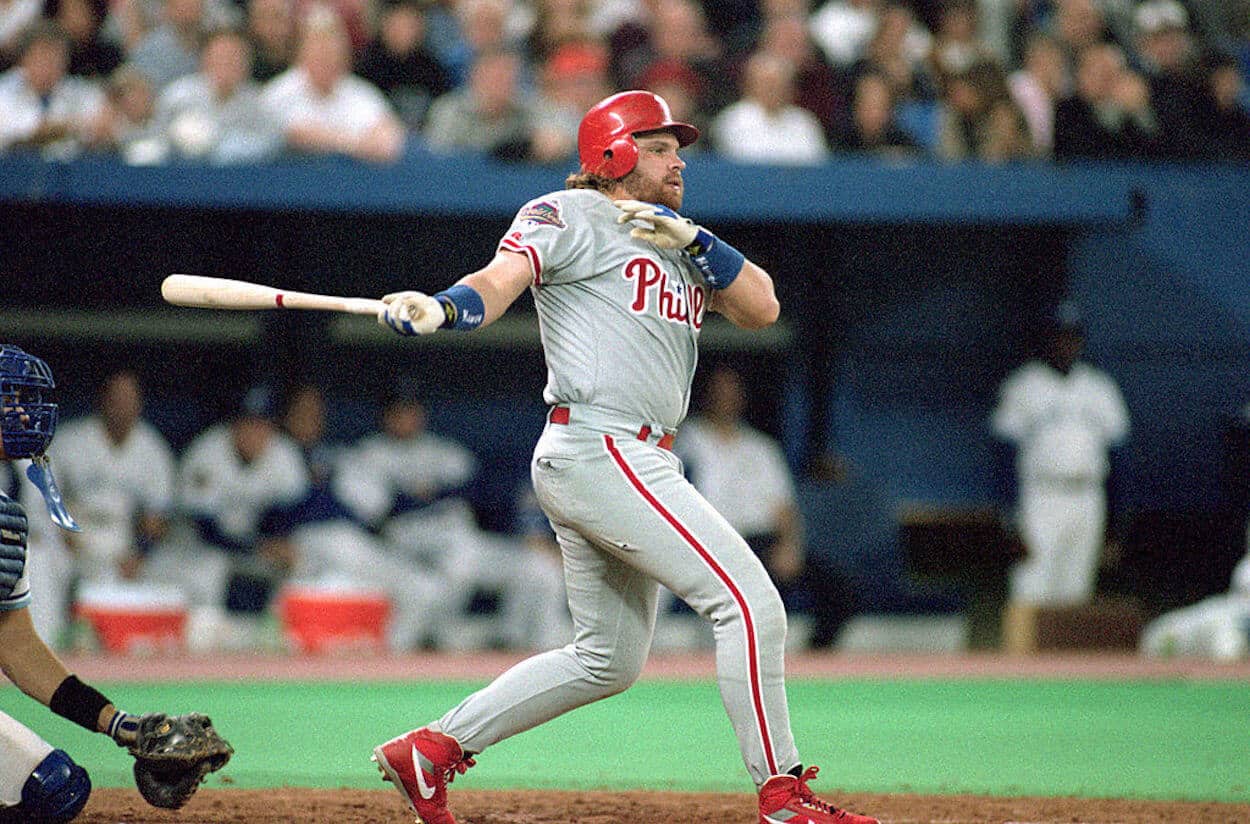 Former Phillies Star John Kruk Quietly Retired in the Middle of a Game and Watched the Rest From His Couch
John Kruk was one of baseball's unique characters. Don't believe us? Consider the way that he retired from the game.
For many Major League Baseball players, retirement is a massive deal. While not everyone can receive a Derek Jeter-style sendoff, the decision to hang up your spikes doesn't come lightly. Playing pro ball is usually a childhood dream, and once you ride off into the sunset, that chapter of your life is officially in the past. John Kruk, however, did things a bit differently than many of his peers.
While the Philadelphia Phillies first baseman was never shy about sharing his thoughts, whether that was during his playing days or within the broadcast booth, his retirement was rather quiet. That's not to say that it wasn't unique, though.
Let's travel back to 1995 and see how the big lefty called it a career.
John Kruk was a capable player, but his personality made him a fan favorite
When you think of a professional athlete, you probably imagine someone with a toned physique capable of incredible feats of strength and endurance. John Kruk, however, is remembered for some other exploits.
While the West Virginia native did have some success — he hit above .300 across seven seasons, retired with a .300 batting career average, earned three All-Star nods, and took a place on the Phillies' Wall of Fame — he also found fame as, in the words of an old Chicago Tribune article, something of a John Belushi on the diamond. Or, if you want an alternative take, an LA Times story called him "baseball's Jed Clampett, baseball's only player who reminds you of overalls, its only player who has been chewing tobacco longer than he has been playing baseball."
Beyond his stature — with all due respect, Kruk didn't look like your average baseball player — the first baseman also had an everyman persona. Take, for example, his famous encounter with Randy Johnson, which is embedded at the top of this section. While many pros would have tried to play it cool against the Big Unit, Kruk had no problem playing to the crowd.
If you want an alternate explanation of why the big lefty became a fan favorite, check out this quote from the South Florida Sun-Sentinel.
"He chain-smoked cigarettes, didn't watch his weight, and proudly wore the same T-shirt day after day, which proclaimed him as a top-notch moaner," the 1995 story explained. "Though he may have looked like the average American couch potato, Kruk had a career that baffled health experts who said a man in his physical condition couldn't play baseball."
Add a willingness to step into the spotlight and his role on a Phillies squad that went from last place to the World Series into the mix, and it's easy to see why he was so popular in the City of Brotherly Love.
Kruk even managed to retire from pro baseball in his own unique way
While he had most of his success in Philadelphia, Kruk's career didn't end in Pennsylvania. He joined the Chicago White Sox ahead of the 1995 season, taking advantage of the American League's designated hitter spot to relieve some of the stress on his knees.
Things didn't go according to plan, though, as the lefty only played 45 games before calling it a career. The way he left baseball, however, was pure John Kruk.
As recounted on Pardon My Take, the West Virginian, he recorded a hit, touched first base, and then left the game. That base knock was enough to lift Kruk's career batting average to .300, and with that milestone out of the way, he called it a career. He checked himself out of the game, headed home, and watched the rest of the game from his couch. 
That's not to say that he abandoned ship, though. According to a Washington Post article from the time, Ozzie Guillen insisted that Kruk kept everyone informed about his plan.
 "He just wanted to make sure everybody knew he wasn't a quitter," Guillen said. "He came every day, and he couldn't play, and he tried to. That's why he went home."
And whether you disagree with that way of retiring or not, it's safe to say that John Kruk's departure from Major League Baseball was as unique as he is.
That retirement hasn't kept Kruk away from baseball
While Kruk may have seemed desperate to leave pro baseball behind, he didn't completely forsake the game.
After retiring, the former Phillies fan favorite returned to Pennsylvania as a minor league hitting coach. That was followed by a second career in the broadcast booth. Kruk spent nearly a decade working for ESPN, both in studio and on Sunday Night Baseball. That gig made good use of the West Virginian's wit, stories, and ability to resonate with the average fan in the metaphorical cheap seats.
While Kruk and the World Wide Leader ultimately parted ways, that opened the door for a return to Philadelphia as a color commentator during Comcast's Phillies coverage.