Former Phillies Star John Kruk Quietly Retired in the Middle of a Game and Watched the Rest From His Couch
During and after his playing career, former Philadelphia Phillies first baseman John Kruk has been known for being outspoken. But one of the most famous moments of his career occurred without him uttering a word. 
Kruk had a lot of highlights during his playing days. He was a remarkably consistent hitter, but one of his greatest achievements was the incredible way he left the game. Let's look at the unbelievable story of how John Kruk retired. 
John Kruk was a great MLB hitter
At several points throughout his MLB career, Kruk was a bit of a punchline to baseball fans and media. He had a less-than-athletic physique, and he often spoke his mind. The West Virginia native also had a famously great sense of humor. But behind the good-natured ribbing Kruk often endured laid one heck of a great hitter. 
According to Baseball Reference, Kruk retired with a career on-base percentage of .397 over 10 seasons. He qualified for three All-Star games. In one of those, he comically struggled to hit against Seattle Mariners ace Randy Johnson. The intimidating Johnson playfully (for him) threw a pitch behind Kruk. 
Kruk began his career with the San Diego Padres and ended it with the Chicago White Sox, but he became best known for his time in Philadelphia. There, Kruk was a fan favorite. 
Manning first base for the Phils, Kruk was part of a lovable 1993 team that went from last place in 1992 to the World Series the following season. He played alongside other controversial stars like Darren Daulton and Lenny Dykstra, endearing themselves to the fans with their hard-nosed play.
The Phillies came up short, losing to the Toronto Blue Jays in six games, but they were one of Philadelphia's most beloved teams. 
The story of how John Kruk retired during an MLB game
As noted, Kruk didn't finish his career with the Phils but with the White Sox. He played exactly 45 games with the team in 1995 at age 34. He'd retire in the middle of the season, and the story of how he did so is legendary.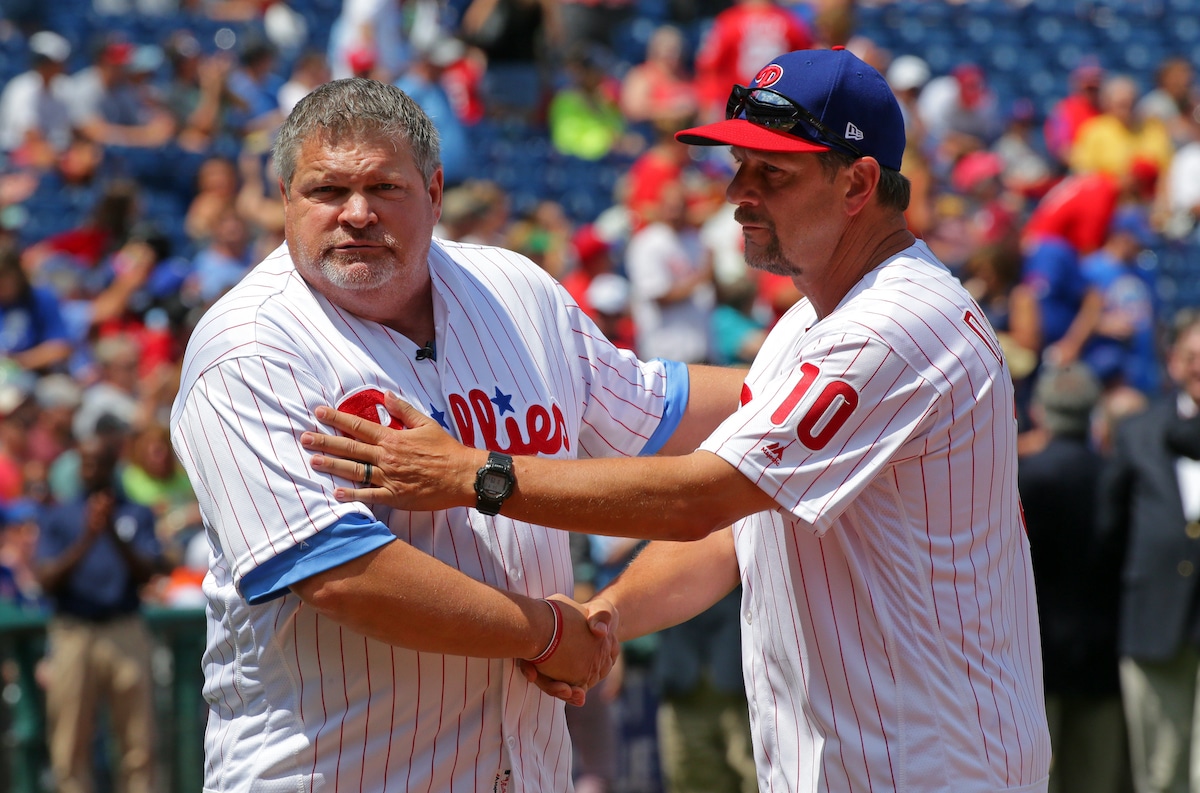 Kruk appeared on the Pardon My Take podcast to discuss his 1995 retirement. According to Kruk, he recorded a base hit and then left the game. He decided, amid the action, to retire. This gave Kruk a career batting average of .300 on the dot. This number was apparently enough for Kruk, as he left the stadium and went home to watch the rest of the game from his couch. 
It's a retirement that baseball has never seen before and will likely never see again. But anyone who followed Kruk throughout his playing career would agree it makes total sense.
What is John Kruk up to now?
While Kruk's memorable retirement came in White Sox black and white, he's returned to Philadelphia post-retirement. Kruk spent many years as an MLB analyst with ESPN. He appeared in the booth and as part of the network's Baseball Tonight programming. But now Kruk has returned to his baseball roots. 
According to Sports Illustrated, Kruk is a color commentator for Phillies' games. It's a match made in heaven. Phils fans loved Kruk for his wit and ability to laugh at himself and the game. Meanwhile, Kruk spends plenty of time near the fans and franchise he played so hard for. 
If anyone thought Kruk's retirement would make Philly fans think less of him, they don't understand the player or city. Baseball fans love the story of Kruk's somewhat self-serving but ultimately hilarious way of going out. After all, who among us wouldn't choose to go out as a lifetime .300 hitter if we had the option to do so? 
RELATED: The Philadelphia 76ers Should Send a Thank You Note to the Phillies and Eagles After Their Abysmal Start