Former Pro Bowl Running Back Justin Forsett Endorses Jim Caldwell as Urban Meyer's Jaguars Replacement: 'I Think That's What That Locker Room Needs Right Now'
Article Highlights:
Former Pro Bowl running back Justin Forsett told Sportscasting he believes the Jacksonville Jaguars should hire Jim Caldwell
Caldwell, a two-time Super Bowl champion, coached Forsett in Indianapolis and Detroit
The Jaguars cannot get their next head coach hire wrong, and they must consider listening to the retired running back
The Jacksonville Jaguars hired college football legend Urban Meyer hoping he'd turn the lovable losers into a consistent AFC South contender. So much for that idea.
Meyer is gone, courtesy of an overnight firing, and the Jaguars are once again looking for a new head coach. If former Pro Bowl running back Justin Forsett gets his way, the long-suffering franchise will turn its attention to someone who is all too familiar with the poor state of play in Jacksonville.
Justin Forsett wants the Jacksonville Jaguars to consider hiring Jim Caldwell
On Dec. 16, less than a day after the Jaguars fired Meyer, Forsett took to Twitter and endorsed Jim Caldwell, his former head coach in Detroit, as a possible replacement. Forsett also briefly played under Caldwell in 2008, when the latter served as the Indianapolis Colts' offensive coordinator.
In a recent interview with Sportscasting, Forsett elaborated on why he believes Caldwell is a perfect match for the struggling Jaguars. The retired running back called Caldwell an "amazing man" and praised his abilities as a "leader of men."
"They've been through some coaches that traditionally can be very tough and hard and don't really have that backing by the locker room and the veteran guys in there. So when you bring a guy like Caldwell in there, you're setting the standard, and it's getting back to building an athlete up and not just having a transactional relationship with them."

Justin Forsett
Caldwell, who turns 67 in January, is 62-50 as an NFL head coach. He owns two Super Bowl rings, both earned as an assistant, and last served as a consultant for the Miami Dolphins in 2019.
According to NFL Media, Caldwell interviewed twice with the Houston Texans after the 2020 season. Houston instead hired Baltimore Ravens assistant head coach/wide receivers coach David Culley, who had never been a head coach at any level.
Jaguars fans should be extremely familiar with Caldwell, who coached the Colts from 2009-11. Indianapolis and Jacksonville split the six games they played against one another in that span. Caldwell got the last laugh when his Lions defeated the Jaguars, 26-19, in November 2016.
Forsett specifically praised Caldwell's ability to connect with players and encourage them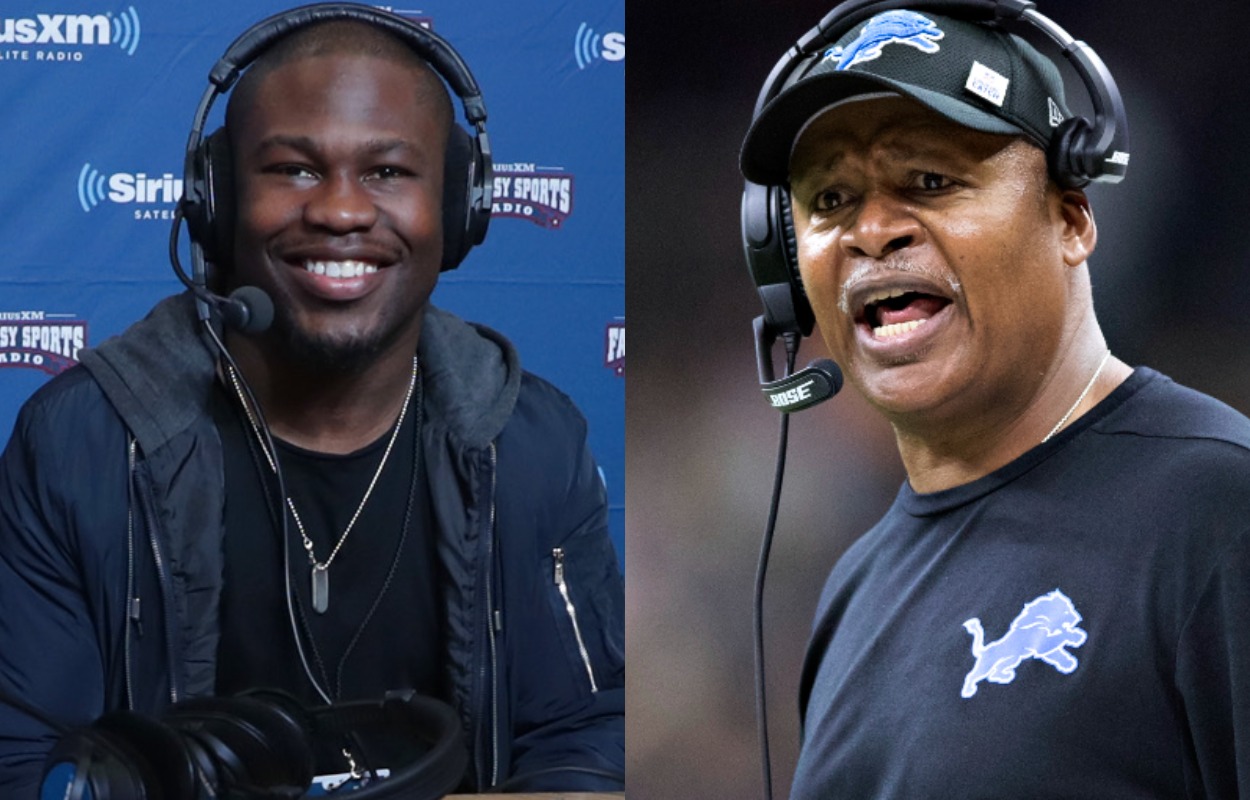 Put simply, Meyer never learned how a coach needed to succeed in the NFL. He struggled with building relationships, reportedly berated his coaches, and repeatedly failed to exercise judgment, both on and off the field.
Although Forsett didn't explicitly criticize Meyer by name, the California product made it clear he believes Caldwell could fix the Jaguars' long-standing cultural issues.
"I hold [Caldwell] up there as one of the top coaches I've ever played for in my life because he's a guy that [doesn't only] care about the players on the field, but also the men off the field. He wanted the guys in that locker room to be good fathers and husbands as well as good athletes. So I think that's what that locker room needs right now."

Justin Forsett
As of publication, Caldwell had not been linked to the Jaguars. Teams can begin interviewing potential head coaching candidates on Tuesday, Dec. 28, if they're already either on an interim coach — as the Jaguars are — or know in advance the job will become open when the season ends.
Don't be surprised to see Caldwell emerge as a trendy name in the coaching carousel
Although Forsett hasn't played in the NFL since January 2017, the retired Pro Bowler is still invested in his former teams' success. He still supports the Ravens, for whom he played from 2014-16, and clearly wants the Jaguars — his employer in 2013 — to get their next hire right.
Luckily for Forsett, Caldwell figures to be a popular name in the 2022 coaching market. He brings experience and has reached the playoffs four times in seven seasons as an NFL head coach. Those traits should appeal to any rebuilding team, especially one like the Jaguars in desperate need of stability.
Caldwell served as Peyton Manning's quarterbacks coach from 2002-08, a span in which the 1998 draft's No. 1 overall pick completed 66.5% of his passes for 29,210 yards, 222 touchdowns, and 84 interceptions. Perhaps most importantly, the Colts defeated the Chicago Bears in Super Bowl 41.
Joe Flacco famously threw 11 touchdowns against zero interceptions during the 2012 NFL Playoffs, weeks after Caldwell became the Ravens' interim offensive coordinator. Matthew Stafford reached the playoffs twice in Caldwell's four seasons with the Lions and threw 107 touchdowns against 45 interceptions in 64 starts from 2014-17. He never threw more than 13 interceptions during that time, a remarkable improvement from the 17 he averaged during the 2011-13 seasons.
Forsett's endorsement should only be the cherry on top of that lofty resume. If the Jaguars are serious about salvaging Trevor Lawrence's career, they might want to prepare a contract offer and call Caldwell next Tuesday.
Like Sportscasting on Facebook. Follow us on Twitter @sportscasting19.