Former Pro Bowler LeSean McCoy Reveals Why Tom Brady Is the Greatest Teammate Ever: 'What He Says, You Believe It'
Tom Brady is 44 years old and still going strong as one of the best quarterbacks in the NFL. He's a proven winner, and many of his current and former teammates have a great deal of respect for him. Former Philadelphia Eagles star LeSean McCoy paid the Tampa Bay Buccaneers quarterback the ultimate compliment despite only playing with him for a short time.
LeSean McCoy says Tom Brady is the greatest teammate and competitor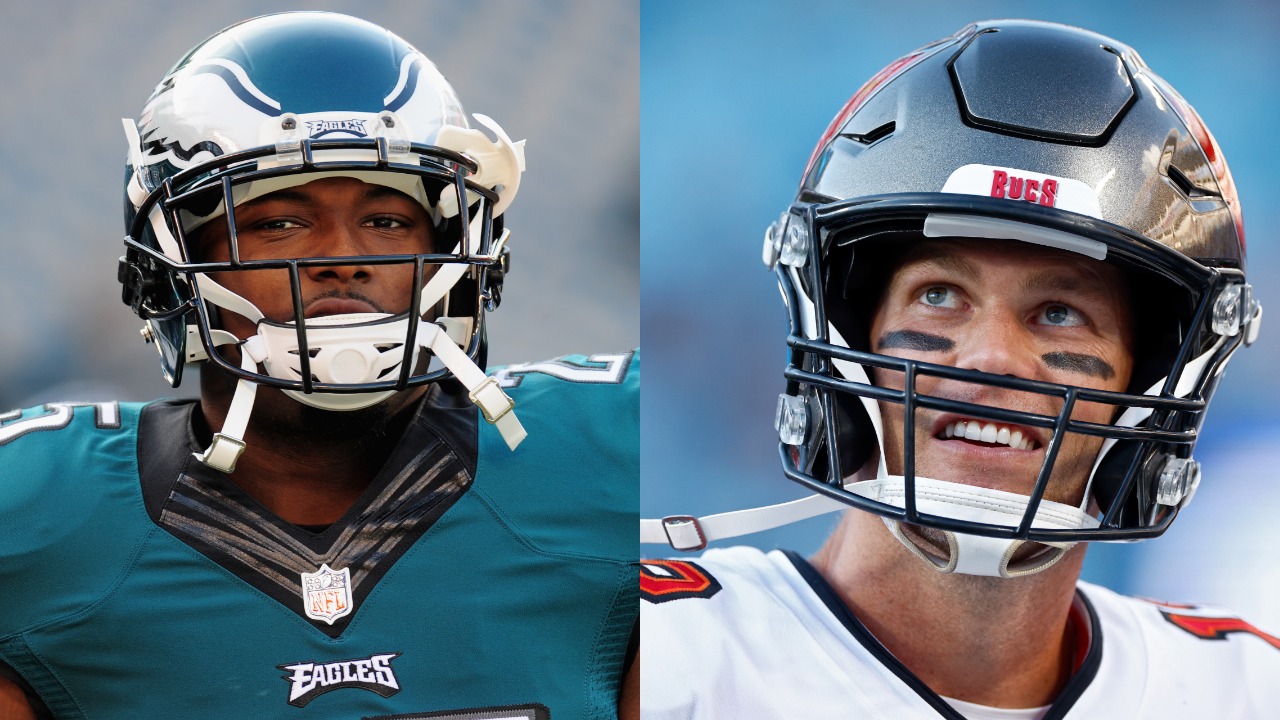 LeSean McCoy enjoyed a successful 12-year NFL career, mainly with the Philadelphia Eagles and Buffalo Bills. He's played with so many great players over the years, including Michael Vick, DeSean Jackson, and Patrick Mahomes.
McCoy played just one season with the Tampa Bay Buccaneers, but he says it was one of the best experiences he had in his career. The 6-time Pro Bowl running back claims that Tom Brady had something special that none of his other teammates could duplicate. He was the ultimate teammate.
McCoy recently joined the I Am Athlete podcast to discuss various topics, including his time playing alongside TB12.
"He's the best teammate, competitor, and leader I've ever seen in my life," he said of Brady. "He's the only player I've ever been around, quarterback, coach, that what he says, you believe it. 'Go out there and walk on water.' You're gonna believe him because he's ain't telling you something he's not gonna do."
The former All-Pro running back suggests Tom Brady talks the talk, but he also walks the walk. That's why McCoy has such admiration for the Buccaneers signal-caller.
"This dude trains all day," McCoy added. "He's 44. He works on his body. After practice, we're going to get water, Gatorade. We're tired. Not him. He's going to get some more treatment."
LeSean McCoy said Brady's work ethic is unmatched, and that's why he's so great even this late in his career.
The former Eagles RB tells stories of his Super Bowl run with Buccaneers
LeSean McCoy had a productive career with the Philadelphia Eagles and Buffalo Bills. As his career slowed down, he spent a brief stint with the Kansas City Chiefs before joining the Buccaneers.
The 6-time Pro Bowler enjoyed the places he played in, but he admitted playing with Tom Brady in Tampa Bay was a different experience. McCoy recalled some great memories from his single season with the Bucs.
The retired running back mentioned the moment Brady got into it with Kansas City Chiefs safety Tyrann Mathieu during Super Bowl LV.
"AB caught the touchdown," said McCoy. "Tom was like, 'Aw man, that was a great catch.' And it was on Mathieu. So Mathieu felt like, 'Get off me' type of thing. Tom came over like, 'I didn't mean anything by that.' Mathieu said, 'Nah f*** that.' Tom said, 'Well, f*** you!' The whole sideline was like, oh, he's human."
McCoy also recalled a story from Tampa Bay's playoff game against the New Orleans Saints in 2020.
"They beat us twice that year. They sweep us. Everybody knows that Drew Brees is retiring. We beat them. Tom's out there throwing with his [Brees] kids. We get in that locker room. Tom goes, 'I got his a**. Let's go. Sit his a** down.'"
LeSean McCoy added that Tom Brady's motivation level was just different.
"This dude is really locked in. I've never seen nothing like that. He wants to win. He was like 'I ain't chasing these quarterbacks, I'm chasing MJ.'"
McCoy believes Brady deserved more credit than Belichick in New England
When Tom Brady decided to leave New England for Tampa Bay before the 2020 season, many wondered if either he or Bill Belichick could have similar success without the other.
Brady proved his greatness by joining the Buccaneers and leading them to a Super Bowl victory in his first season. LeSean McCoy weighed in on the debate with no hesitation.
"Ain't nobody better than Brady," he said. "Tom Brady changed the whole team. Belichick, man listen. He's alright. He's a good coach. Brady is better than all of us right now. We can dominate, but we can't change the whole game, the whole team. He got the whole defense playing crazy."
The Harrisburg, Pennsylvania native suggested while Belichick is a good coach, he didn't deserve as much credit as TB12.
"That's why everyone gave Belichick all this credit because they're winning games," he added. "But he [Brady] got the whole team playing different. No matter who we put out there. We got the confidence that he's going to win. That's the only player I've been around that I don't care who's playing in this game. We got 12."
That unwavering belief in Brady is why LeSean McCoy thinks the Patriots regret letting him leave.
"He's out the gate [winning a Super Bowl]. What are you gonna do?" asked McCoy. "He'll [Belichick] never win another championship ever again. That is dead."
That's a bold take, especially since Bill Belichick has New England in the playoffs right now. Still, that speaks to how highly McCoy thinks of Tom Brady. And it took just one season in Tampa Bay for him to make that conclusion.
All stats courtesy of Pro Football Reference.