Former Pro Bowler Marshawn Lynch Reflects on Bengals RB Joe Mixon's Path From His Football Camp to the Super Bowl
The Cincinnati Bengals have enjoyed an improbable run to the 2022 Super Bowl. Quarterback Joe Burrow and wide receiver Ja'Marr Chase get much of the credit. Still, Joe Mixon is a significant reason why the Bengals are in this position. The Pro Bowler shares a special bond with a former star running back — Marshawn Lynch.
The retired All-Pro had ups and downs throughout his career, but he's made it a point to give back to the young players coming behind him. Mixon was one of those kids. Now, the Bengals star will have the opportunity to show his skills on the biggest NFL stage.
Marshawn Lynch mentored Joe Mixon at his football camp as a youth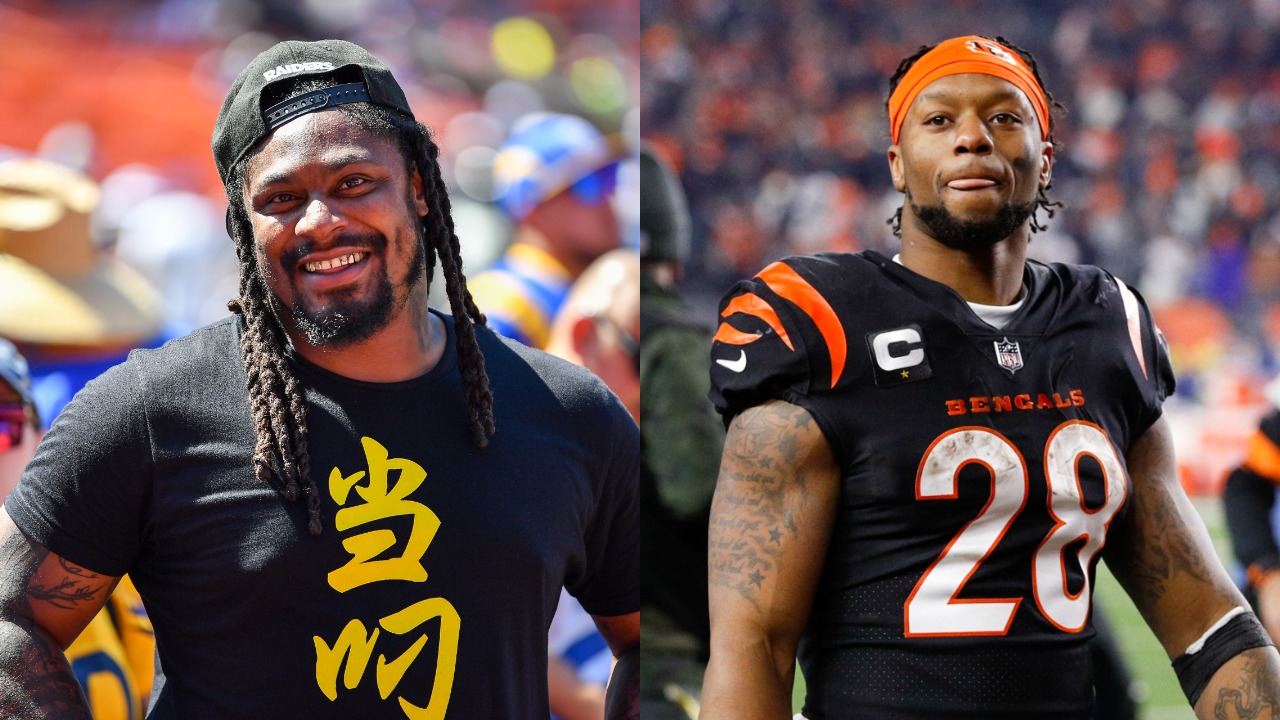 Marshawn Lynch enjoyed a productive 12-year NFL career, including stints with the Buffalo Bills, Seattle Seahawks, and Oakland Raiders. The man nicknamed "Beast Mode" certainly paid his dues on the field. He racked up 10,413 rushing yards and 85 touchdowns in 149 career games.
Throughout his career, Lynch hosted the Fam 1st Family Football Camp. The five-time Pro Bowl running back and his foundation created the camp to provide on-field instruction for youth football players in the Bay Area of California.
In a recent appearance on The Pivot Podcast, Lynch revealed that one of his former campers would be playing in the 2022 Super Bowl.
"We actually got one of the kids from our camp about to play in the Super Bowl this year," said Lynch. "It's Joe Mixon. That's little bro."
Beast Mode mentioned it's rewarding to see some of the players from his youth camp becoming stars in the NFL today.
"Just being in a position like that, where I'm looking at youngsters who came through the pipeline, and now they're in the Super Bowl. That's a good a** feeling."
Lynch also noted that another Pro Bowler emerged from the football camp — his cousin and Baltimore Ravens cornerback Marcus Peters.
Connecting with Lynch early on contributed to Mixon's bright NFL future
Marshawn Lynch was born and raised in Oakland, California. Cincinnati Bengals running back Joe Mixon grew up in nearby Oakley, which is less than an hour away.
Mixon was a two-sport athlete (football and basketball) at Freedom High School. 247 Sports rated him a five-star prospect and the No. 19 player in the nation in the Class of 2014.
However, long before he committed to the University of Oklahoma, Mixon developed a bond with Beast Mode.
"He used to look after me a lot and things like that," Mixon said per the Bengals team website. "I probably knew him since I was in the seventh or eighth grade. We had a relationship ever since, when he was at Cal and when he came out. He's just always looked out for me."
After starring for two seasons at Oklahoma, Mixon hit the ground running with the Bengals. The 2017 second-rounder has battled some injuries, but he gets better every season. Watching and learning from Marshawn Lynch has undoubtedly paid off for the first-time Pro Bowler.
The Bengals Pro Bowl RB is now in the Super Bowl
Joe Mixon is only 25 years old, but he's already turned into one of the better all-around running backs in the NFL today. He made the Pro Bowl for the first time in 2021, and the nod is well-deserved.
The Bengals running back rushed for 1,205 yards and 13 touchdowns on 292 carries in the regular season. He finished third in the league in rushing yards and fourth in touchdowns. Mixon also caught 42 passes for 314 yards and three scores.
While Joe Mixon doesn't get much mainstream praise, he's been a massive part of Cincinnati's surprising success in 2021. The Bengals are so dangerous in the passing game, but Mixon sets the tone on the ground. He's also proving to be a valuable asset catching passes out of the backfield.
Marshawn Lynch is proud that his mentee and former camper gets the opportunity to play in the Super Bowl. As someone who has hoisted the Lombardi Trophy himself, he knows how difficult it is to reach the big game.
Joe Mixon must have a big game for the Bengals to shock the LA Rams in Super Bowl 56. If he channels his inner Beast Mode, Cincinnati could win its first championship in franchise history.
All stats courtesy of Pro Football Reference.
RELATED: Trey Wingo Compares Joe Burrow and the 2021 Cincinnati Bengals to Troy Aikman and the 1992 Dallas Cowboys: 'They Don't Know Anything but Success'