A Former All-Pro Linebacker Has Seen Enough of the Packers' Jordan Love Experiment: 'I Think They Need to Start Being Very Nice to Aaron Rodgers'
Article Highlights:
Retired All-Pro linebacker Shawne Merriman sharply criticized Green Bay Packers backup quarterback Jordan Love
The Utah State product completed 19 of 34 pass attempts for 190 yards, a touchdown, and an interception in place of Aaron Rodgers in Week 9
Merriman, and any of Love's other critics, need to give Aaron Rodgers' backup a bit more time to prove himself
If any Green Bay Packers fans desperately wanted to see what young quarterback Jordan Love could do if finally given an opportunity, they almost certainly walked away disappointed in Week 9.
With Aaron Rodgers on the COVID-19 list and blatantly spreading misinformation while in quarantine, Love took the starting quarterback reins and struggled in a Week 9 loss to Patrick Mahomes and the Kansas City Chiefs. Although 63 snaps shouldn't make or break a career, don't tell that to retired All-Pro linebacker Shawne Merriman.
Shawne Merriman has already seen enough of Jordan Love as the Packers' starting quarterback
Anyone who expected Love to show up at Arrowhead Stadium and throw for 350 yards and three touchdowns in an upset victory needed to temper their expectations. Anyone who put money on Love accomplishing either of those achievements might need to rethink their approach.
Love didn't do much of anything right in the Packers' 13-7 loss. Although his defense kept him in the game, the 2020 26th overall pick only completed 19 of 34 pass attempts for 190 yards, a touchdown, and an interception in his first career start.
Again, one start shouldn't determine whether a player is destined for success. Indianapolis Colts legend Peyton Manning threw three interceptions in his first career start, and he turned out just fine.
Not that Merriman, once a Pro Bowl linebacker in his prime with the then-San Diego Chargers, is in any mood to hear such an idea. In a Nov. 11 interview with Gambling.com, the Maryland product ripped the second-year quarterback after his lackluster performance and said the Packers need to re-evaluate their long-term quarterback plans:
"I think they need to start being very nice to Aaron Rodgers from this point on. I think that they need to realize and own the fact that they made a mistake, and I think they need to do that publicly. … They didn't do what's in the best benefit of the Green Bay Packers by bringing in a first-round backup quarterback who will probably end up being a backup for the remainder of his career based [on] what I've seen unless they see something different."

Shawne Merriman
Shawne, tell us how you really feel. 
Merriman, and any of Love's other critics, need to slow down after one bad start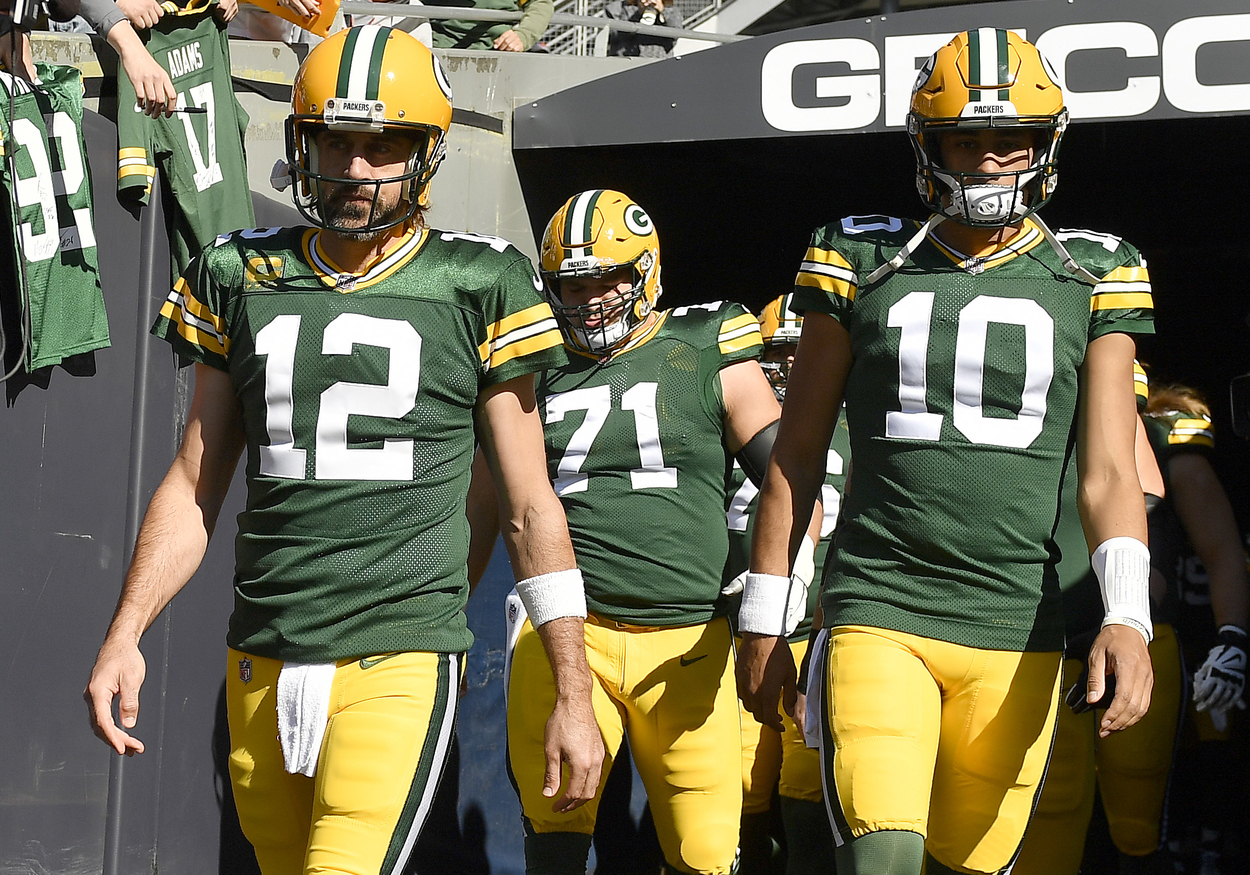 Merriman is free to believe the Packers shouldn't have traded up to select a quarterback in 2020, and he's almost certainly not alone. The Packers had far greater needs than a quarterback who, barring injury or an unexpected retirement, likely wouldn't have seen the field in a regular role until 2022 or 2023 at the earliest.
Let's exclude Love's draft standing for a moment and focus solely on his first career start. No one is excusing his play or saying he performed well. The Packers only went 2-of-12 on third down in a six-point loss and were a late touchdown away from being shut out for the first time since Dec. 30, 2018. Such a performance is less than ideal at best and unacceptable at worst.
In fairness to Love, though, he had a short week of game prep and made his first career start on the road in an extremely hostile environment. This wasn't exactly starting against the Minnesota Vikings at Lambeau Field or playing against the miserable and winless Detroit Lions at Ford Field.
Luckily for the Packers, they entered play at 7-1 in a mediocre NFC North division. It would take a horrific collapse for them to let the inconsistent Vikings rush past them and win the division for the first time since 2017.
As for Merriman's point that Love will wind up being a backup for the rest of his career, he might be right. Still, we don't know off his one start what he's destined to do over the next decade. Mahomes completed 63% of his passes and didn't throw a touchdown in his first career start, a three-point victory over the Denver Broncos in December 2017. Do you see him serving as a backup quarterback each week?
Packers fans need to start preparing to see even more of Love in 2022
This is the reality that Merriman and Packers fans need to face, and it's an important one. If this is Rodgers' last dance, and he'll be playing for another team in 2022, Love is almost certainly going to enter next year as the Packers' starting quarterback.
The Packers spent a first-round pick on Love, and they, understandably, will want a return on their investment. Unless Deshaun Watson or Russell Wilson become available via trade, are the Packers really going to pay premium money or give up assets for a veteran starter when they have Love ready to go? 
Of course, it's entirely possible the Packers could add a proven veteran, someone like Jimmy Garoppolo or Nick Foles, who could compete for the starting job with Love if Rodgers is elsewhere. But barring something unexpected, it will either be Rodgers or Love starting in Week 1 next season.
If the latter isn't a reality the Packers want to accept, we suggest they listen to Merriman and start making nice. Otherwise, they'll move forward and let Love begin breaking hearts. For their sake, they should hope he's tormenting the rest of the NFC North and not his own fans.
Like Sportscasting on Facebook. Follow us on Twitter @sportscasting19.