Former Raiders CEO Amy Trask Condemns Jon Gruden's 'Horrific' Behavior While Sending Mark Davis a Stern Piece of Legacy-Saving Advice
Article Highlights:
Former Las Vegas Raiders head coach Jon Gruden resigned amidst an email scandal
Raiders owner Mark Davis said the NFL has "all the answers"
Former CEO Amy Trask is speaking out about the future of the Raiders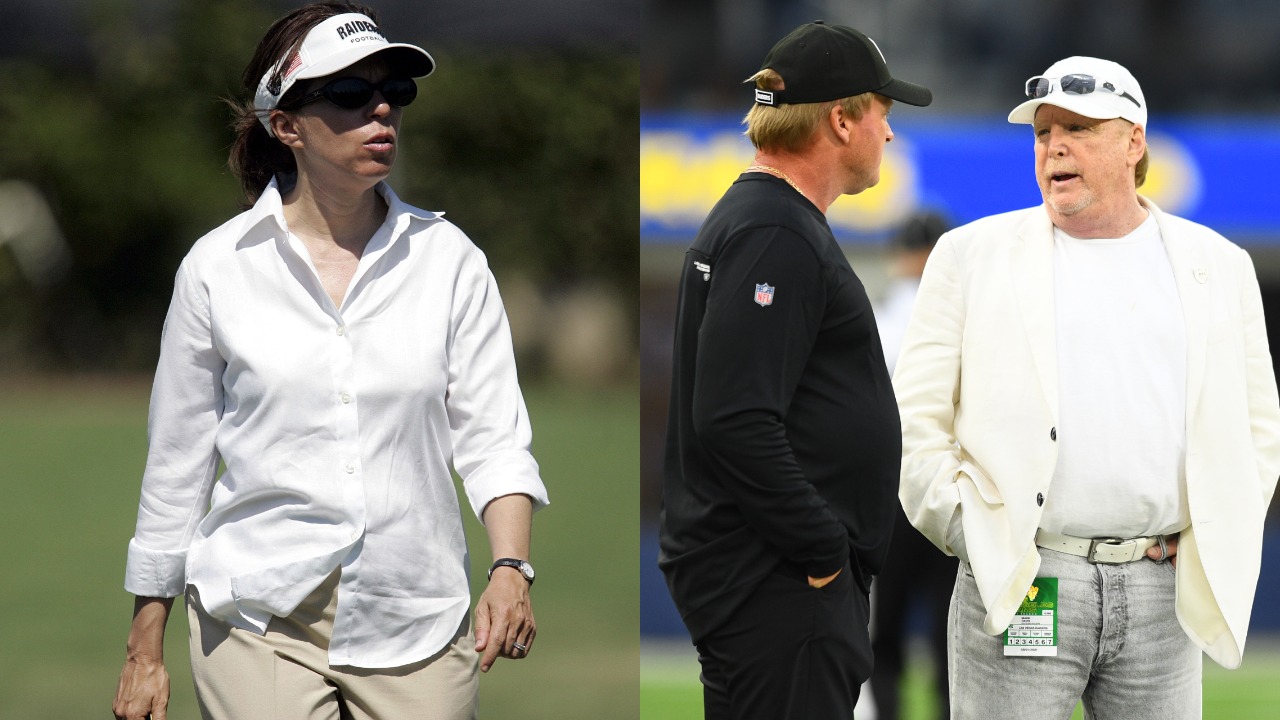 The Las Vegas Raiders have endured a tumultuous week. Their head coach, Jon Gruden, abruptly resigned from his post as head coach. The emergence of a series of leaked racist, misogynistic, and homophobic emails shocked Raider Nation and gave the organization a black eye.
Former Raiders CEO Amy Trask is speaking out about the unfortunate situation and looking ahead to how Mark Davis and the front office can move forward.
Amy Trask is the former CEO of the Oakland Raiders
Legendary former Oakland Raiders owner and general manager Al Davis appointed Amy Trask as the team's CEO back in 1997.
Trask held the executive role within the organization until 2013. She handled all of the team's non-football operations, per ESPN. She became the face of the franchise's front office after Davis died in 2011.
Trask came from a legal background. She attended law school but fell in love with football at a young age. She interned with the Raiders in 1983 before finishing school and getting a job at a law firm.
Davis later hired Trask to the team's legal department in 1987, and the rest is history. She took it upon herself to learn everything there was to know about the organization and eventually reaped the benefits.
Trask currently serves as an analyst for CBS Sports and is a panelist on an all-women's sports talk show entitled We Need To Talk on CBS Sports Network. She also serves as Chairman of the Board for Big 3, a professional three-on-three basketball league founded by rapper/actor Ice Cube.
Mark Davis has failed to properly address the Jon Gruden scandal
Amy Trask was a part of the Raiders organization during a unique time. She played an integral role in a franchise that championed diversity at all levels.
The news of Jon Gruden's emails and his eventual resignation hit home for Trask. Gruden was the Raiders head coach from 1998 to 2001, before leaving for the Tampa Bay Buccaneers. He later replaced Jack Del Rio in 2018 for his second stint with the franchise.
Trask, who knows Gruden personally, was disappointed to learn that the former head coach could make such disparaging remarks over seven years. She joined The Rich Eisen Show to give her thoughts on the matter.
"Horrific" was the first word that came to Trask's mind. She mentioned that she didn't spend much time around Gruden during their time together but never saw any clear red flags about his character. "If he did, I would not have remained silent," she said.
Trask expressed great displeasure in Gruden after hearing the news. "More concerning than it being in an email is that it was in his heart," she said. "This is what he believed."
The former CEO also implored owner Mark Davis to step up to the plate and right the ship. According to Pro Football Talk, Davis declined to comment on Gruden's departure, saying, "Ask the NFL. They have all the answers." That doesn't exactly give hope to players, staff, and fans moving forward.
"He did hire Jon, and he does now need to address that strongly and unequivocally," said Trask of Davis. "Another thing I would encourage him to do is to reach out to the Raiders' fan base."
Al Davis left a lasting impact on the NFL
Al Davis spent nearly 50 years with the Raiders organization. He began as the head coach and general manager in 1963 when the team was a member of the AFL.
Davis became the team's principal owner in 1972 and held the same role until he died in 2011. The Raiders made numerous playoff appearances and won three Super Bowls, with Davis at the helm .
Not only did the Hall of Famer put a successful product on the field, but he also provided a blueprint for running a successful organization in general.
Amy Trask fondly remembers the man who first gave her a shot in the NFL. "It was also not lost on me that the news first broke on the anniversary of Al's death," she said. "That was very poignant as well given all that he had done, all that he did in his life."
When the Raiders hired Trask, not many women were afforded opportunities in the front office. Al Davis turned the tide. He also was the first executive to hire a Black head coach, Art Shell. He hired the league's second Latino head coach in Tom Flores as well.
Davis was a champion for diversity. His son, Mark Davis, should make strides to rebuilding the legacy his father worked so hard to establish in the NFL.
Stats courtesy of Pro Football Reference.
RELATED: Cowboys WR Amari Cooper Noticed a Flaw In Jon Gruden's Personality Which Eventually Came Back to Bite Him and Ended His Career