Former Ravens Linebacker Bart Scott Takes a Vicious Shot at Hollywood Brown, Claims He Shouldn't Be a Starter
The Baltimore Ravens are coming off their most impressive win of the season thus far, battling off Carson Wentz and the Indianapolis Colts in overtime. Lamar Jackson had the best game of his NFL career, and the Ravens' defense got key stops when asked to do so.
It was an impressive team win from top to bottom.
However, it surprisingly didn't result in the Ravens being completely immune to criticism.
Former Ravens LB Bart Scott blasts WR Hollywood Brown
Appearing on a recent episode of ESPN's First Take, former Ravens and New York Jets linebacker Bart Scott had some choice words for one specific Baltimore player.
He fired off on Marquise "Hollywood" Brown, claiming that he wouldn't be a starter on many contending teams around the NFL.
"Hollywood Brown would not start on any of these other units that we consider," Scott said. "He wouldn't start for the Bills, he wouldn't start for Kansas City, he wouldn't start for Aaron Rodgers."
Scott's disrespect comes at a confusing time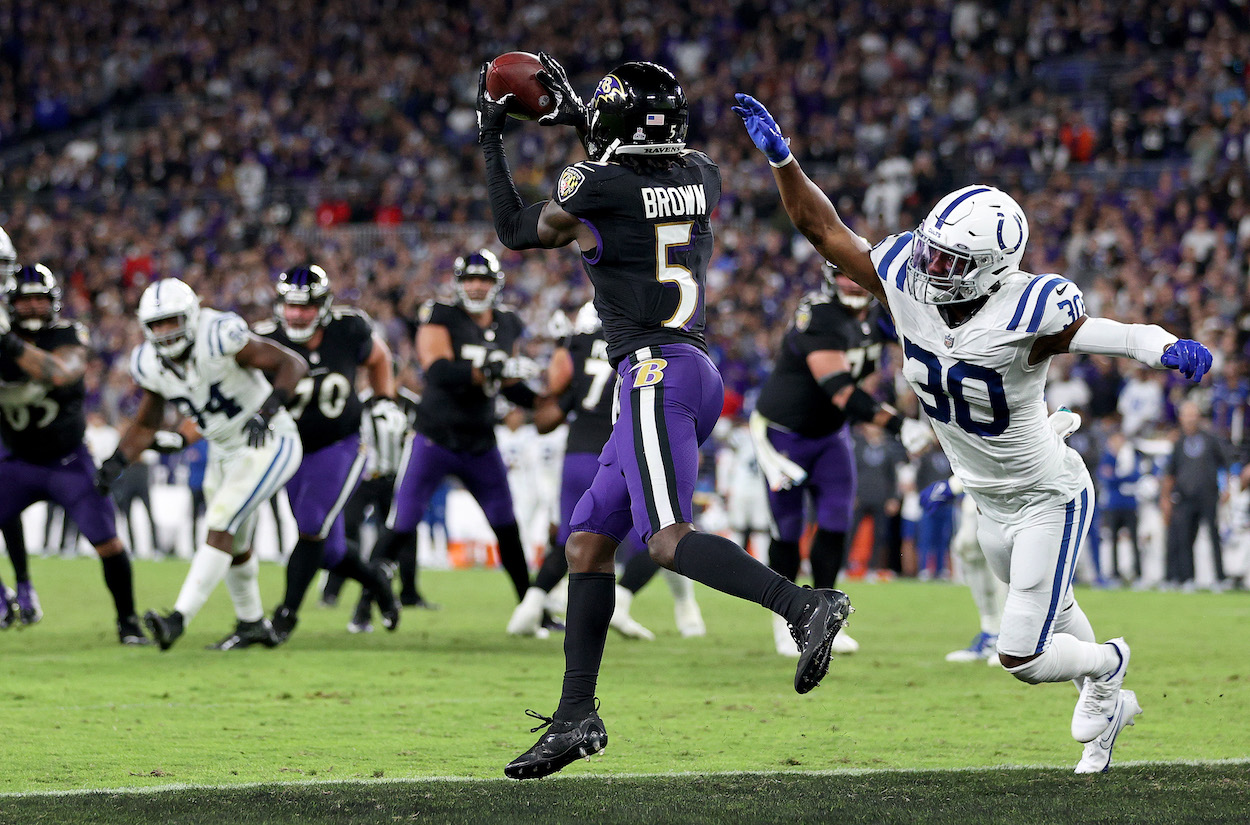 While Brown has disappointed at times during his Ravens career, Scott's criticism comes at an extremely odd time.
The Ravens are 4-1 through their first five games, and Brown is well on his way to set a career-high in receiving yards. He's already racked up 461 receiving yards this season and is averaging 90.2 yards per game at the moment. His previous career-best for yards per game was 48.1 in 2020. Brown is absolutely shattering that number.
Brown is a former first-round pick, so it's somewhat understandable that he is held to a higher standard than most. However, his performances this season paint the picture of a player in the midst of a major breakout. He's getting open consistently, and his catch rate sits at an impressive 73.7%.
Baltimore Ravens team reporter Kevin Eck went as far as to call Scott's comments "laughable."
Claiming that Brown wouldn't slot in as a solid WR2 on the Bills, Chiefs, and/or Packers is laughably incorrect.

Brown is eighth in the league in receiving yards and is on pace for 1,533 yards in a 17-game season. He's tied for second with five touchdown catches. Brown also is second in catches of 20-plus yards (nine) and tied for second in catches of 40-plus yards (three).

Kevin Eck, baltimoreravens.com
Ravens WR Hollywood Brown clapped back
Brown responded to Scott on Twitter by poking fun at his first name (Bart) and followed up with more sincere frustration via Mark Viviano's "Purple Playbook."
"That was pretty disrespectful, I'm not gonna lie," said Brown. "I don't usually respond to people, but if I see Bart in person, we got words."
Scott is a former Ravens linebacker who made a Pro Bowl for the team back in 2006. Even if Brown can play off and joke about his comments online, it probably hurts just a tad to be criticized by a veteran of the team you're playing for — especially a former Pro Bowler.
All stats courtesy of Pro Football Reference.
RELATED: The Cleveland Browns Are Dealing With a Massive Injury That Could Completely Derail Their Chances of Making the Postseason