Former Red Sox Star Carl Everett Was Mocked for His Devout Christianity and Beliefs
Carl Everett loved speaking his mind almost as much as he enjoyed hitting home runs.
At times, it would have been hard to figure out which he preferred. An All-Star outfielder who won a World Series alongside Frank Thomas on the Chicago White Sox, Everett never held back what was on his mind.
Everett's devotion to religion, and some of his beliefs, made him an easy target in the media. Here's why Boston Red Sox media members especially picked on Everett.
Carl Everett played 14 MLB seasons
RELATED: Red Sox Pitcher Eduardo Rodriguez 'Scared' About Heart Issue From COVID-19
The 10th overall pick of the New York Yankees in 1990, Carl Everett debuted with the Florida Marlins in 1993.
The two years Everett spent in South Florida foreshadowed what was to come; Everett would never spend more than three straight seasons with one team. He accomplished that feat with his next team, the New York Mets.
Everett is possibly best known for his two years with the Boston Red Sox. The veteran outfielder hit .300 with 34 home runs, 108 RBIs, and earned his first All-Star nod in 2000.
When the Red Sox signed Manny Ramirez before the 2001 season, they hoped Everett would build off his excellent first year in Boston. He instead hit .257 with 14 home runs, his fewest since 1997, and was traded to the Texas Rangers after the season.
Everett earned his second All-Star nod in 2003, a year he split between the Rangers and White Sox. He won the World Series with Chicago in 2005 and played his final MLB game a year later.
Everett openly expressed his religious beliefs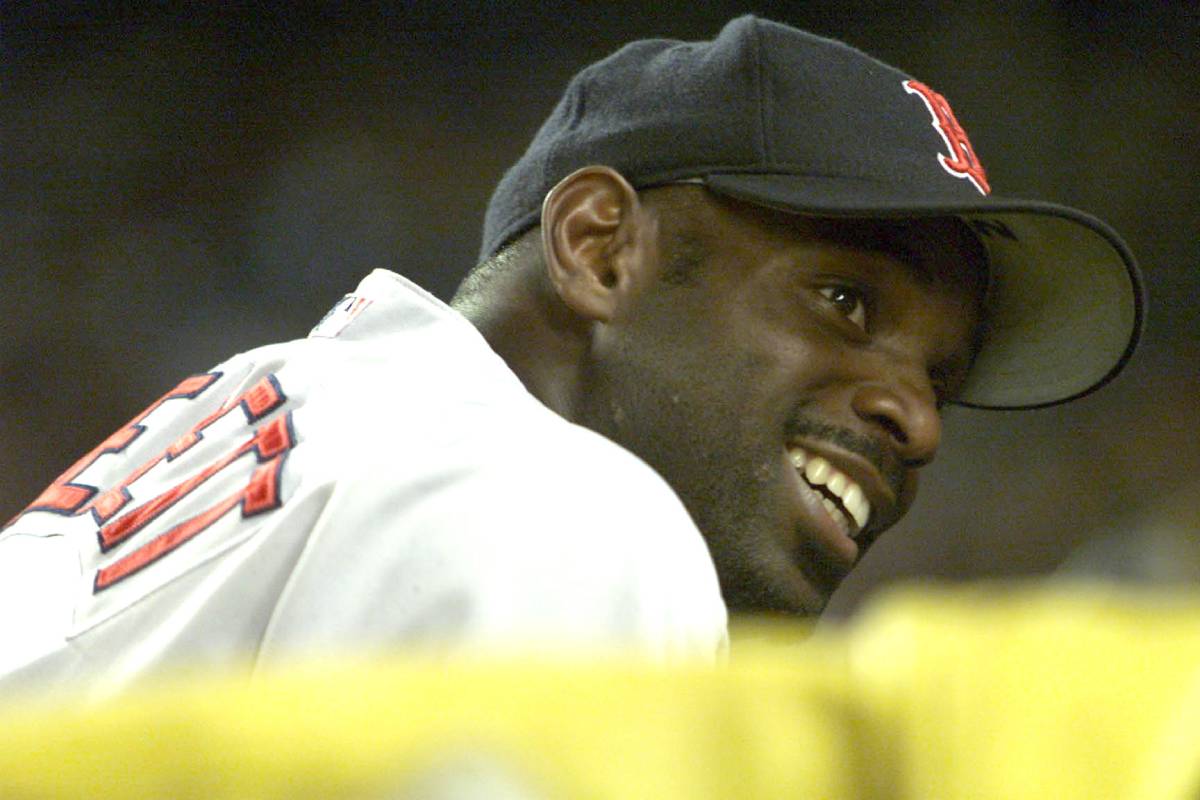 RELATED: Reggie White Emotionally Broke News of Teammate's Tragic Death to Fans
Of all things, Carl Everett was not a quiet man.
Everett publicly feuded with teammates and opponents alike. Everett served a 10-game suspension in 2000 when he bumped into umpire Ron Kulpa.
A year later, Everett received a fine for grabbing his crotch after he homered off Mariners pitcher (and future teammate) Jamie Moyer.
An Apostolic Christian, Everett frequently shared his religious beliefs with media members. He doubted the existence of dinosaurs, said on multiple occasions he didn't believe in gay marriage, and insisted the moon landing was fake.
In a 2000 interview with Sports Illustrated, Everett explained why he didn't believe dinosaurs were real.
"God created the sun, the stars, the heavens and the earth, and then made Adam and Eve. The Bible never says anything about dinosaurs. You can't say there were dinosaurs when you never saw them. Somebody actually saw Adam and Eve eating apples. No one ever saw a Tyrannosaurus rex."
Everett also said he believed dinosaur bones were "made by man."
Media members mocked Carl Everett's religious beliefs
RELATED: The Tragic Death of Kevin Mawae's Brother Redefined His Legacy of Faith and Football
Carl Everett's tendency to share his beliefs made him an easy target for the media, especially in Boston.
After Everett doubted the existence of dinosaurs, Boston Globe columnist called the outfielder "Jurassic Carl." In response, Everett insinuated Shaughnessy and another Boston writer, Gordon Edes, were in love.
Everett also said he wouldn't speak with any reporters from the Boston Globe, according to the Hartford Courant.
Shaughnessy called for the Red Sox to part ways with Everett throughout the 2001 season.
Everett retired with nearly $45 million in career earnings and a history of speaking his mind. He certainly left an impact on the sport and baseball's culture.