Former Seahawks All-Pro Richard Sherman Argues Letting Russell Wilson Cook Is Not a Winning Recipe: 'You Will Not Be Close to a Super Bowl'
It's unclear whether Russell Wilson will return to the Seattle Seahawks or play elsewhere in 2022. He seems to be holding the cards close to his chest. However, it's difficult to imagine him running it back another year if he doesn't think the team can compete.
Wilson's former teammate, Richard Sherman, believes Seattle needs to re-establish its identity if it wants to get back to the Super Bowl.
Richard Sherman advises not to 'let Russ cook'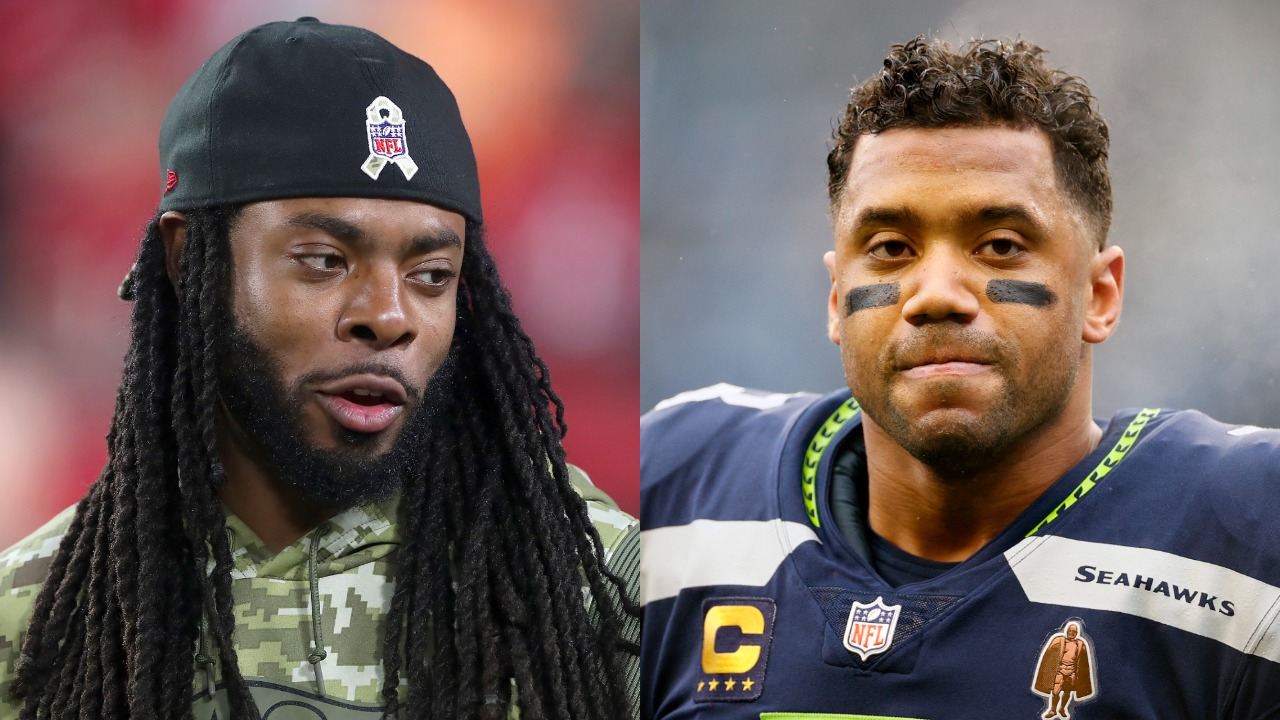 The 2022 season will mark Russell Wilson's 11th in the NFL. No one knows how long the 33-year-old plans on playing, but it sure feels like his window to win another Super Bowl is closing.
The Seahawks could possibly retain Wilson for another year. However, the team must undoubtedly make changes to the offensive scheme.
Three-time All-Pro cornerback Richard Sherman played with the veteran quarterback in Seattle for six seasons. He keeps hearing the "Let Russ cook" mantra but doesn't believe the team can actually win that way.
"The identity of a Pete Carroll and a championship team as it always has been," he said on The Richard Sherman Podcast. "Run the ball, limit the turnovers, play solid defense. The best defense is a good run game. Run the clock. You spend less time on the field and get stops when you need them. That's what their formula was."
"People were like, 'Let Russ cook,'" Sherman added. "You did not win a Super Bowl letting Russ cook, and you have not been anywhere close to a Super Bowl letting Russ cook. You will not be close to a Super Bowl if you let him throw it 30-40 times a game."
The five-time Pro Bowler suggested the Seahawks don't have the talent on both sides of the ball to get into shootouts with other teams, and he's right.
Should Russell Wilson want to return to Seattle?
Russell Wilson seemingly wanted out of Seattle after the 2020 season. That was surprising, considering the team had finished with a 12-4 record and the NFC West crown. One could imagine how he feels after the Seahawks posted a 7-10 record in 2021.
Wilson has been saying all the right things, and he's hasn't given the fans or organization any reason to believe he'd not want to be in Seattle. Still, he likely wants to compete for a Super Bowl at this stage of his career.
Richard Sherman alluded to the overall lack of talent on the Seahawks roster. Pete Carroll's squad is a ways away from contending in the NFC. If winning is a priority for Wilson, Seattle may not be the best location for him.
Assuming the Seahawks make the nine-time Pro Bowl quarterback available via trade, he'll likely have his fair share of suitors. Not all destinations make sense, though. Wilson would need to go somewhere with a solid foundation in place and pieces on offense and defense. The New Orleans Saints, Pittsburgh Steelers, and Denver Broncos could be in play.
It's highly unlikely that Wilson and Pete Carroll both return in 2022. The duo has run its course together, and a fresh start would allow the franchise to rebuild.
Sherman puts Seahawks fans on blast
While Russell Wilson's future in Seattle is up in the air, it's important to recognize how impactful he's been for the Seahawks franchise. The 2021 season was the first to end with a losing record since Wilson arrived. The North Carolina State product has posted an impressive 104-53-1 record as a starter.
Wilson, Richard Sherman, and the crew delivered the franchise's first Super Bowl with a 43-8 victory over the Denver Broncos in Super Bowl 48.
Sherman believes the consistent winning has spoiled Seahawks fans and that the criticism after a down year is unwarranted.
"Seattle fans are going to hate to hear this because they hate accountability," said Sherman. "They're probably going to get rid of Bobby [Wagner], and once that happens, that's it. You're in a rebuild. I don't care if Russell's there or not. You either die the hero, or you live long enough to be the villain."
"These fans had never won anything before we got here," Sherman added. "They went to the Super Bowl in '06 and were happy to be there. We get there and win the Super Bowl. We spoil them with historic defense, and all of a sudden, that's their expectation. Now they expect to go to the Super Bowl every year."
Richard Sherman still appears to have some resentment for the Seahawks and the fan base. Surely, Russell Wilson's experience is different, but he must be feeling the pressure given the lofty expectations.
Like Sportscasting on Facebook. Follow us on Twitter @sportscasting19.
RELATED: NFL Insider Peter King Predicts the Futures of Russell Wilson and Pete Carroll With the Seahawks: 'I'm Not a Big Fan of That'