NFL: Is Former Steelers Player Hines Ward a Good Hire for the Jets?
Other than his role as an analyst on Sunday Night Football for NBC, it's been a while since football fans have thought about former Pittsburgh Steelers' wide receiver Hines Ward. Ward recently started a new football endeavor, accepting a new role with the New York Jets. It represented something Ward has never done before.
Let's take a closer look at what role Ward took and whether it was a wise move for the team.
Hines Ward career overview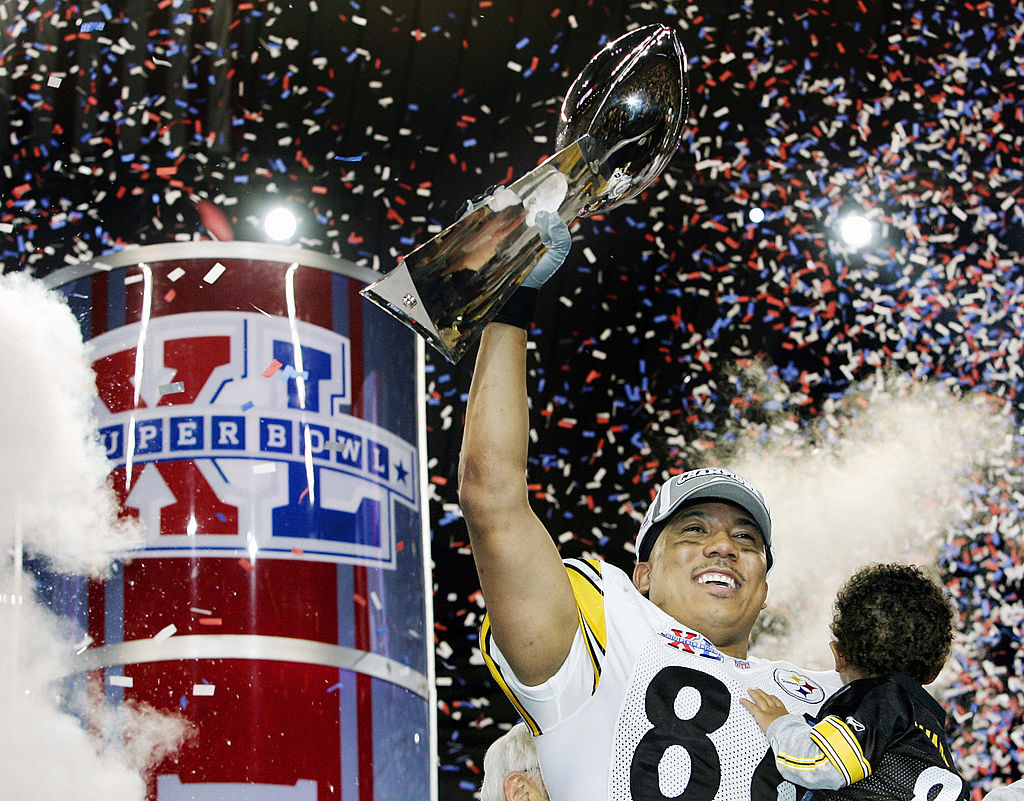 The Steelers selected Hines Ward with pick No. 92 in the third round of the 1992 NFL Draft. At the University of Georgia, Ward was a hybrid player who lined up at both receiver and quarterback. Ward played 14 seasons in the NFL, all of them with the Pittsburgh Steelers. He finished with some stellar achievements for his career, including:
1,000 receptions
12,083 receiving yards
85 touchdowns
Four Pro Bowl selections
Two Super Bowl championships
88 playoff receptions
1,181 playoff receiving yards
10 playoff touchdowns
One Super Bowl MVP
As one of the most winningest franchises, the Steelers are accustomed to success. Ward played a big role in the Steelers adding two Super Bowl trophies to their collection as one of their top wide receivers. Ward's contributions to the team were honored with his induction this past summer into the team's Hall of Honor. Ward retired in 2011 at the age of 35 as the Steelers' all-time leader in receptions, receiving yards, and receiving touchdowns.

His role with the Jets
This past offseason, the New York Jets hired Ward to assist during training camp. Here was head coach Adam Gase's statement on Ward's precise role with the team:

"He's actually been added to be part of the coaching staff. He's going to be an offensive assistant, he's going to be working with the wideouts…He's done a lot of really good things with that group, helping out with those guys. I think it was the right time for him. He's excited about the opportunity."

Ward coaches with Jets' wide receiver coach Shawn Jefferson, a former receiver in his 15th year as a coach in the NFL.

Former Steelers with the Jets
As the CBS Sportsline piece on Ward's hiring points out, Ward isn't the only former Steeler to take flight with the Jets this offseason. Other former Steelers include:
Running back Le'Veon Bell, one of the league's best rushers in years' past.
Offensive tackle Kelvin Beachum, Pittsburgh's starting left tackle from 2013-2015.
Defensive tackle Steve McClendon, who was a Steeler from 2010-2015.
Was Hines Ward a good hire for the Jets?
Despite some recent turmoil, the Steelers are a franchise known for their success in the NFL as well as a strong work ethic. How much of that rubs off on the current Jets team remains to be seen. However, adding a hard-nosed former player like Ward with a solid football pedigree can only have positive effects for New York.

The Jets couldn't have picked a better time to add Hines Ward to their staff. Right now, they have Robby Anderson and Jamison Crowder as their one and two receivers with Joshua Bellamy and Braxton Berrios backing them up. There isn't an established star in the bunch at the moment. Crowder showed flashes of potential in Washington but could never stay healthy long enough to make a significant impact.

With Sam Darnold entering his second year, he'll need his receivers to be consistent if he wants to develop into an elite NFL quarterback. Ward's insight as a former star receiver who achieved postseason success can only help them realize their great potential.