Former Steelers Pro Bowler James Harrison Gives Tom Brady a Rave Review: 'One of the Best Individual Teammates'
Whether or not you believe Tom Brady is the GOAT, there's no debating that he's one of the greatest winners in sports history. The Tampa Bay Buccaneers quarterback has a dominant personality, but guys seem to love playing with him. Former Pittsburgh Steelers linebacker James Harrison recalled his brief stint as Brady's teammate and revealed he loved every minute of it.
James Harrison spent just one season in New England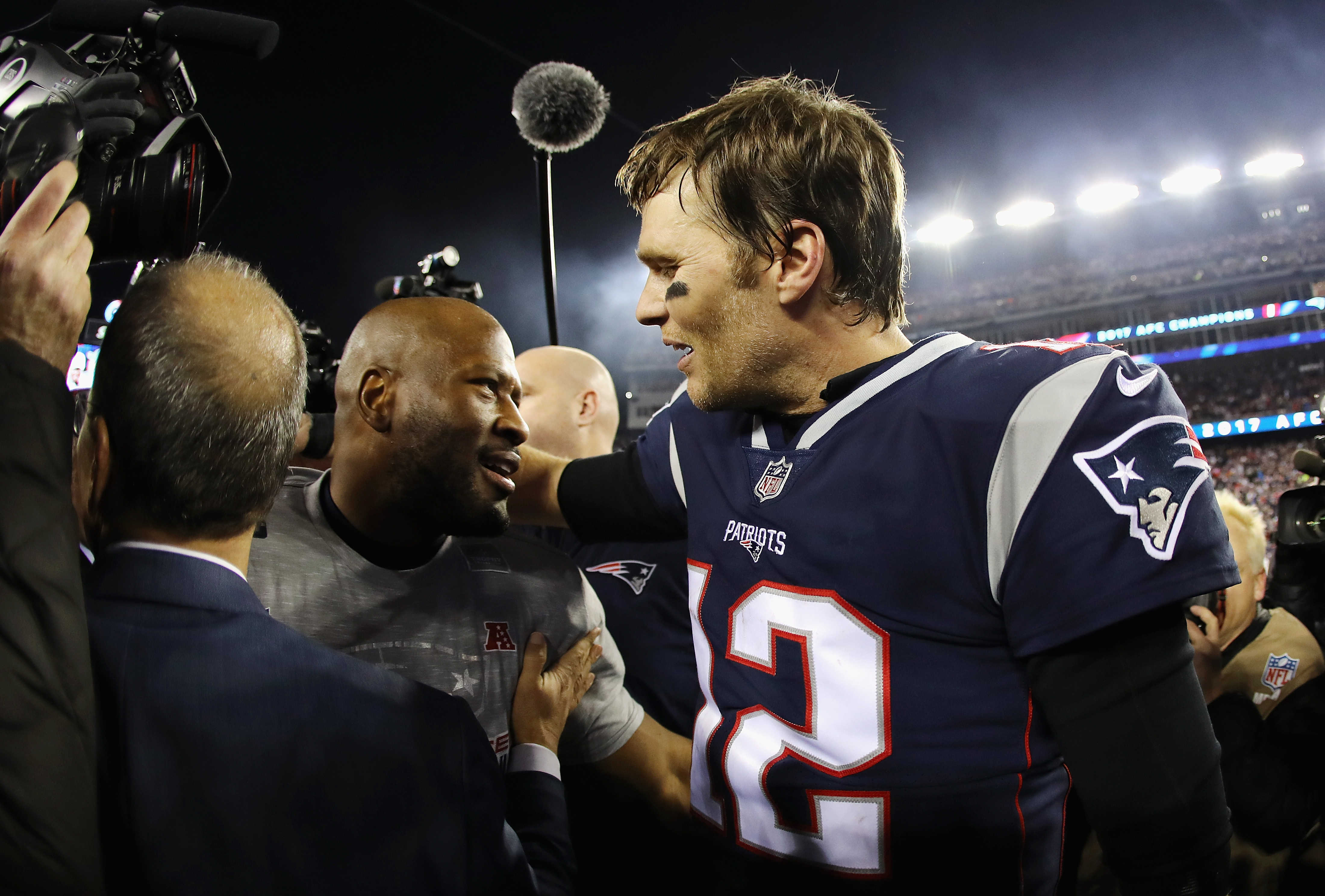 James Harrison played most of his 15-year NFL career with the Pittsburgh Steelers. The former outside linebacker established a reputation as one of the most feared defensive players in franchise history.
After his second stint with the Steelers ended, Harrison signed a one-year contract with the New England Patriots near the end of the 2017 season.
The 5-time Pro Bowler played just one regular-season game for the Patriots, but he made an impact. Harrison registered five tackles, two sacks, and a forced fumble against the New York Jets in Week 17.
Harrison also appeared in all three playoff games for New England. He finished the postseason with eight tackles and three quarterback hits.
The Akron, Ohio native's tenure with the Patriots was short-lived, but he made a Super Bowl appearance in the process.
The former Steelers linebacker praised Tom Brady's leadership
Even though James Harrison didn't spend as much time with Tom Brady as he did with Ben Roethlisberger, he learned a lot about the player and the man.
The 2-time All-Pro linebacker was a guest on The Rich Eisen Show, and he discussed what it was like playing with TB12 on the playoff run.
"Real good dude," Harrison said of Brady. "Probably one of the best individual teammates I can say I've had. Just his camaraderie and actually genuinely caring about the person, not the player. He introduces himself to everybody as if you don't know who he is."
Harrison added that the 15-time Pro Bowl quarterback is the ultimate leader.
"When it's time to go outside, and it's 15 below, he's like, 'Yo, let's go. Let's get it going.' It's no complaining. I've never seen anybody's study habits like him. This dude fills up damn near a whole notebook per game."
Jame Harrison suggests Tom Brady is like no other.
Brady's winning mentality makes him easier to play with
The stories that James Harrison tells of Tom Brady make so much sense. To achieve the level of success that TB12 has throughout his 22-year NFL career, one must possess a different makeup than everyone else.
Brady is the ultimate competitor. His passion and preparation have translated into elite performance over the years.
The 44-year-old signal-caller boasts a career 240-73 record as a starter in the NFL. He's won an insane seven Super Bowls, six with the Patriots and one with the Buccaneers. The 3-time league MVP has set the standard for leading a team from his quarterback position.
Even after playing more than two decades in the NFL, Brady hasn't lost his passion for the game. His energy undoubtedly rubs off on his teammates.
Who wouldn't want to be on the same team as Tom Brady? There's no way a guy like James Harrison wouldn't want to play with a proven winner on the last leg of his career.
As the Steelers great suggests, TB12 wants to win so badly but knows that he can't do it alone. That's why he's been so successful.
Like Sportscasting on Facebook. Follow us on Twitter @sportscasting19.