Start Getting Ready To Hear Former Steelers Super Bowl Hero Antwaan Randle El's Name Linked With NFL Head Coaching Jobs
The most memorable play of former Pittsburgh Steelers receiver Antwaan Randle El's NFL career came at Ford Field in Detroit.
Nearly two decades later, the Super Bowl champion returned to the Motor City as a coach. The Detroit Lions hired Randle El as its wide receivers coach ahead of the 2021 season, but he may not hold that position for long at his current pace.
Antwaan Randle El is a rising star in the NFL coaching ranks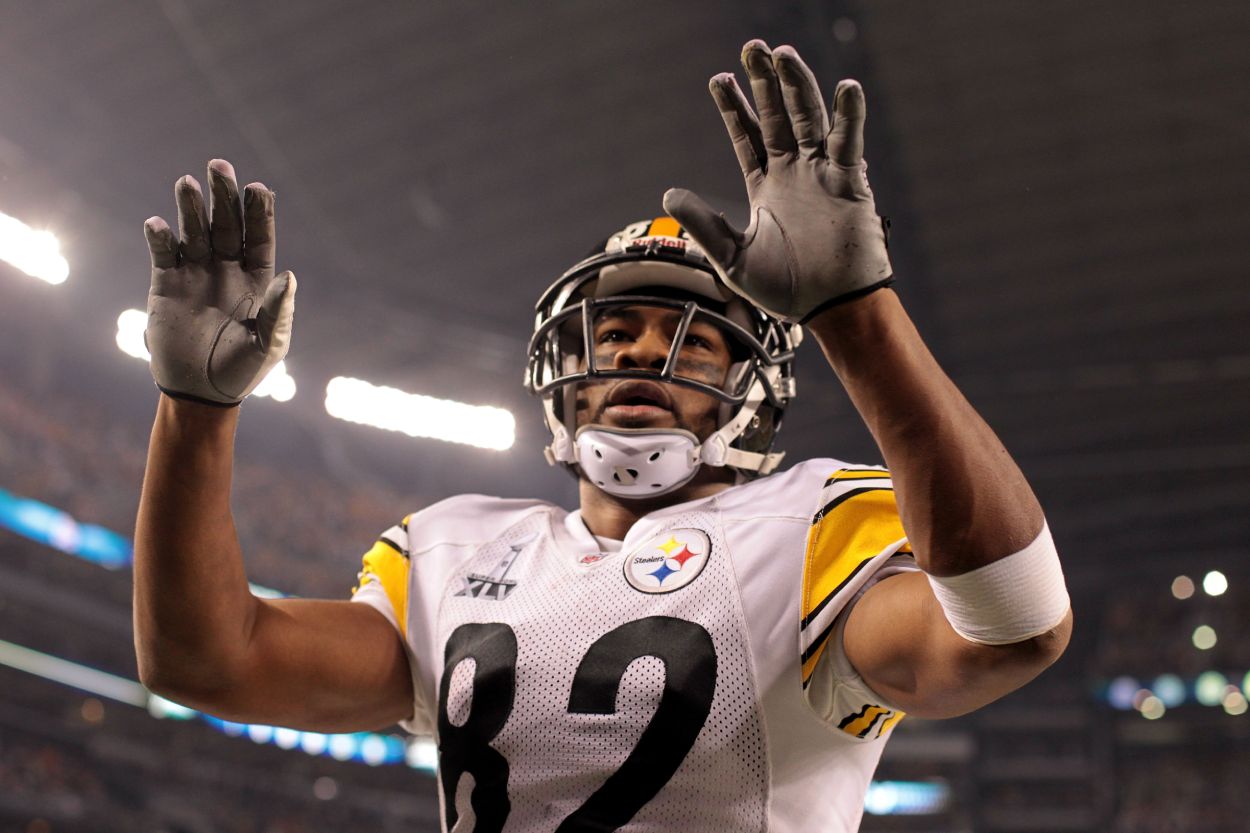 After several years away from football, Antwaan Randle El took a coaching position with the Tampa Bay Buccaneers in 2019.
Two years later, he earned his first opportunity to be a position coach. Detroit Lions head coach Dan Campbell hired Randle El as his receivers coach in February 2021.
The hire continued a rapid rise for Randle El, who turns 42 in August 2021, and he may soon pop up as a possible head coaching candidate. Several NFL teams have taken risks in hiring position coaches as first-time head coaches in recent years. The Texans hired Ravens receivers coach David Culley after the 2020 season, a year after the Bengals replaced Marvin Lewis with Rams quarterbacks coach Zac Taylor.
More and more position coaches are earning interviews during the offseason process. That includes Campbell, a former NFL tight end and the Saints' tight ends coach. However, he won five of his 12 games as the Miami Dolphins' interim head coach in 2015.
Could Randle El be next? According to Sports Illustrated, he's at least already saying the right things as a first-time position coach.
"Those guys will run through a brick wall for you if they feel like they trust you. If you're on the same page as them, have that open-door policy, and you're honest with them, that's what players want." 

Antwaan Randle El
Between brick walls and knee-biting, the Lions' coaching staff certainly envisions some painful times for their players.
Randle El had a memorable NFL career with the Pittsburgh Steelers
Long before he became a rising star in the coaching ranks, Antwaan Randle El played the role of Super Bowl hero as an active player.
A former college quarterback at Indiana University, Randle El spent nine NFL seasons as a receiver. His most memorable play, however, involved him throwing a pass on a trick play.
With the Steelers clinging to a 14-10 lead in the fourth quarter of Super Bowl 40, Randle El threw a 43-yard touchdown to Hines Ward on a trick play. Pittsburgh won, 21-10, and secured the team's fifth Lombardi Trophy in franchise history.
Randle El hauled in 370 catches for 4,467 yards and 15 touchdowns in 143 career games. He added 37 catches, 459 yards, and two scores in 12 postseason games. A dangerous returner in his prime, he brought back five punts for touchdowns and a kick for another score.
What other former NFL players could earn head coaching jobs soon?
Randle El is a fast riser in the coaching ranks, and he isn't the only former NFL player who could earn a head coaching job in the near future.
Randle El worked with former Steelers teammate Byron Leftwich on the Tampa Bay Buccaneers' staff. Leftwich, the Buccaneers' offensive coordinator, is also considered a rising star and the possible heir to Bruce Arians in Tampa Bay.
Chiefs offensive coordinator Eric Bienemy played nine NFL seasons as a running back. He has interviewed for numerous head coaching vacancies in recent years, including six teams after the 2020 season. However, Bienemy has a lengthy history of legal issues, including a 1993 arrest for allegedly grabbing a woman by the neck and threatening her.
Patriots inside linebackers coach Jerod Mayo played eight seasons with the team from 2008-2015. He and Cowboys offensive coordinator Kellen Moore, a former backup quarterback, interviewed for the Eagles' head coaching job in January 2021.
Eventually, the current generation of older head coaches — Bill Belichick, Pete Carroll, and so forth — will move on. When that time comes, expect to see Randle El among the former players who will eventually earn head coaching opportunities.
Like Sportscasting on Facebook. Follow us on Twitter @sportscasting19.