Former Warriors Player Andrew Bogut Reveals the Truth Behind Jordan Bell and Mike Brown's Hotel Situation in 2019
Weird things happen in the NBA sometimes. In 2019, the Golden State Warriors suspended Jordan Bell for one game for conduct detrimental to the team. Nobody besides the people on the team knows what happened. Andrew Bogut was a part of the Warriors that year and has the inside scoop on what happened.
The Australian big man sat down with San Francisco radio station KNBR to discuss what really happened between Bell and assistant coach Mike Brown. Based on what Bogut said, Bell tried to play a harmless prank on the wrong person, at the wrong place, at the wrong time.
Jordan Bell ordered items and put them on Mike Brown's tab
When the situation occurred in 2019, nobody really knew what truly happened between Jordan Bell and Mike Brown. There were speculations, but Brown, head coach Steve Kerr, or the Warriors front office never publicly discussed the situation. According to Bogut, Bell was buying typical items, playing a prank by putting it on his assistant coach's tab.
"Usually, when you're on the road, if you get room service or put something on your room, you just pay for it upon checkout. This hotel had a rule where if you didn't have a credit card on file, you had to pay for it on the spot. So Jordan Bell goes into the gift shop. I don't know what the hell he bought, some candles, some peanuts, just a bunch of random s—, right. Decides 'I'm going to sign this off to Mike Brown,'" Bogut said on KNBR.
Bell was successful, but not for long. Bogut said that less than five minutes after Bell purchased the items, the hotel called Mike Brown's room, asking him to pay for the items. Brown was expectedly surprised, not knowing where the charge came from. He wasn't going to pay for things he didn't buy.
"He's [Brown] like, 'I have no idea what you're talking about, I've been in my room for the last hour,'" Bogut said.
Things eventually took a serious turn when Brown came down to the lobby to see who charged something to his room.
The Warriors used surveillance footage to catch Jordan Bell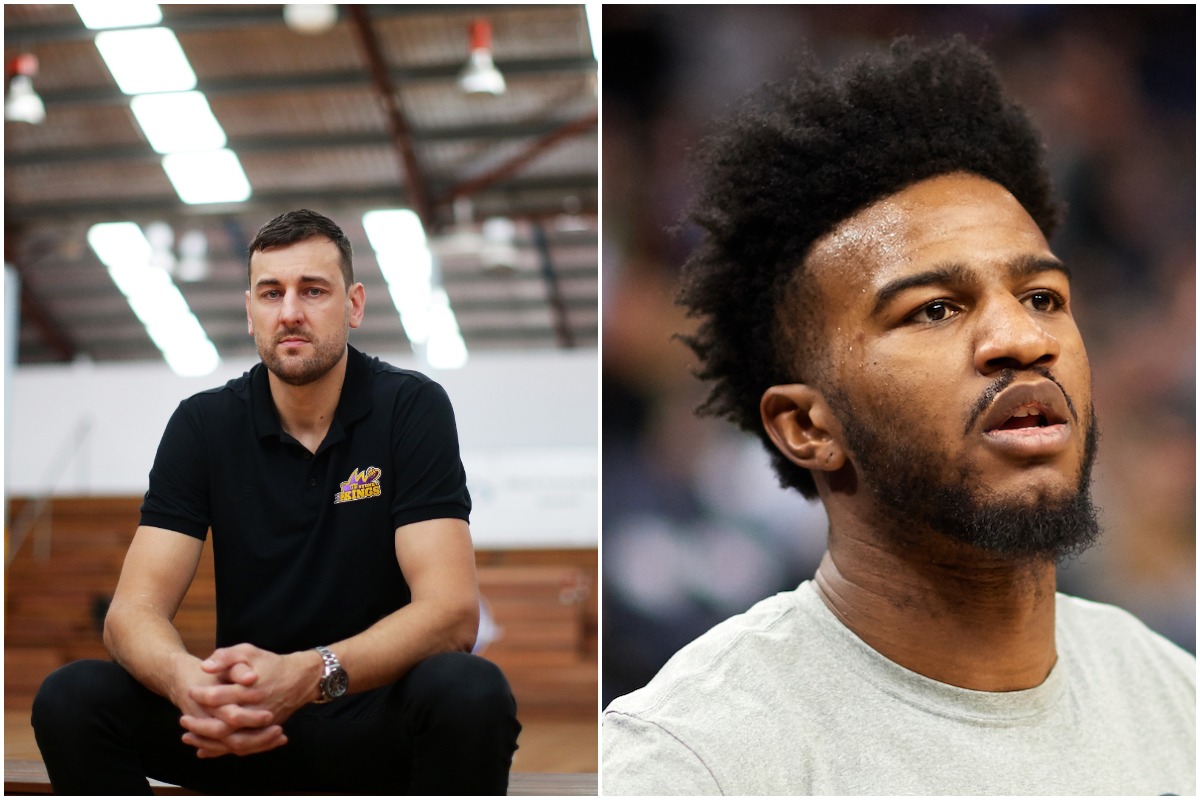 RELATED: LaMelo Ball Is on a Hall of Fame Level in Andrew Bogut's Mind
Bogut described the scene when Brown was arguing this unauthorized charge. Mike Brown arrived in the lobby to dispute his room charge, he was understandably frustrated. Bell made a critical mistake that forced the Warriors to take the situation much more seriously. It now involved a potential crime being committed.
"Jordan Bell had originally signed the receipt in his name, and he scrubbed out the name and then signed Mike. So then Mike's like, 'Clearly someone forged my name, that's not my signature,' Bogut said.
With the ordeal now being severe, the Warriors and the hotel wanted to get to the bottom of the situation. The hotel had security cameras, which allowed them to see Bell as the culprit. Even though they have him on video, Bell still tried to play innocent.
"It got bad, man…So they get the CCTV footage, and you see Jordan Bell walking in there…Jordan Bell's like 'Nah, it wasn't me,' and they're like 'We have you on camera,' and he's like 'Oh yeah it was, but I was just playing a prank,'" Bogut said.
Golden State saw it as more serious than just a prank. In an effort to save himself, Andrew Bogut said Bell tried to rope sharpshooter Klay Thompson into the mix. Bell claimed that Thompson did similar pranks to him, which made him think it was a team thing. Thompson is a fun-loving guy, but he wanted no parts of Jordan Bell's situation.
"Klay's sitting there like, 'Dude, what the F man? I have nothing to do with this,'" Bogut said.
Andrew Bogut claims Warriors suspended Jordan Bell because of Twitter
At the time, Bell was a second-year player still trying to find his role on a loaded Warriors squad. Now he had to deal with the aftermath of a prank that backfired. According to Bogut, the team didn't want to suspend Bell for that. Unfortunately, the news leaking on social media sealed Bell's fate.
"A few guys are like, 'Look, let's keep this in house because we don't want any extra attention from the media.' And while we're in the meeting, Jonnie West (the team's director Of basketball operations) is like, 'Someone just broke it on the Twitter.' So then we're like, I guess the decisions made, and he ended up getting suspended," said Bogut. 
The suspension wasn't even the most embarrassing part for Bell. The internet made its own assumptions about what Bell bought. The prominent rumor was that Bell purchased pornography and charged it to Mike Brown's room.
"So then Jordan Bell had to put out a statement to his agent saying I did not order a porno," said Bogut.
The true story finally comes out from the Jordan Bell/Mike Brown Saga. Andrew Bogut's first-hand recap of the ordeal cleared up some lingering questions some might've had about the situation. In the G-League now, Bell is trying to make something of his NBA career.