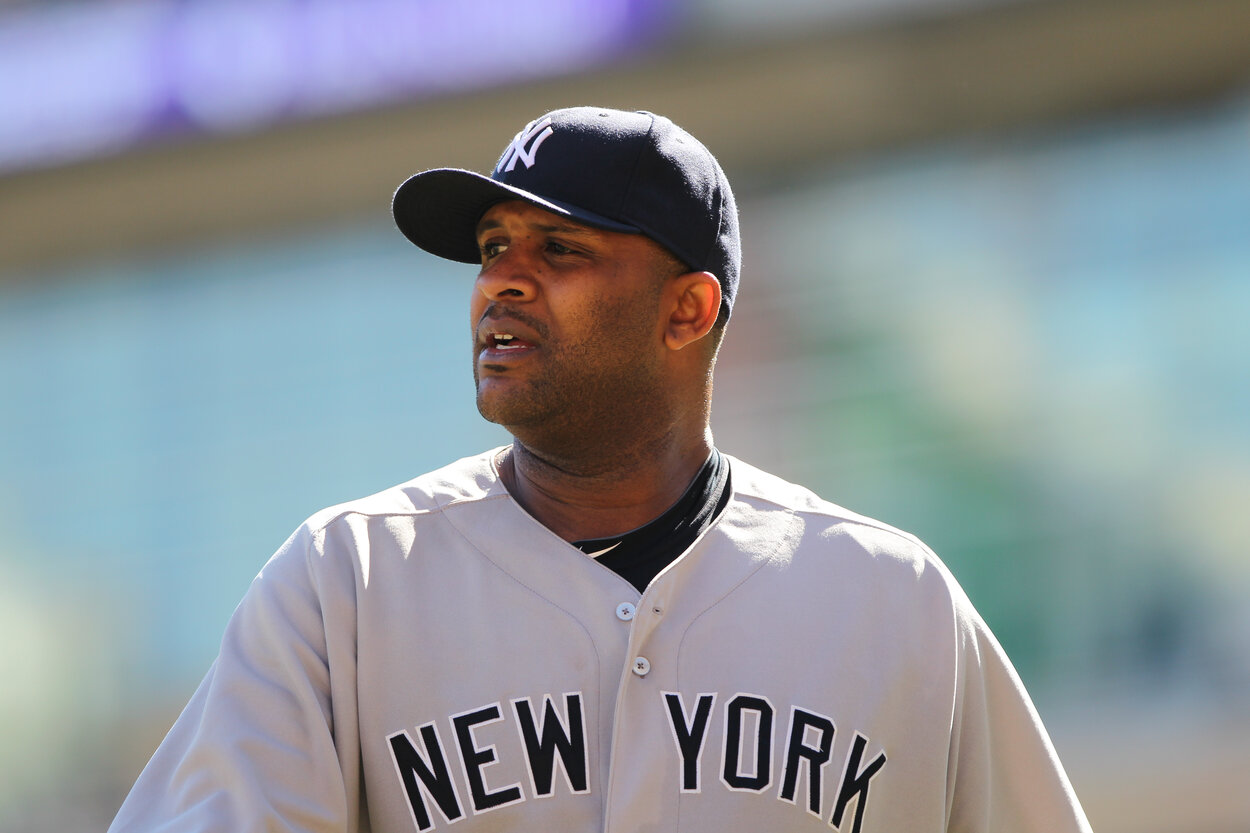 Former Yankees Ace CC Sabathia Nearly Tragically Died in a Drunken Driving Accident During the 2012 Season
Former New York Yankees All-Star pitcher CC Sabathia battled alcoholism in his career and nearly died in 2012 after a night of drinking and driving.
Former New York Yankees pitcher CC Sabathia had a golden arm, one which could eventually earn him a spot in the National Baseball Hall of Fame.
A six-time All-Star, Sabathia became one of his generation's most productive pitchers. Beneath his 6 feet 6 inch frame, though, Sabathia dealt with alcoholism for several years during his long MLB career.
Sabathia has been open about his experiences in recent years. In December 2020, Sabathia admitted that a drunken driving accident could have tragically ended his life.
CC Sabathia could have died in a 2012 car accident
After signing with the New York Yankees in December 2008, CC Sabathia immediately became the workhorse ace pitcher that the team needed.
Sabathia won 19 games and finished fourth in the American League Cy Young Award voting that year. The Yankees ended Sabathia's first season with a World Series title and reached the playoffs in each of the next three years.
By 2012, an aging Yankees team still remained among the league's best. Sabathia went 15-6 with a 3.38 ERA — his highest since a 4.03 mark with the Indians in 2005 — across 28 starts.
Unknown to the general public, Sabathia nearly died that fall. After an argument with his wife in August 2012, Sabathia drank alcohol before getting into a single-car accident.
In a December 2020 interview with Zach Gelbs on CBS Sports Radio, Sabathia said he "was wanting something to happen" that night.
I guess it's a blessing that I didn't get hurt. I definitely could have killed myself. But man, it's just one of those weird things where I never got caught . . . doing anything crazy."
Sabathia also discussed the crash in an HBO documentary, Under the Grapefruit Tree, which premiered in late-2020.
Sabathia entered a rehab facility in 2015
After missing the playoffs in two straight seasons, Alex Rodriguez and the New York Yankees hosted Jose Altuve and the Houston Astros in the 2015 AL wild-card game.
The Yankees were without CC Sabathia that night, and not because he wasn't pitching. Sabathia had announced days earlier that he was leaving the team to enter an alcohol rehabilitation facility.
Sabathia completed treatment at the facility and returned to the Yankees ahead of the 2016 season. Although the veteran left-hander only went 9-12, his 3.91 ERA was his lowest since 2012.
Sabathia pitched three more seasons with the Yankees, and reached 3,000 career strikeouts in 2019. In addition to providing a veteran presence on the mound, Sabathia chose to be open about his experiences with alcohol and how rehab changed his life.
Sabathia officially retired after the 2019 season, days after the Astros defeated the Yankees in the ALCS.
CC Sabathia could reach the Hall of Fame in a few years
The time will soon come where CC Sabathia's name formally appears on a Hall of Fame ballot.
When Sabathia debuts on the ballot in 2025, he'll already have an intriguing case. Sabathia retired with a 251-161 record, a 3.74 ERA, and 3,093 strikeouts in 20 seasons.
According to Baseball-Reference, Sabathia totaled 62.5 WAR in his career. That would currently be the highest WAR among first-year players, although the likes of Chris Sale (45.3) and David Price (39.4) could challenge Sabathia after missing the 2020 season.
How to get help: In the U.S., contact the Substance Abuse and Mental Health Services Administration helpline at 1-800-662-4357.