Formula 1 Driver Antonio Giovinazzi Bet on Himself and Lost When He Disobeyed Team Orders
Formula 1 driver Antonio Giovinazzi could be bound for unemployment.
Giovinazzi's refusal to follow team orders during the Turkish Grand Prix last Sunday could have hurt his chances to land another seat in the near future.
Without a ride finalized for 2022, his motorshttps://www.sportscasting.com/tag/motorsports/ports future remains in doubt.
Antonio Giovinazzi Miscalculates Power to Catch Rival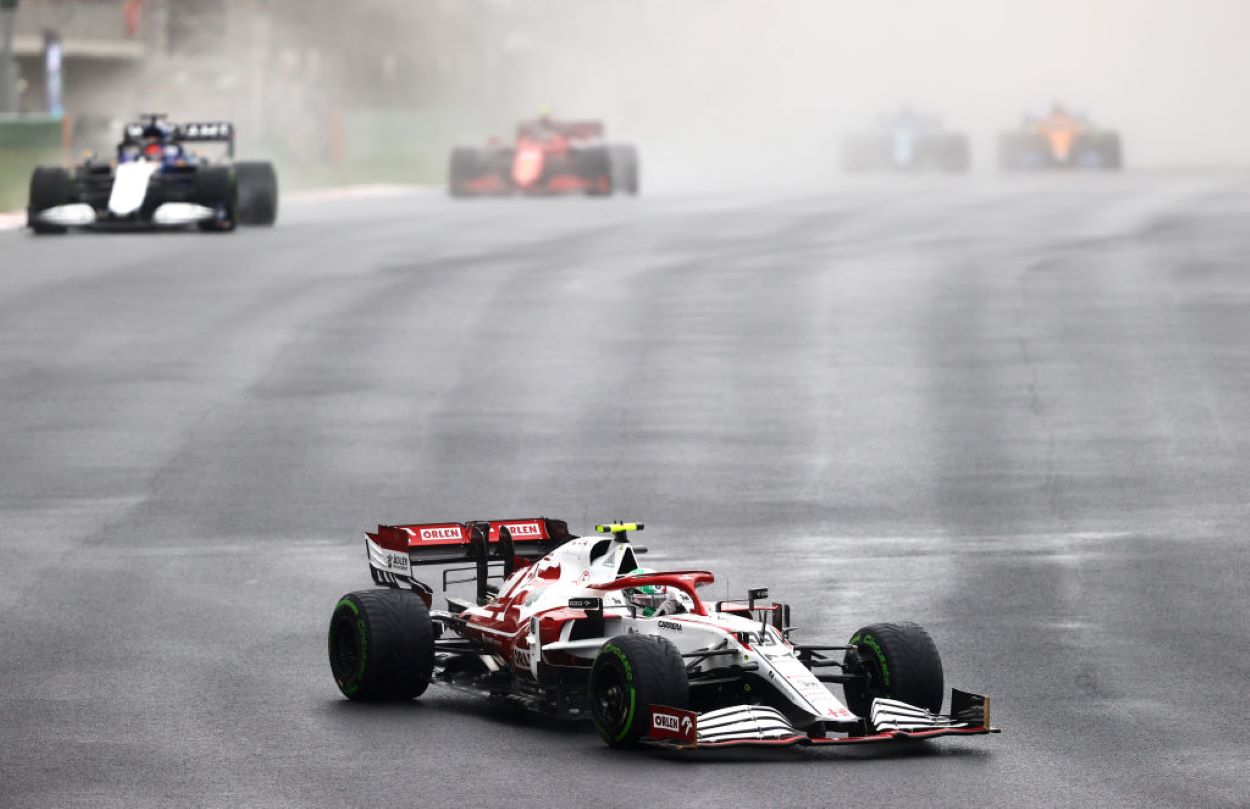 Giovinazzi calculated he needed one more lap to secure a point, putting his pursuit before team strategy. Alfa Romeo officials wanted to position teammate Kimi Raikkonen to hook the elusive point instead.
Raikkonen trailed Giovinazzi for much of the rain-soaked F1 event but was gaining momentum during the race's later stages. When it came time to "take one for the team," the latter did not yield, frustrating team brass.
Opportunity paced Giovinazzi. Or so he thought. Alpine Renault driver Esteban Ocon skipped his final pit stop and was beginning to drag with worn tires. He was vulnerable, and Giovinazzi sensed it.
Falling behind the pace, Ocon couldn't keep Aston Martin Mercedes driver Lance Stroll from improving his track position. Giovinazzi, who was over four seconds faster than Ocon the previous lap, was on deck.
"One more lap, and we would have been in the points," Giovinazzi told formula1.com. "… It was not an easy race for sure. … But it was difficult for everyone, and really I am disappointed that for one lap, we are not in the points."
But team officials ordered Giovinazzi to concede track position to his teammate.
Giovinazzi ignored the call, and his gamble didn't pay dividends.
In the short term, he hurt the team. In the long term, he could have permanently damaged his career.
'We asked to swap positions,' but Giovinazzi ignored coaching
Xevi Pujolar, Alfa Romeo's head of track engineering, was disappointed. He said the decision came down to the driver.
"We asked to swap positions … and he himself decided that he wanted to stay ahead," Pujolar said.
Formulating a late-race strategy, Pujolar said the F1 team attempted to implement it but couldn't. He wasn't pleased with Giovinazzi's game plan.
"For sure, for the team, it was not ideal," Pujolar said. "I did not understand very well why we could not swap at this point because also then when you have got both cars at the end, we can change it back depending on the situation. It's important to achieve the points, looking at how Kimi's pace was strong at the time."
Giovinazzi placed 11th and Raikkonen 12th. Both were out of the points.
Mercedes driver Valtteri Bottas (1:31:04.103) overcame wet conditions to earn the victory.
Giovinazzi: 'We look forward to the next one'
In 56 career starts, Giovinazzi has yet to ascend to a podium. His best F1 finish is fifth, and he only did that once.
Alfa Romeo has been open about its strategy to give Bottas a new stablemate next season.
If it was not already internally confirmed, Giovinazzi's selfish act Sunday could have clinched the team's decision to move in a different direction.
"We tried our best, and unfortunately, it is like this," Giovinazzi said. "And now, we look forward to the next one."
How many more will Giovinazzi have?
RELATED: F1's New Conformity Rules for 2022 Spark Garage Debates on How Much Creativity Individual Teams Will Possess Going Forward