Formula 1 Driver Lewis Hamilton Was Frustrated with Mercedes' Late Pitstop Call, Finish During Turkish Grand Prix
Formula 1 driver Lewis Hamilton started venting before finishing his final rotation at the Turkish Grand Prix on Oct. 10.
Over the team's radio, Hamilton reportedly shouted his displeasure to his long-time race engineer, Pete "Bono" Bonnington: "We shouldn't have come in … I told you."
A frustrated Hamilton finished the damp F1 event P5.
He later lamented: "My gut feeling was to stay out"
Formula 1 driver Lewis Hamilton disagreed with command central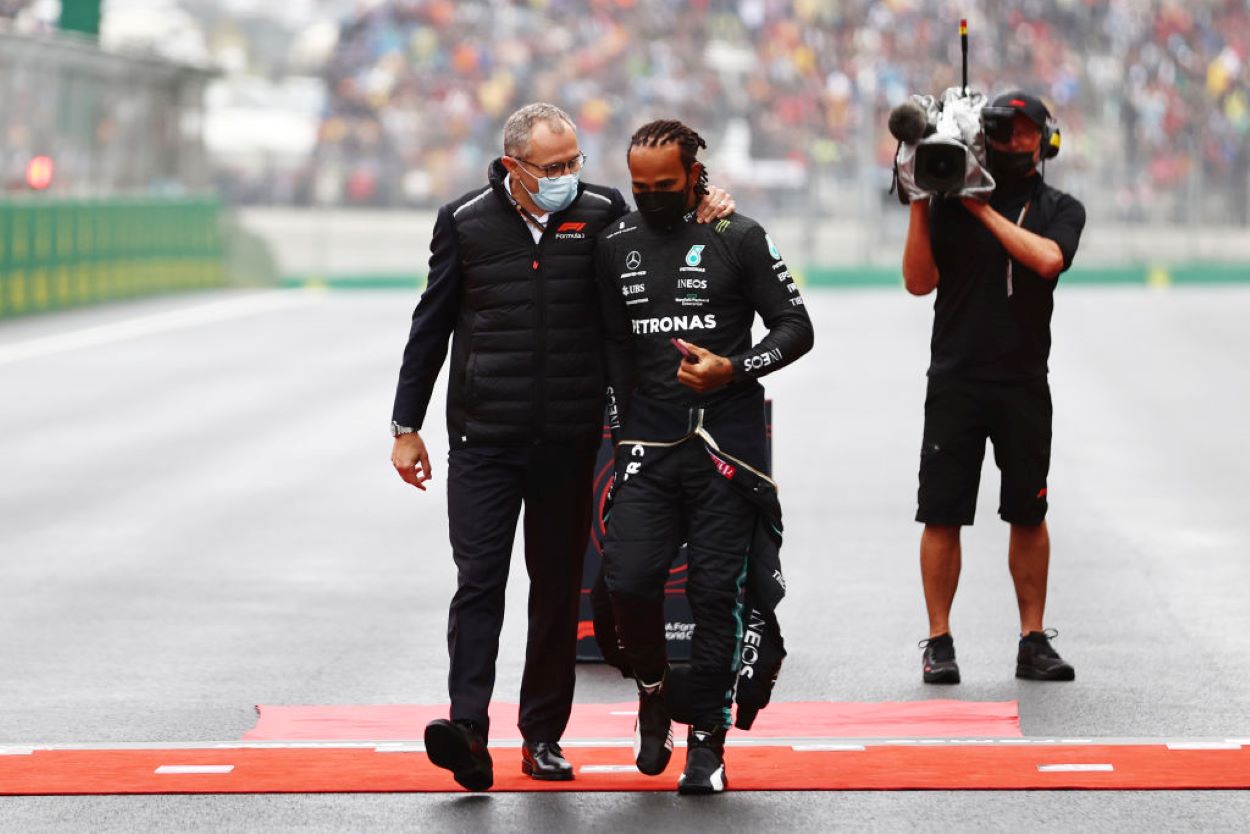 Emerging from his Mercedes W12, Hamilton continued to complain, according to skysports.com: "It felt good to be in third and I thought if I just hold onto this, this will be a great result (starting) from 11th.
"This is worse, but it could be worse."
In the final stages of the Turkish GP, much of the field made unscheduled pitstops to put on intermediate tires, which helped drivers maintain a grip on the damp track. Mercedes management decided to go along with the crowd.
Except Hamilton wanted to stand out.
Hamilton initially ignored the command, insisting he could make it to the end with the current set of intermediate tires.
On lap 41 of 58, Hamilton was running strong at P3, but he reconsidered his stance and followed coaching orders, pitting for new rubber.
Wolff attempted to explain why Mercedes made a move.
"We balanced between pitting, playing it very conservative … or taking a little bit of a gamble," Mercedes Team Principal Toto Wolff told formula1.com. "And then we saw … Lewis dropping off, and then it was clear that we wouldn't make it to the end."
Hamilton, Wolff disagree on the decision to pit
Hamilton, F1's seven-time champion and cultural icon, appeared frustrated he didn't have the opportunity to make the on-track call of a machine he was piloting. He was racing both Sergio Perez and Charles Leclerc hard for P3 when he heard the call.
After returning to the track from the pitstop, Hamilton could not make up the time they surrendered. Perez placed third and Leclerc fourth.
Was it the right call? Sky Sports F1 asked, and Wolff answered:
"The correct call would have probably been taking it very conservative and pitting when everybody pitted for the intermediate, coming out behind Perez, probably behind Leclerc, and then fighting with them on track for P3," Wolff explained, according to formula1.com's account of the conversation. "It would have been better than how it ended up at the end."
Hamilton issues next-day statement: 'We live, and we learn'
Hamilton didn't hide his emotions after exiting his machine, but the next day he released a statement:
"As a team, we work hard to build the best strategy possible, but as the race progresses, you have to make split [second] decisions [and] there are so many factors constantly changing," Hamilton said. "Yesterday, we took the risk to stay out, hoping it would dry, it didn't. I wanted to risk it and try and go to the end, but it was my call to stay out, and it didn't work. In the end, we did pit, and it was the safest thing to do.
"We live, and we learn."
Hamilton enters the United States Grand Prix in Austin, Texas, on Oct. 24, seven points behind F1 series leader Max Verstappen, who placed second in Turkey.
Regarding his tone on the team radio, Hamilton explained it as passion. He had the fastest car in qualifying, but an engine penalty knocked him back to 11th. It was hard driving to get up to P3, but he wanted more. He was frustrated he got less.
"Don't ever expect me to be all polite and calm on the radio when I'm racing," Hamilton said, according to Reuters. "It's the fire in me that's got me this far, but any angst is quickly forgotten, and we talked it through, already looking ahead to the next race."
And possibly the next round of fireworks.
RELATED: Formula 1 Driver Antonio Giovinazzi Bet on Himself and Lost When He Disobeyed Team Orders