Formula 1 Driver Lewis Hamilton Penalized Five Places For Engine 'Degrading,' Will Start 10th at Brazilian GP; Verstappen Faces €50,000 Fine for Illegal Touching
Both Lewis Hamilton and Max Verstappen, the top two Formula 1 drivers, faced disciplinary action before the Brazilian Grand Prix on Nov. 14.
Hamilton received a five-place grid penalty on Nov. 13 after using his fifth engine of 2021.
F1 series leader Verstappen faced a fine for illegally touching Hamilton's machine.
The Brazilian drama was just starting to build.
Formula 1 driver Lewis Hamilton facing ICE problems entering Brazilian Grand Prix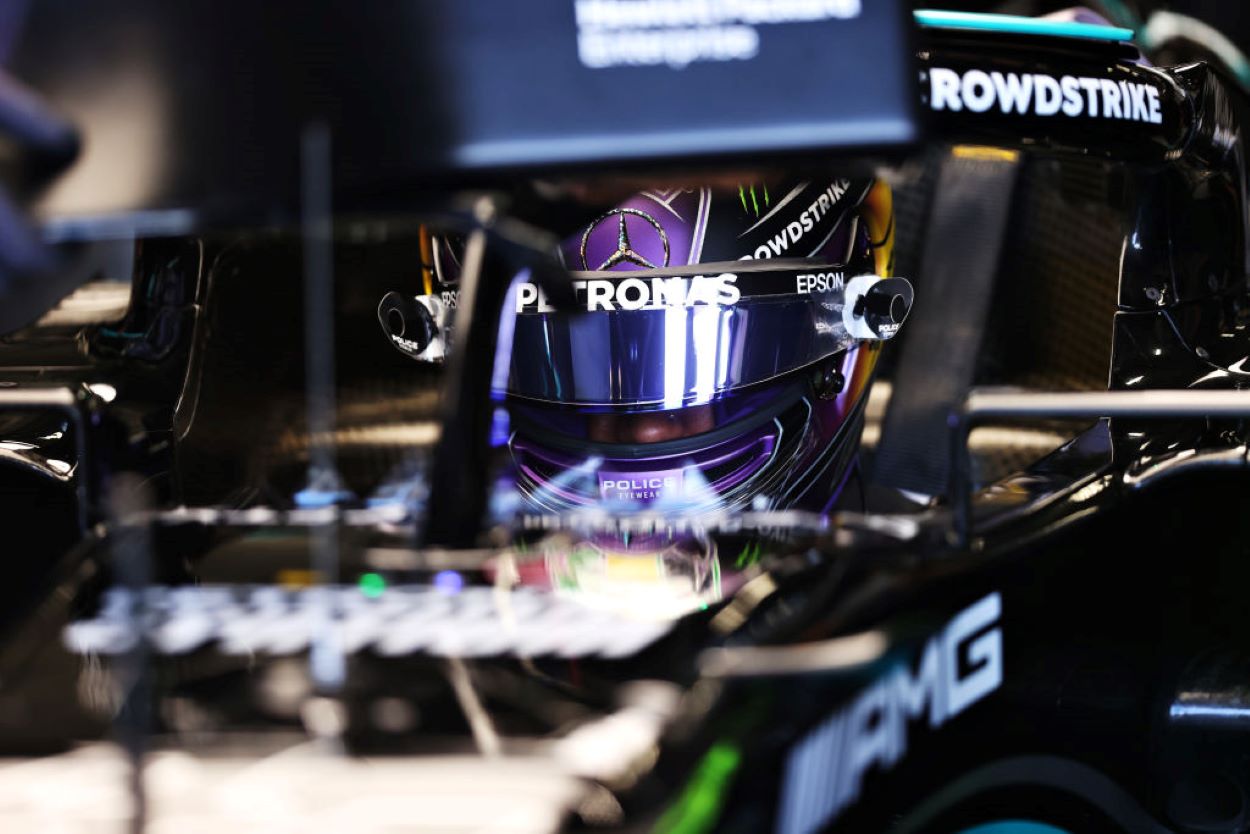 Hamilton, who has captured the past four F1 world championships, needs all the points he can acquire. He enters the Brazilian GP 21 points behind Verstappen, with time beginning to wind down. Four events remain on the 2021 schedule.
Before practicing at Interlagos on Nov. 12, Mercedes' engine team fitted a new internal combustion engine (ICE) on Hamilton's machine. The move was necessary, despite the pending penalty. Whispers around the F1 garage areas are Mercedes' power units are proving unreliable.
Team Principal Toto Wolff attempted to explain the issue to Sky Sports F1, reported by autosport.com: "We have deg on the engine that, until the end of the season, is just going to continue to decrease in power.
"We haven't yet realized why that is, but we're just seeing it creep down."
The Brazilian GP penalty was not the first for Hamilton in his quest for an eighth overall championship. Hamilton's team received a 10-place grid penalty for fitting a new ICE at the Turkish GP on Oct. 10. Instead of starting on the pole, like Brazil, he started 11th and placed fifth in the race.
Mercedes teammate Valtteri Bottas also has been affected by recent ICE problems. He has suffered three engine penalties this season.
Wolff is studying to see why team's ICEs are 'degrading much more than the average of the past few years'
Propelled by his team's fifth ICE this season, Hamilton initially qualified for the pole position by beating Verstappen by four-tenths of a second on Nov. 12.
The qualifying effort, at least, should give Hamilton confidence in the power of his machine, despite the number of ICEs.
Wolff said the team's engineers will give Hamilton a chance at catching Verstappen. Mercedes' mechanics continue to analyze the engine's degrading trend.
"We have seen that over the past years that over 1,000km, there is a certain amount of kilowatts that the engine is degrading," Wolff said. "Ours is just degrading much more than the average of the past few years, and that is just increasing from weekend to weekend."
Following the Sprint Race on Nov. 13, Hamilton will start the Brazilian GP in the 10th spot. Bottas captured the 24-lap Sprint and will start on the pole.
Verstappen facing €50,000 fine for touching Hamilton's rear-wing
Summoned to an FIA hearing the morning of Nov. 13, Verstappen was fined €50,000 (approximately USD $57,000) for touching Hamilton's rear-wing after qualifying sessions ended a day earlier, according to formula1.com.
While not facing a grid penalty, Verstappen faced FIA officials over an apparent breach of Article 2.5.1 of the FIA International Sporting Code.
As proof, the committee pointed to a video taken by an F1 fan in the grandstand showing Verstappen walking over to Hamilton's machine in Parc Ferme and touching its right-wing.
The Brazilian drama likely will continue.