Formula 1 Driver Max Verstappen Gets Defensive Against Offensive Lewis Hamilton, Goes Off the Road During Brazilian Grand Prix Tangle on Lap 48
Formula 1 driver Max Verstappen played defense on Lap 48 and went wide with Lewis Hamilton to keep his short-lived lead. So wide, in fact, the top two F1 world championship contenders drove off the road along Turn 4.
Brilliant move? Or controversial?
Maybe both, but for all of his defensive maneuvers, Verstappen couldn't withstand Hamilton's straight-away speed on Nov. 14 as he cruised to take the Brazilian Grand Prix's checkered flag.
Formula 1 driver Max Verstappen finishes second after losing a defensive match to Hamilton
In a bid for his fifth consecutive F1 world championship, Hamilton cut runner-up Verstappen's advantage to 14 points with three GP events remaining. There is a maximum of 77 driver points available.
"A lot of things can still happen," Hamilton said after taking his victory lap, as reported by formula1.com. "It's been like this the whole year."
Well, not exactly.
What other weekend featured Hamilton losing a five-grid starting spot because of engine issues? What other weekend featured Verstappen drawing a fine for illegally touching Hamilton's machine after practice Nov. 12?
Not many.
What other weekend featured a Sprint Race where Hamilton, blitzed the field from the back, passing 15 competitors in 24 laps, finishing fifth? What other weekend highlighted such strong defensive play?
The Brazilian GP was genuinely unique.
"I don't remember another weekend like this," Hamilton said.
Verstappen defends track position against hard-charging Hamilton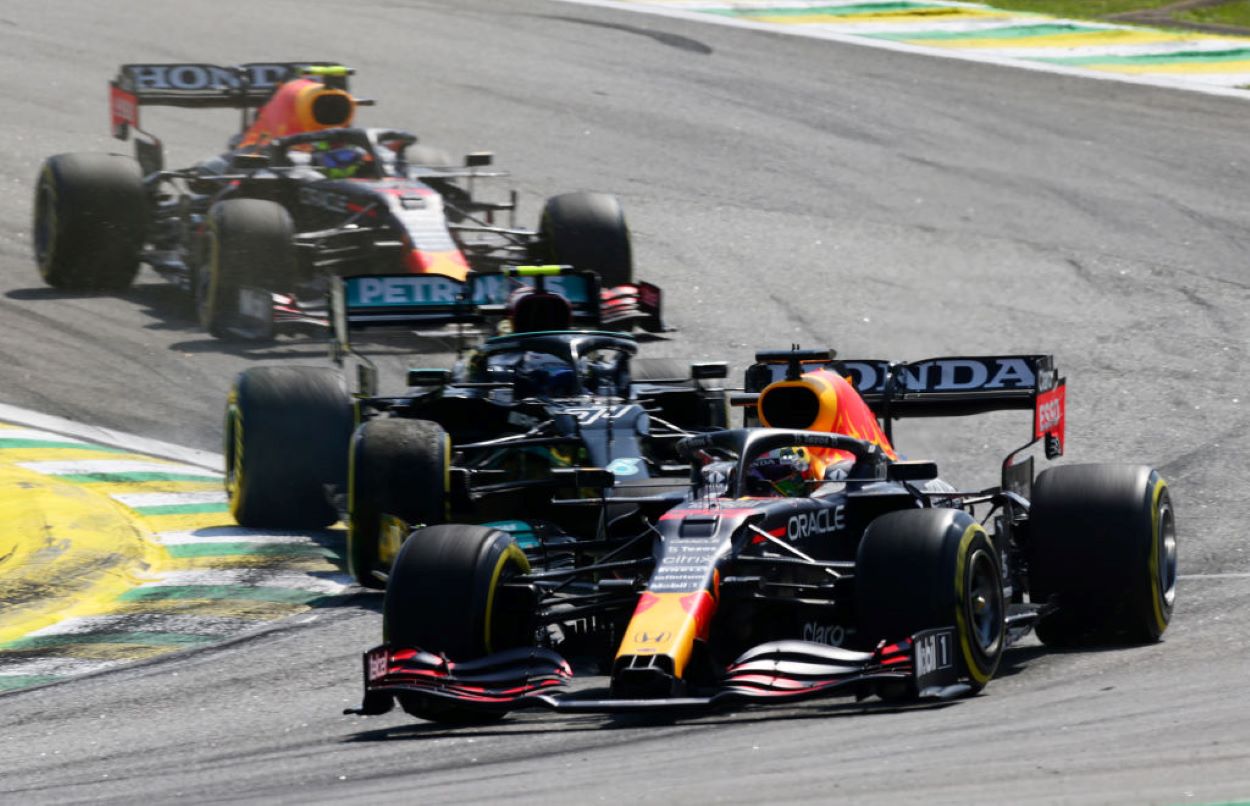 Starting second in Sao Paulo, Verstappen quickly cruised to the lead, passing Mercedes' Valtteri Bottas, who earned the pole with a Sprint Race win on Nov. 13.
Verstappen's Red Bull Racing teammate Sergio Perez surged into second place to serve as rear-guard.
But Hamilton was gaining momentum from behind. Starting 10th after a penalty-filled couple of days leading up to the Nov. 14 main event, Hamilton on Lap 48 had the lead targeted.
Verstappen defended his position, blocking, ducking, weaving, fighting to retain his position. Along Turn 4, the series' top two drivers ran wide, but Verstappen could not withstand Hamilton's straight-away pressure.
Running on his fifth ICE this season, Hamilton enjoyed a robust machine.
"We tried everything we could," Verstappen said. "I think it was a good battle, but at the end, we just missed a little bit of pace, but we gave it all today, and it was a lot of fun. We had a good start, that was important to get ahead [of Bottas], and from then, it was trying to manage my pace and then the Safety car and then the VSC for the debris."
Perez: 'He (Hamilton) was just on another planet today'
Hamilton started last for the Sprint Race and ended up first following the Brazilian GP.
"He (Hamilton) was just on another planet today," Perez said. "It was impressive the straight-line speed that they (Mercedes) have."
Hamilton's effort sets up more drama at the Qatar Grand Prix on Nov. 21.
"This weekend, they were quick on the straights," Verstappen said. "It's not ideal when they (Mercedes drivers) sail past you, and that's all you can do.
"Of course, I like to win. Second today, with the defense I did, is also satisfying."