Formula 1 Driver Valtteri Bottas Endures 'Nightmare' First Lap at Sao Paulo GP, Blames Pit Stops for P3 Instead of P2
In the competitive haze of driving in Formula 1's Sao Paulo Grand Prix on Nov. 14, driver Valtteri Bottas envisioned his boss' reaction to losing P1 on Turn 1.
SLAM!
That's the sound Bottas envisioned as Mercedes Principal Toto Wolff hit his fist on the table.
Formula 1 driver Valtteri Bottas sat on the pole for the Seo Paulo GP, but he soon fell back
Starting on the pole via winning the Sprint Race on Nov. 13, Bottas didn't enjoy playing the lead for long.
Trailed by P2 Max Verstappen into the first turn, both drivers went deep into the corner, and Verstappen, the F1 circuit leader, slipped by Bottas.
SLAM!
By Turn 4, Verstappen's Red Bull Racing teammate, Sergio Perez, pressed Bottas for the third position and earned it.
SLAM!
"The start was not a disaster, but Max had a good start, and obviously, we'll have a look at what happened," Bottas told Sky F1, as reported by planetf1.com. "Then Max was already kind of ahead into Turn 1, and we both braked really late; there was nowhere to go for me.
"And then again, defending (Perez) into Turn 4, going wide. For me, the first lap was a bit of a nightmare – I could imagine Toto banging his table for sure."
Bottas looks beyond failed first lap; he had no chance to catch teammate Hamilton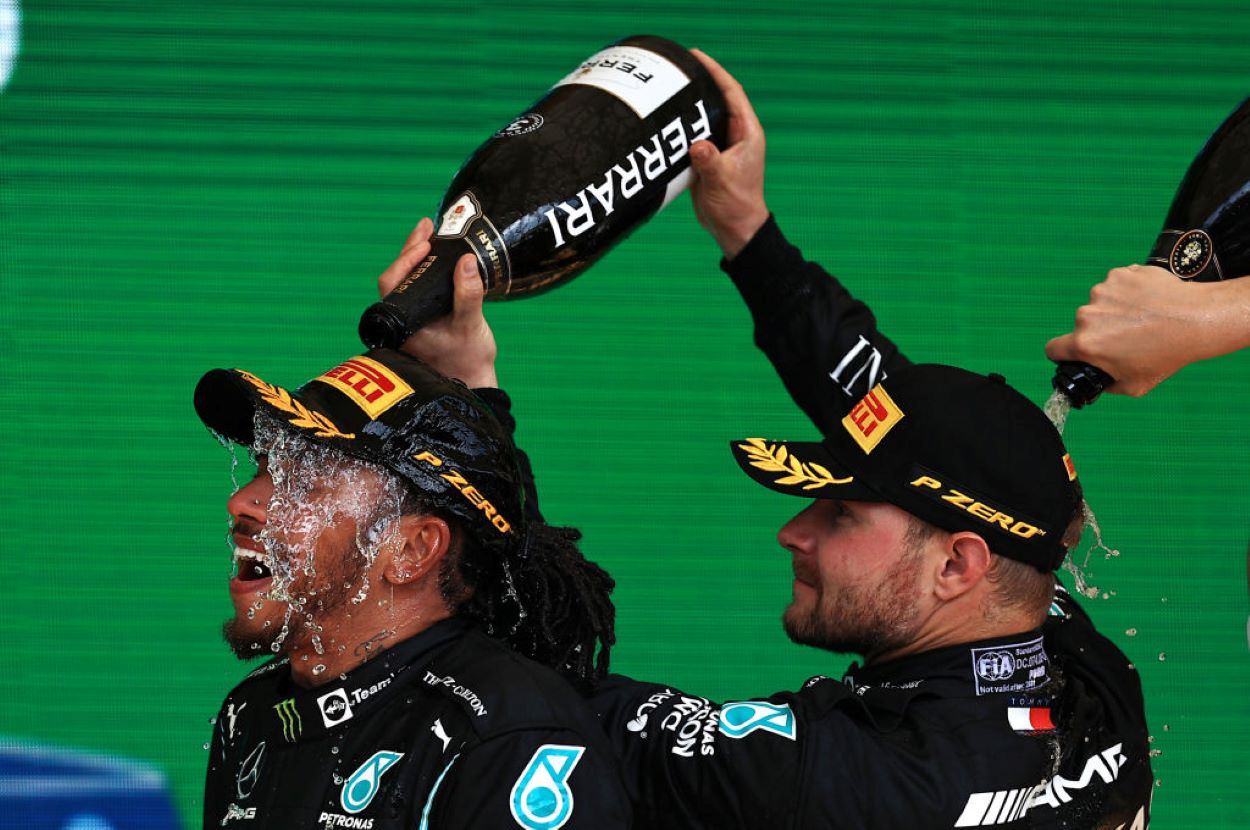 Despite the "nightmare" first lap, Bottas rallied and finished third. But he was hardly satisfied. He felt it should have been a Mercedes 1-2 sweep.
According to planetf1.com, Bottas could be heard on the team radio criticizing the timing of the team's second pit spot.
"My feeling is one-stop should have been faster because we went so long in the first stint, and the second tire was the hard tire," he said after the race. "We'll have a look, but that's my feeling; I think we should have been 1-2."
Regardless, Bottas realizes he wasn't going to catch his teammate, Lewis Hamilton. Overcoming pre-race penalties, Hamilton started P10 and, following a dramatic Lap 48 duel with Verstappen, used his straight-line power to cruise to the checkered flag.
"I kept pushing, and I'm glad that Lewis was on his own league today," Bottas said. "Once he got by me, it was all up to him, and he delivered, so that meant we got more points than Red Bull."
Maybe at Brazil, but Red Bull's Verstappen, the series leader, paces Hamilton, the four-time defending champion, by 14 points with three events remaining.
Hamilton's F1 career win No. 101 could go down as one of his best
Hamilton's victory in Brazil was his record 101st of his storied, iconic career. After a series of setbacks entering the race, Hamilton's performance at Interlagos may one day rank as one of his best.
The start for Bottas, however, probably ranks as one of his worst.
SLAM!