Formula 1's Pierre Gasly Recalls Watching His Best Friend Crash and Die on the Track: 'I Was Completely Broken'
Pierre Gasly and Anthoine Hubert forged a rare bond through intense competition, brotherly love, and a desire to follow in the footsteps of their Formula 1 hero Michael Schumacher. Their friendship was cut short by Anthoine Hubert's fatal crash at the 2019 F2 Spa- Francorchamps. Let's look at how they forged their bond, Gasly's experience with the accident, and how he continues to honor his best friend to this day. 
Pierre Gasly and Anthoine Hubert forged a meaningful bond at a young age
Growing up in Rouen, France, Pierre Gasly envisioned only one thing in his future: winning F1 races, according to The Players' Tribune. He already flashed future star power when he hit the kart circuit in 2006 as a 10-year-old. As fate would have it, a boy 400 miles away in Lyon, France, had the same vision. That boy was Anthoine Hubert, and he'd already won a national kart cup. A friendly rivalry developed. At a French racing federation program in Le Mans, rivalry evolved into a friendship.
Gasly explained, "From the age of 13, until I was 18, I spent basically from 7.30 breakfast in the morning until 10 pm, each single day together. We were in the same classes; we were training together, we were racing together." France was not a country known for producing F1 drivers, so they faced many doubts as well as limited financial backing. Gasly said, "Their doubt and our belief bonded us. We both knew what sort of sacrifices we had made, that our families had made, to get us to where we were."
In October 2017, Gasly made his F1 debut at the Malaysian Grand Prix, achieving his childhood dream. Hubert was not far behind, racking up two F2 victories in 2019, including one in his homeland at Le Castellet. Just as Hubert's star was on the rise in 2019, Gasly was floundering in F1. When the story hit the news that the Red Bull team had demoted Gasly to the Toro Rosso junior team, reports ESPN, a text came through from his friend, "Prove them wrong."
The day of Hubert's crash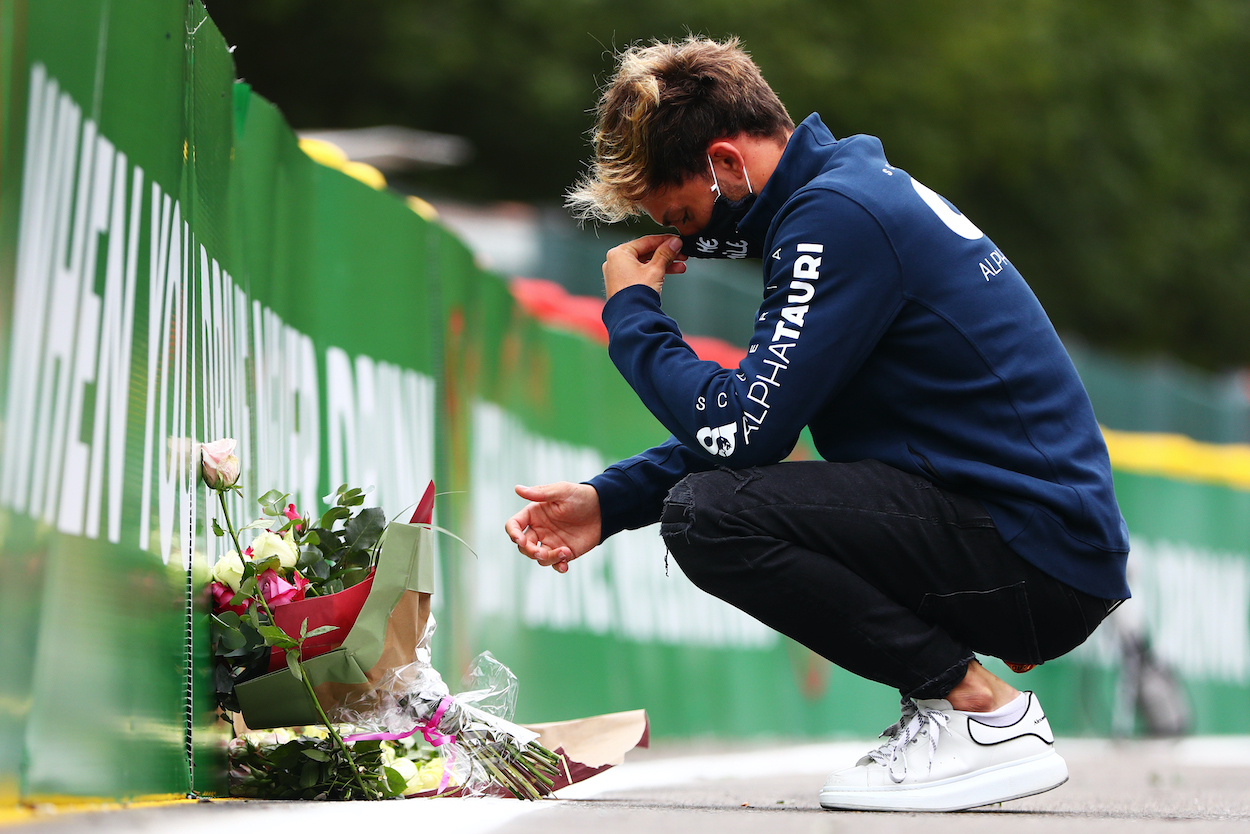 Circuit de Spa-Francorchamps is Gasly's favorite course as he explained in The Players' Tribune: "[Spa] is a beautiful track, it really is. Perfect, that's how I would describe it." On Saturday, August 31, 2019, a crash at the Eau Rouge corner of the Belgian Grand Prix flipped Gasly's world upside down. Gasly raced with the Toro Rosso F1 team that Sunday and left his team debriefing to head to a fan appearance.
He had enough time in between to watch the start of his friend Hubert's F2 race on TV. He immediately noticed a violent crash had occurred on lap two at the Eau Rouge corner; car parts scattered everywhere. When Gasly discovered his friend was in the accident, "I started to shake. I couldn't feel my hands. I couldn't hear what anyone was saying. My breathing became erratic."
When Gasly received confirmation of Hubert's death, "I was completely broken. I cried until I couldn't cry anymore. I've never experienced a worse feeling than that in my life. Never." The FIA report would later show that a "non-survivable trauma" killed Hubert; no drivers had acted inappropriately, according to the BBC.
Gasly pays tribute to his friend
Gasly came back to Spa for the Belgium Grand Prix in 2020. He laid flowers down at Eau Rouge in a tribute and wore a helmet decorated in his honor. Gasly described the moment to ESPN, "I felt him there that day… I found a piece of myself that day. And I took it with me to Monza, the following race."
Pierre Gasly would collect his first-ever F1 win at the Italian Grand Prix one week later. "His passing forced me to see life in a different way. On the podium in Italy, I didn't take anything for granted. I celebrated that moment like it was the only one I'll ever get — because that's how we should all live our lives."
RELATED: How Formula 1 Wunderkind Max Verstappen Became a Multimillionaire at 23 Years Old