Formula 1 Prepping for Hamilton vs. Verstappen, Part II in 2022
The much-anticipated Formula 1 rematch is official. Overly-aggressive first-time champion Max Verstappen will face off against disgruntled seven-time champion Lewis Hamilton.
According to Motorsport.com's Franco Nugnes, Hamilton will honor his current contract with Mercedes and return for the 2022 F1 season.
Following an exhaustive experience of battling Verstappen to the final lap of the final race last season, Hamilton hinted he could walk away and explore other opportunities.
In the end, Hamilton couldn't dodge a good fight.
With Hamilton returning to Mercedes next season, F1 fans should expect more Verstappen fireworks
Red Bull Racing reportedly plans on opening long-term contract talks with representatives of the 24-year-old champion. If a deal can be reached, the Hamilton-Verstappen rivalry could develop annually over the next few years. Or, at least, as long Hamilton maintains his F1 focus and Verstappen keeps his engineering team intact.
The 2021 F1 season was an instant classic. The rising tension between Hamilton, then the four-time defending champ, and Verstappen seemed to intensify after each race. Verstappen stood on 18 podiums in '21; Hamilton 17.
Drama enveloped the rivalry each week, it appeared. There was the scandalous moment when Verstappen touched the rear-wing of Hamilton's machine after qualifying ended at the Brazilian GP. The next morning, the FIA fined Verstappen €50,000 (approximately USD $57,000).
Among the season's other memorable moments, there were:
On-track collisions.
Pit-row incidents.
Questionable calls by race stewards.
Post-race accusations.
Media-room mudslinging.
Protests.
FIA denials.
Expect more in 2022 as Hamilton, 36, will likely attempt to match Verstappen's aggressiveness in his attempt to capture the record eighth drivers' title.
Hamilton finally breaks his silence, set to battle for a record 8th drivers' championship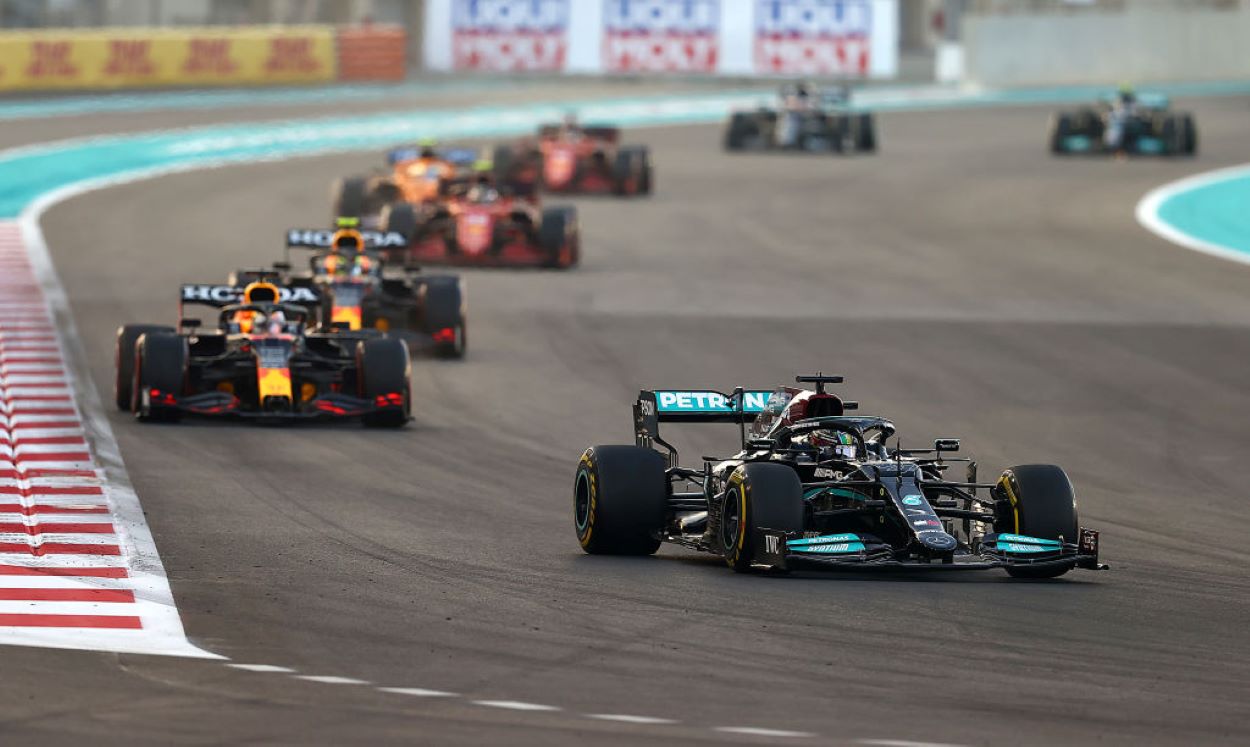 For the past few weeks, Hamilton's camp has been shuttered. He skipped the end-of-the-season F1 gala and did not offer any follow-up clues to him suggesting he was considering retiring after Verstappen capped the back-and-forth struggle with a dramatic last-lap pass at Yas Marina to secure the world championship. 
"We'll see about next year," Hamilton said during his post-race press conference, reported by planetf1.com. 
In the hours following the dramatic ending, Mercedes officials launched protests on the final restart but were quickly quelled by industry officials. 
After dropping the protests, Mercedes boss Toto Wolff said Hamilton was "disillusioned" with how the season unfolded, ending his streak of four consecutive titles. He has compiled an F1-best 103 career wins. 
"… His heart will say 'I need to continue' because he is at the peak of his game," Wolff said. 
So, too, is Verstappen, which should set up more intense in-season drama during 2022. 
Mercedes fires up W13 for the first time, dispaying pre-holiday season progress 
Now that Hamilton is back in the fold and George Russell is on board, replacing Valtteri Bottas, the team fired up its new W13. Wolff reportedly looked on via mobile phone. 
While the design of the team's machines remains under development, with a new set of industry standards coming into effect next season, Mercedes' engineers and mechanics displayed their pre-holiday season progress. 
F1 teams will unveil their new challengers throughout February, leading up to the first pre-season testing session in Spain on Feb. 23-25. 
The event also will be the first glimpse of the much-anticipated Hamilton-Verstappen rematch.