F1's New Conformity Rules for 2022 Spark Garage Debates on How Much Creativity Individual Teams Will Possess Going Forward
Trending driver Lewis Hamilton is both loved and hated by legions of Formula 1 fans.
Hamilton has a way of standing out among his motorsports peers, but he could be challenged to earn the same type of notoriety in the future.
As F1 enters a new era in 2022, drivers like Hamilton will have to learn to conform.
New far-reaching Formula 1 regulations set for 2022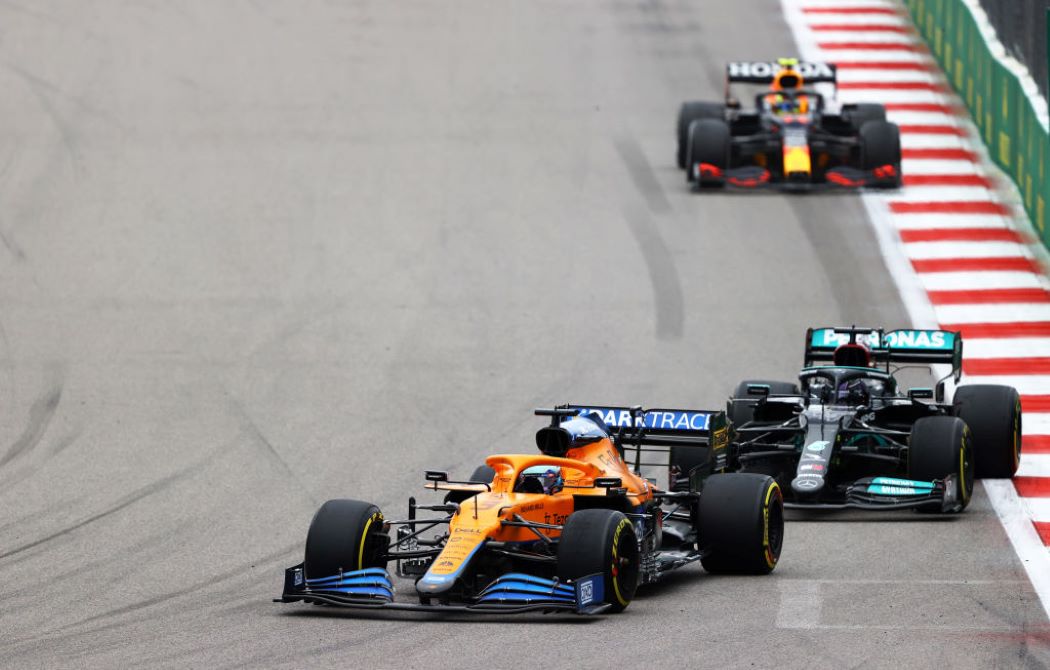 F1 officials unveiled a new 2022 promotional car and rules for the upcoming season before the recent British Grand Prix. The new rules are considered the most far-reaching technical alternations the industry has ever enacted, according to the-race.com.
Initially delayed for over a year because of the COVID-19 pandemic, F1 enacted the new regulations to create more raceable machines as the industry enters a cost-cap era.
Circuit officials insist the new cars will be able to overcome turbulence issues. With that, drivers should be able to race tighter and create more passing opportunities.
While Formula 1 officials are optimistic the changes will fuel a better brand of racing, industry insiders remain a bit squeamish, potentially fearful the regulations go too far in restricting the liberties of innovative car designs.
Included in the package of new F1 rules are additional compliance regulations. Crew chiefs will also be required to use more standard parts and equipment next season.
Some pit-crew members fear the additional regulations could stagnate the industry's development of aerodynamics but hope otherwise. They also fear the rules could cap their creativity to discover extra speed for their drivers.
Fear not assured Ross Brawn, who has served as managing director of the F1 Motor Sports division since 2017.
"They (the rules) will be proscriptive because we have to make sure we achieve these objectives, but there is enough latitude there," Brawn told motorsport.com. "As (F1) teams have got down to work with the new rules, though, concerns about them being completely tied down in having no freedom have not quite (materialized)."
F1 entering a new era with rule changes
Formula 1's new rules have been gearing up for the past few years. But the timing may leave some F1 teams behind.
Jan Monchaux, a technical director at Alfa Romeo, discussed his thoughts on the new rules with motorsport.com's Jonathan Noble and Roberto Chinchero.
"It is very restrictive, that's true," he said, adding he was not "expecting" significantly "different concepts along the pitlane next year."
So, what concerns Monchaux the most entering next season? Potentially a lack of F1 pitlane liberties.
"The rules are not giving you enough freedom," he said.
Here are some of the significant Formula 1 rule changes for 2022:
Aerodynamics
A new ground-effect floor will be put in place.
Endplates and front wings will be streamlined.
Bargeboards will be banned.
Suspension/Wheels
Eighteen-inch wheelrims will replace the former 13-inch products.
A Hydraulic suspension will be banned.
A standardized pressure sensor will be used on tires.
Engines
A 1.6-liter V6 turbo engine will basically remain the same.
Teams waiting on leading supplier and how racing will look like in 2022
Conformity reigns, Monchaux said, so F1 teams with advanced aerodynamics programs will challenge lap leaders early in 2022.
"From what we see in the tunnel … you can have quite a big impact on the aero shape of the car," Monchaux said. "… Some teams might have taken the wrong direction and will have to revert."
But for now, it appears, F1 teams will remain out of the loop on some of the dynamics of the upcoming rule changes. That includes which company will become the industry's leading supplier next season.
"I'm not supposed to know, and I'm not allowed to say as they (F1 officials) are not sharing this," Monchaux said.
How different will Formula 1 racing be in 2022?
Drivers like Hamilton are wondering just how much they need to conform.
RELATED: Lewis Hamilton's Victory at the 2008 British Grand Prix Ranks as the Greatest of His First 100 Formula 1 Wins