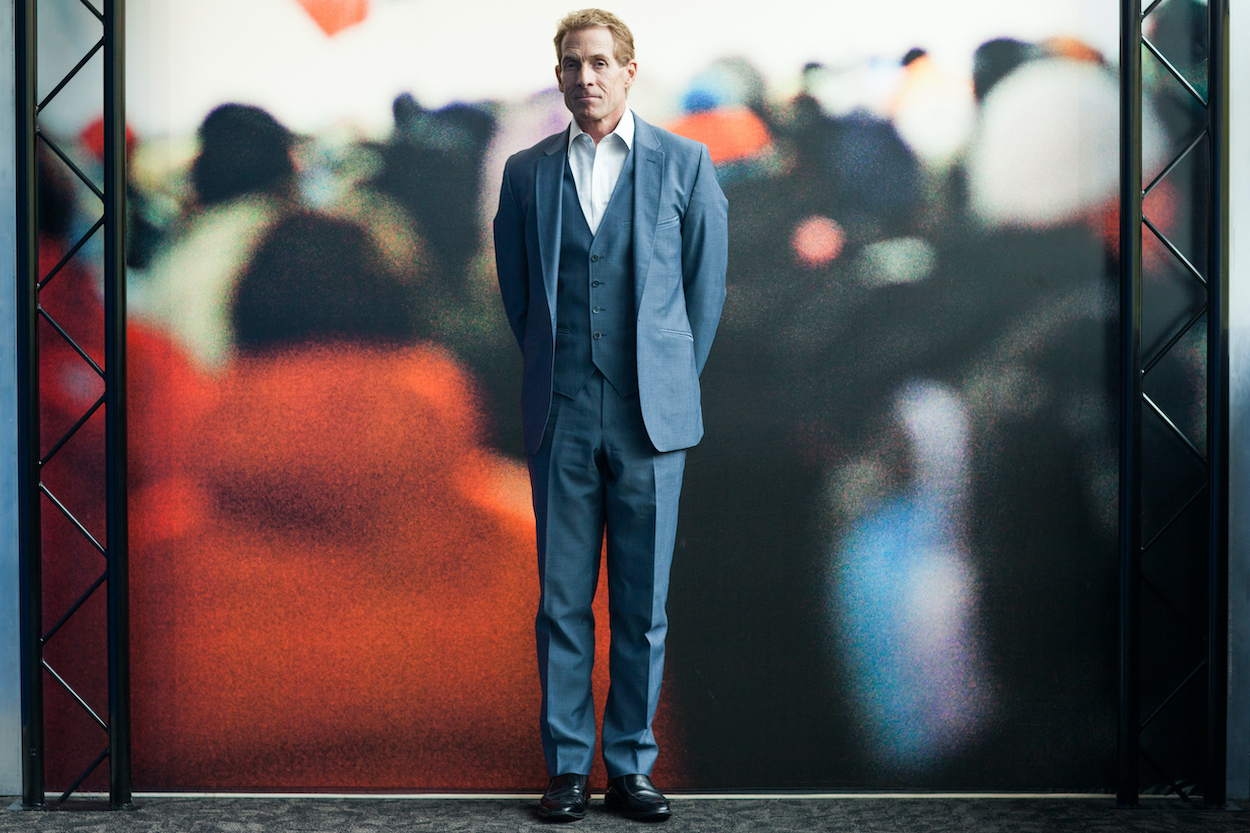 Skip Bayless Is Reportedly Trying to One-up Stephen A. Smith by Becoming the Judge Judy of Sports Debate Shows
You know of expert sports debater Skip Bayless, but what about Judge Skip Bayless? Fox Sports might be featuring him in the "courtroom" soon.
You know of popular television personality Skip Bayless, but what about Judge Skip Bayless?
In an effort to one-up his former First Take co-host on ESPN, Stephen A. Smith, Bayless is reportedly in talks with Fox Sports to star in his own Judge Judy-style sports debate show. Judge Skip, the presider of hot takes, could be coming to a courtroom (well, on TV) near you soon.
Skip Bayless and Stephen A. Smith were debate partners for five years
Ah, the glory days of sports debate shows. From 2012-16, Skip Bayless and Stephen A. Smith made up the dream team of hot take artists on the ever-popular morning talk show, First Take. The two former sports reporters could be heard yelling nonsense at each other in your living room, in the airport lounge area, or in the background of your local bar every morning on ESPN.
After five years on the air together, the pair split up when Bayless took a job at Fox Sports to star in a different morning show. He's been co-hosting Skip and Shannon: Undisputed on FS1 with former NFL star, Shannon Sharpe, ever since.
Bayless and Smith were still considered the two most popular sports debate experts in the game when they went their separate ways, but they've gone in opposite directions since breaking up five years ago.
Stephen A. Smith is winning the breakup with Skip Bayless
Skip Bayless expected to leave his debate partner and at least match his success with his new show on FS1, but Undisputed hasn't lived up to the hype. As of 2019, Undisputed averaged around 150,000 to 180,000 daily viewers, whereas First Take averaged 400,000 to 500,000.
Smith also broke the bank two years ago by becoming the highest-paid television personality at ESPN with an $8 million annual salary. Bayless recently matched him by signing a four-year, $32 million with Fox Sports, but he's now trying to one-up Smith with a unique new show starring himself as a sports debate judge.
Skip Bayless is reportedly trying to one-up his rival by becoming the Judge Judy of sports debate shows
According to Michael McCarthy of Front Office Sports, Fox Sports is discussing the possibility of creating a courtroom sports debate show starring Skip Bayless as the judge. McCarthy detailed the concept of the show in his report:
Nothing has been finalized. The Judge Skip concept is one of several solo ideas on the drawing board for the controversial co-host of FS1's "Skip & Shannon: Undisputed" morning debate show. If approved, it would air on weekday afternoons, said sources. 

The embryonic "embrace debate" show would probably not include Bayless' "Undisputed" co-stars Shannon Sharpe or Jenny Taft, said a source. 

Instead, it could serve as a vehicle for younger FS1 talent like 30-year-old Emmanuel Acho, 34-year-old Joy Taylor, 36-year-old Nick Wright, 38-year old Charissa Thompson and 46-year-old Marcellus Wiley to show off their debating chops — and possibly stake their claims to be Bayless' successor. 

Michael McCarthy, Front Office Sports
If Judge Skip does materialize, will the show bring him closer in popularity and ratings to his former partner, or would it just flop and cause more embarrassment for the FS1 loudmouth?