Francisco Lindor Sheepishly Caters to U.S. Open Fans After Mets Implode in 'Thumbs-Down' Fiasco
New York Mets shortstop Francisco Lindor likely knew he could be exposing himself to further criticism by attending the U.S. Open in Flushing Meadows on Monday, particularly after the buzz generated by the "thumbs-down" fiasco. He had no choice but to put on a smile and sign autographs as fans suggested he be more positive from now on. After all, Mets president of basketball operations Sandy Alderson, as well as owner Steve Cohen, essentially demanded that Lindor and his teammates change their behavior.
The Mets' "thumbs-down" celebration created external and internal turmoil
Some Mets players responded to big hits by making a thumbs-down in recent games. What served as the inspiration for the celebration? Well, as Mets infielder Javier Baez ultimately clarified on Sunday, the action was meant as a statement to the fans.
"Just the boos that we get," Baez said, via Tyler Kepner of the New York Times. "We're not machines, we're going to struggle. We're going to struggle seven times out of 10. It just feels bad when I strike out and I get booed — it doesn't really get to me, but I want to let them know that when we're a success, we're going to do the same thing, to let them know how it feels…"
Baez's statement was immensely controversial. The apparent entitlement of Mets players miffed many fans, pundits, and media. It became a fully-fledged catastrophe when Alderson issued a statement saying that the thumbs-down celebrations were "unacceptable."
"Mets fans are understandably frustrated over the team's recent performance," Alderson added, via the New York Times. "The players and the organization are equally frustrated, but fans at Citi Field have every right to express their own disappointment. Booing is every fan's right. The Mets will not tolerate any player gesture that is unprofessional in its meaning or is directed in a negative way toward our fans. I will be meeting with our players and staff to convey this message directly."
Francisco Lindor was among the Mets players in on the thumbs-down and has been scrutinized throughout a tumultuous season after signing a $341 million extension this past winter. But Mr. Smile had to swallow his pride and live up to that nickname while attending the U.S. Open on Monday.
Francisco Lindor indulged fans at the U.S. Open, though he's been the subject of ample criticism
Francisco Lindor signed autographs for fans in Flushing Meadows at the U.S. Open tennis tournament. He also sheepishly flashed a thumbs-up after fans hollered out, "no more thumbs-down."
Mr. Smile indulged the fans, though it hardly felt like a very genuine moment.
The 27-year-old did not have much of a choice after Alderson's statement. He probably wouldn't want to create a public spectacle by responding negatively, either. Still, Lindor's first season in Queens has been anything but enjoyable.
Lindor came into Tuesday's action hitting a career-low .224, with a .686 OPS. Those aren't exactly the kind of numbers Mets fans expected when the team inked the charismatic shortstop to a 10-year, $341 million extension that begins next season. He also missed an extended amount of time with a strained oblique.
The two-time Gold Glover is playing exceptional defense. He ranks second in baseball in outs above average, per Baseball Savant. However, Lindor's struggles at the plate reflect the offensive struggles that have plagued the Mets throughout the season and loomed large in the team's recent implosion.
New York continues to struggle after leading the division for much of the season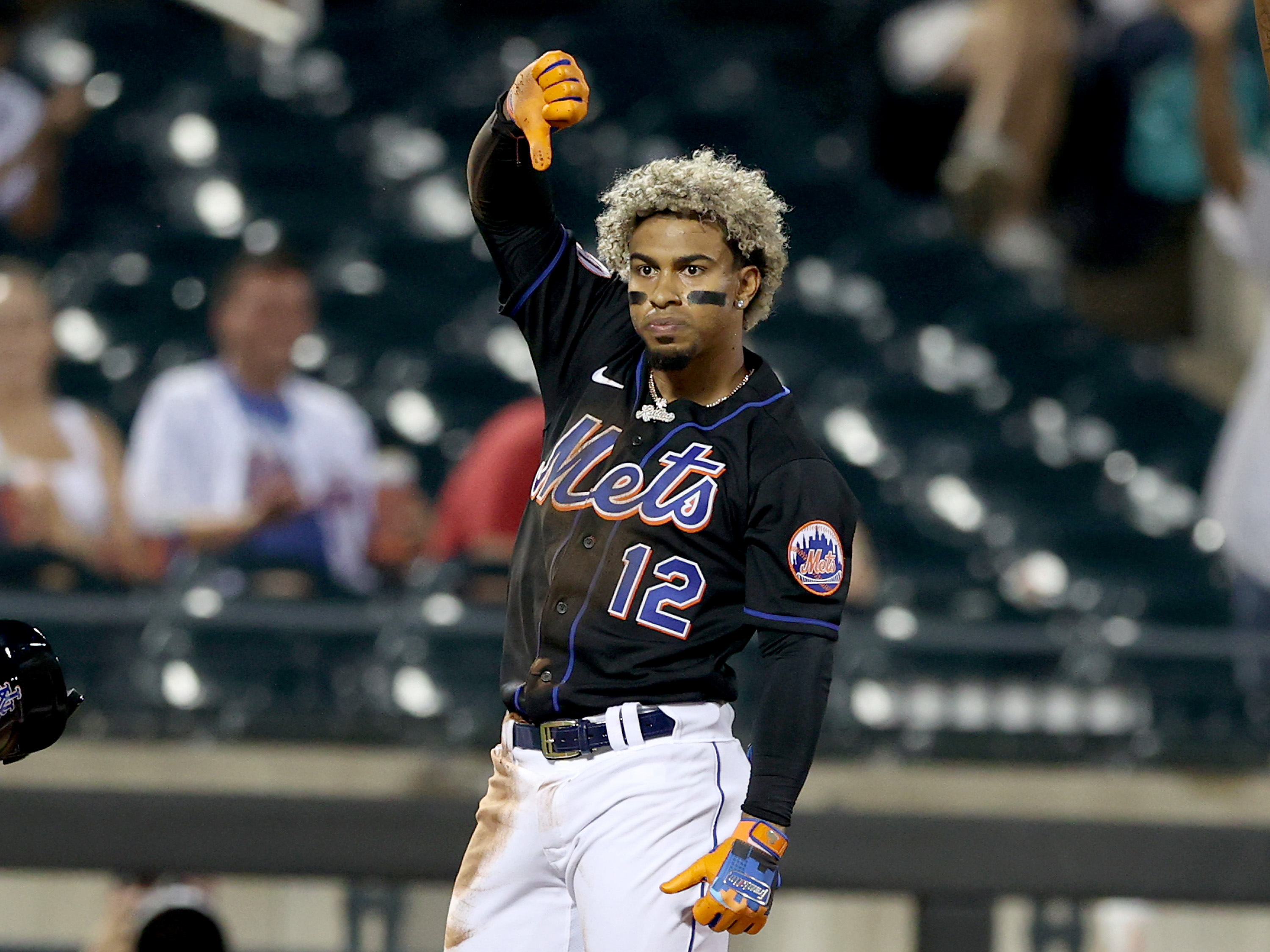 The Mets took the lead in the National League East for the first time on April 14. They either shared the lead or had a sole spot in first place for the next several months and went into August with a four-game lead.
Well, heading into Tuesday's game, New York trailed the first-place Atlanta Braves by 7.5 games. Even after winning each of their last two games, the Mets are still just 8-19 in August.
The playoffs seemed like a certainty earlier in the season. Suddenly, October baseball is all but a fantasy. What happened?
A lot is going on. The Mets still can't score, as they are ranked 29th out of 30 clubs in runs per game. The rotation is in tough shape, as well. Taijuan Walker has regressed after a stellar first half, posting a 6.81 ERA in eight starts after the All-Star break. Jacob deGrom is still on the injured list, and Carlos Carrasco has a 6.94 ERA in six starts since making his 2021 debut at the end of July, though that's mostly due to two horrific outings.
Frustration has been building in Queens for some time. The "thumbs-down" might have been a way for Mets players to self-motivate. But fans will only accept a thumbs-up from Francisco Lindor and others, as U.S. Open fans reminded him on Monday.
Stats courtesy of Baseball Reference unless otherwise noted.