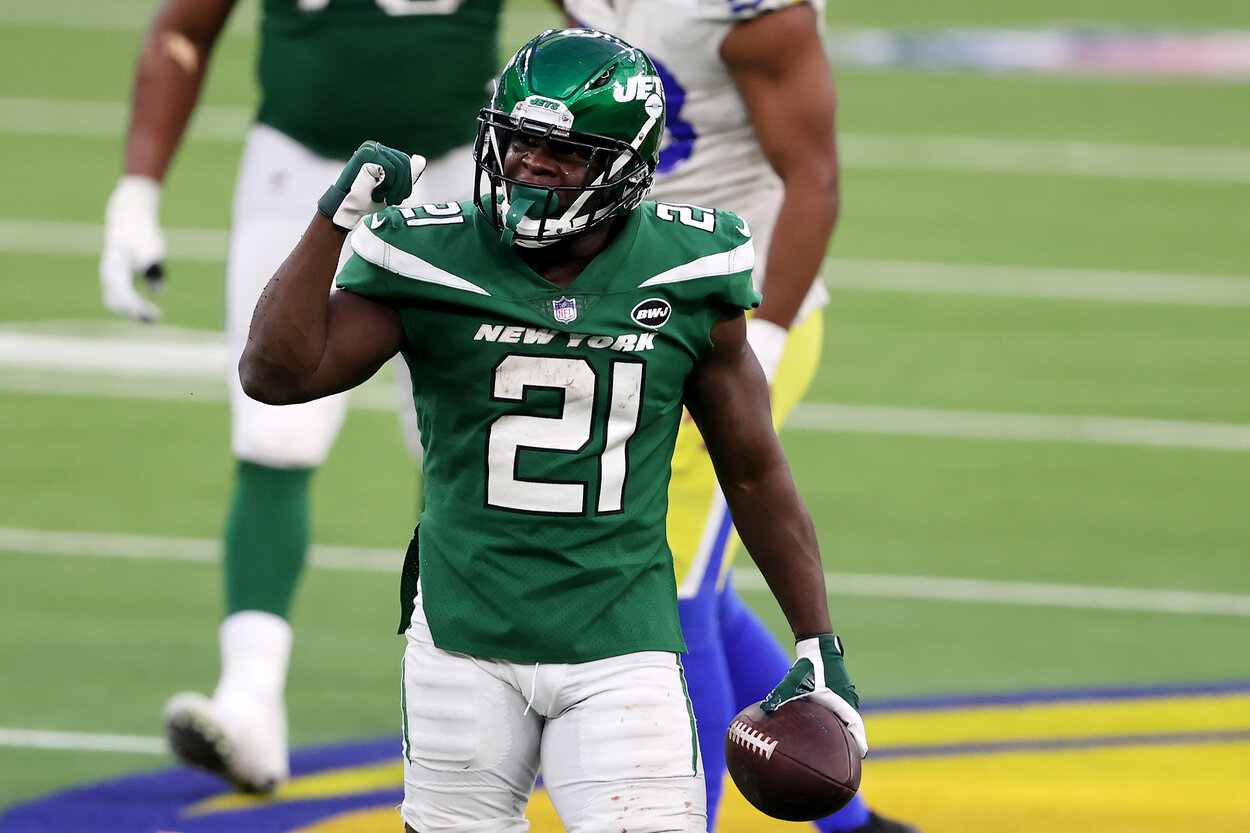 Frank Gore Just Excitedly Shared Where He Hopes to Play in 2021
Frank Gore turns 38 in May, but he doesn't intend to retire just yet. Actually, Gore may have just tipped him his hand about his possible 2021 plans.
Somehow, someway, Frank Gore will still be in the backfield for a team that reaches Super Bowl 100.
Gore, who turns 38 in May, is seemingly on pace to play until he keels over. After spending this past season with the dismal New York Jets, Gore is fully committed to playing in 2021.
During an interview ahead of Super Bowl 55, Gore excitedly shared where he wants to play next season — and that team should start trying to make space immediately.
Frank Gore just might play forever
Frank Gore hasn't let Father Time make a convincing argument for retiring just yet.
In an era where top players — including Gore's ex-teammate, Andrew Luck — frequently retire in their late 20s or early 30s, Gore is still going strong at age 37. Gore spent the 2020 season with the New York Jets, running for 653 yards and two touchdowns on 3.5 yards per carry in 15 games and 14 starts.
Gore's final carry in a Week 16 victory over Baker Mayfield and the Browns brought him to an even 16,000 rushing yards for his career. Only Emmitt Smith (18,355) and Walter Payton (16,726) have more rushing yards to their name.
Gore also has 81 rushing touchdowns and another 18 receiving scores in 241 career games.
Frank Gore just revealed where he wants to play in 2021
If Frank Gore gets his wish, he'll be spending the 2021 season in California.
During a recent interview with 95.7 The Game in California, Gore shared that he is interested in signing with the San Francisco 49ers this offseason. Gore played in San Francisco from 2005-14 and made five Pro Bowls.
ProFootballTalk transcribed Gore's full comments, which included praise for head coach Kyle Shanahan and CEO Jed York.
"Oh, oh, I'd come back fast. Man, I'd love to wear that No. 21 jersey one more time. If that was to happen, that would definitely be my last year, if I could come back and sign with the 49ers. I respect Jed, I respect the York family, I respect Kyle, I feel like one of the best play callers in the game right now . . . You gotta tell Jed and Kyle, just bring me back."
San Francisco's running backs struggled to stay healthy last year. Raheem Mostert and Jeff Wilson Jr. are both under contract for next season.
The 49ers have two veteran running backs, Jerick McKinnon and Tevin Coleman, who are on expiring contracts.
Gore would be the latest legendary player to try a reunion
A reunion between Frank Gore and the San Francisco 49ers certainly sounds intriguing, especially with how many other athletes have recently tried coming home.
LeBron James is the most notable athlete who had a reunion, and James is also the most successful. After rejoining the Cleveland Cavaliers in 2014, James led them to an NBA championship less than two years later.
After not playing in Seattle since 1999, legendary outfielder Ken Griffey Jr. re-signed with the Mariners in 2009. Griffey hit .214 with 19 home runs and 57 RBIs in 117 games that year.
Age caught up with Griffey, who retired midway through the 2010 season at age 40.
Griffey's former teammate, Ichiro Suzuki, re-signed with the Seattle Mariners in 2018 — nearly six years since the team traded him to join Derek Jeter and the Yankees. After hitting .205 in 15 games to start the 2018 campaign, Suzuki retired and joined the Mariners' front office.
Ichiro returned for the Mariners' two-game trip to Japan in March 2019 and went hitless in five at-bats.
Gore played with Randy Moss on the San Francisco 49ers during the 2012 season. New England traded Moss, who spent the first seven seasons of his career with the Minnesota Vikings, back to Minnesota in October 2010.
Minnesota cut Moss after four games in the second stint. If Gore returns to San Francisco, he should hope for far better luck than his ex-teammate.
Like Sportscasting on Facebook. Follow us on Twitter @sportscasting19.