Notre Dame and Michigan Are 2 of the Most Overrated College Football Blue Bloods
If you had a list of the blue bloods of college football, the names that come to mind would probably be Alabama, Clemson, and Ohio State.
Notre Dame, Texas, and Michigan fancy themselves as college football powerhouses, but they haven't won national championships in decades

Fighting Irish aren't as fearsome as they used to be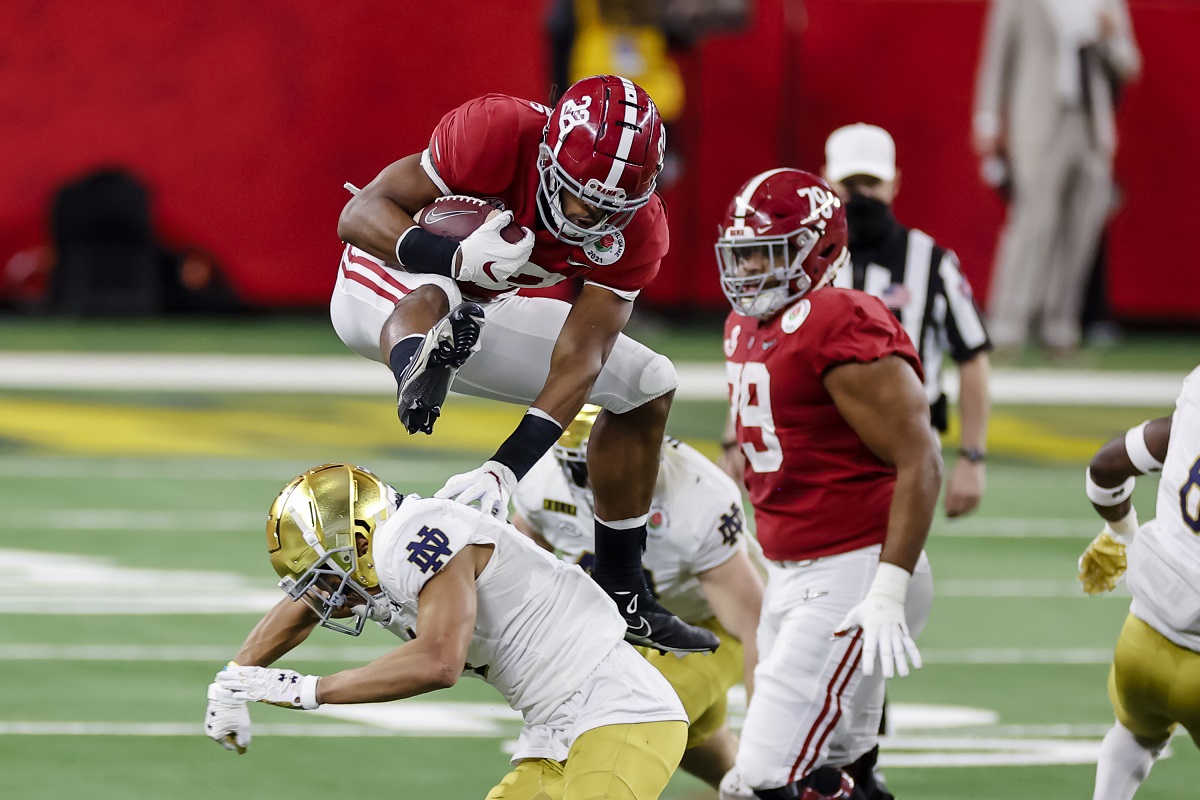 A lot of college football fans consider the Fighting Irish a blue blood, but are they?
Despite all the national championships it has won in the past, Note Dame hasn't won a national championship in over 30 years. Most of the Fighting Irish's national championships were won by one coach: Knute Rockne.
Unlike the other teams here, Notre Dame went to the college football playoffs in 2021, where it lost to Alabama, an actual blue blood.
The Irish have been competitive in the past few years but they are far from being the program they used to be, and that might be difficult to swallow for some fans.
The Irish are playing an ACC schedule, which as they found out last year, is not as easy as it looks. They may go through the conference undefeated, but at the end of the road waiting for them is Clemson.
Texas fans are longing for more wins
The Texas Longhorns have long thought of themselves as blood blues of college football, but they haven't lived up to the hype. They've only won four national championships, the last one being in 2005. The one before that was in 1970, so 35 years apart for each championship.
In recent years, Texas has hired three coaches since North Carolina head coach Mack Brown left Austin. Recently, they hired former Alabama offensive coordinator Steve Sarkisian to be their new headman. This will be the Longhorn's third head coach. Previously, Texas hired Tom Herman and Charlie Strong.
While rival Oklahoma continues to compete for national championships, Texas keeps flailing in hopes of rejoining the Sooners at the top of the college football kingdom.
Michigan football continues its fall from grace
If there is one team that definitely deserves to be on this list, it's the Michigan Wolverines. They might be the biggest frauds in college football.
Although they have nine national championships according to the NCAA, most of them came in the early part of the 20th century and their last national championship was in 1997.
Michigan brought in alum Jim Harbaugh to coach the team, and that's been a disaster. Despite his 49-22 record, he's yet to beat Big Ten rival Ohio State or even make an appearance in the Big Ten Championship game. Even home state rival Michigan State has made the college football playoffs, while the Wolverines haven't been close.
Colin Cowherd said at one point that Harbaugh would be better than Nick Saban, but other coaches in the Big Ten have had more success than him, such as Paul Chryst of Wisconsin and James Franklin of Penn State.

Tennessee has tumbled from college football's top tier
It's not just the fact that Tennessee has lost to its biggest rival, Alabama, 13 years in a row that should bother Vols fans., The real heartbreak is the fact that other SEC schools have managed to surpass them despite Alabama's dominance. Florida, Auburn, and LSU have all won national championships in this century. 
How far has Tennessee fallen? Kentucky is more of a threat in the SEC East right now than the Vols.
The good news is, most of these teams have been competitive. The bad news is they still may be far away from making it back to the top of the college football world.